Simon Property Group Inc Presents A Compelling Bullish Case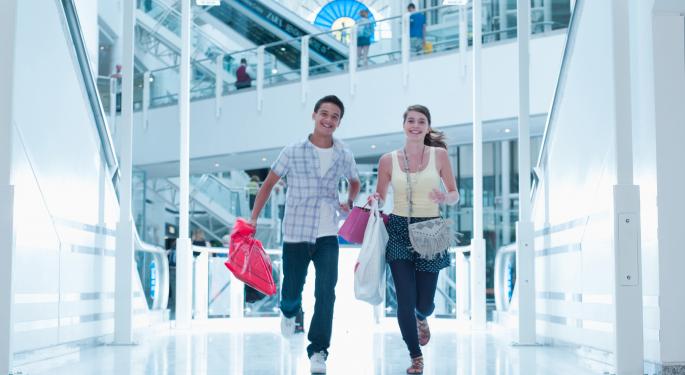 Mall landlords own some of the most valuable and irreplaceable real estate in the U.S. and around the world. The largest collection of these crown jewels -- 228 Class-A malls -- is owned by $52 billion cap REIT giant Simon Property Group Inc (NYSE: SPG).
Simon presented at a Barclays PLC conference held in New York on September 9 and appears that this blue-chip REIT is hitting on all cylinders. This performance flies in the face of the opinions expressed by some retail analysts that brick and mortar retailing is in an irreversible decline.
Related Link: 5 Key Takeaways Simon Property Group Inc CEO Interview With Brian Sozzi
Investor Presentation Highlights
Although past performance is not a guarantee of future success, it still must be comforting for both Simon shareholders and potential investors to look back on the company's performance since its 1993 IPO.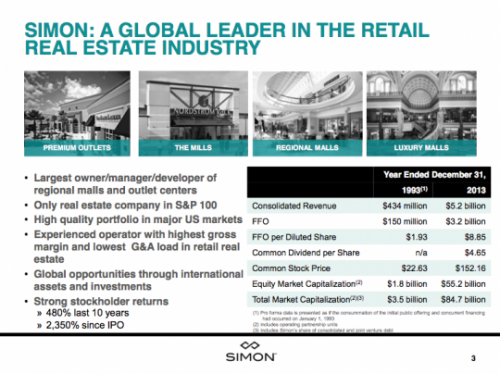 During the Great Recession Simon Property net operating income remained flat rather than declining like many other retail REITs experienced. This relatively strong performance during difficult times contributed to a 480 percent return for Simon shareholders during the past 10 years.
Simon makes a compelling argument that commercial real estate assets are underweight in most portfolios. Since Simon Property is the largest REIT by market capitalization, it stands to gain the most from any future additional allocation by investors in many REIT index funds.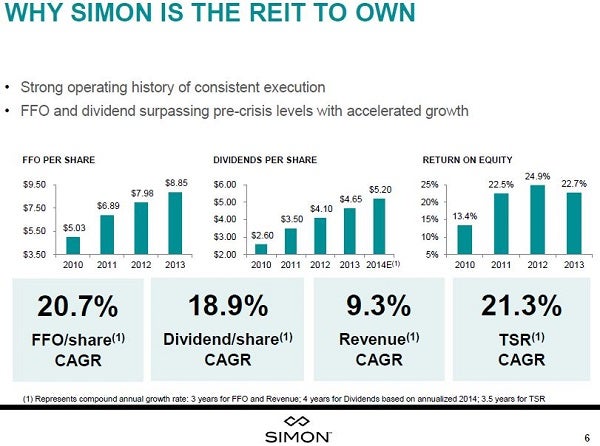 Most REIT investors are focused on one key metric: growth in funds from operations (FFO). This is the engine that drives increases in dividends paid to stockholders. Given the sheer size of Simon Property, this year-over-year performance is almost uncanny.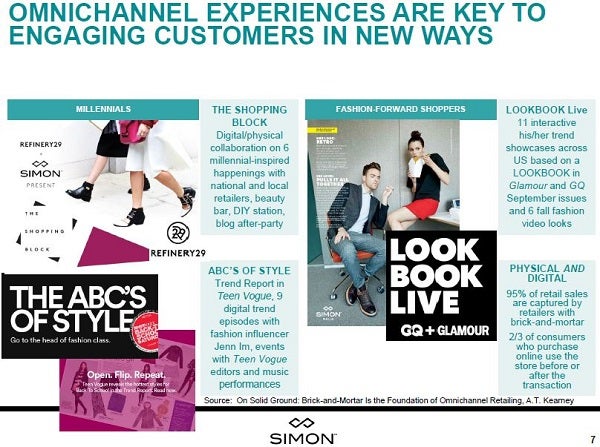 Simon was quick to point out that Amazon.com, Inc. has the luxury of not having to be profitable in its retail operations. However, in spite of this formidable competition, the fact that bricks and mortar still account for 95 percent of retail sales bodes well for mall landlords.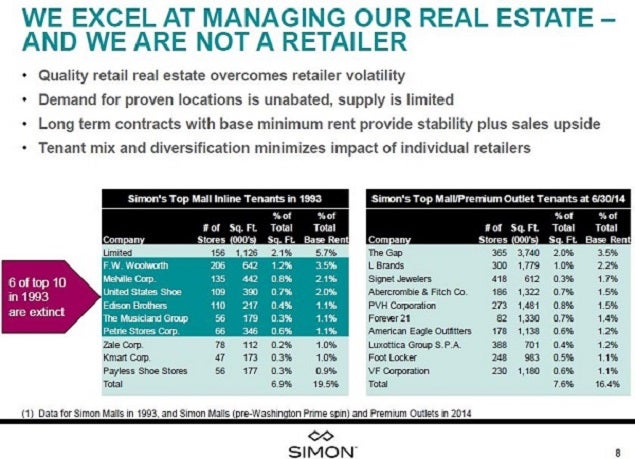 The tastes of the consumer are ever changing and this has always contributed to volatility in retail. However, the supply of Class-A retail mall space is limited. While the tenant mix will inevitably change, strong demand for proven retail locations remains. In many instances, changes in the mixs can be an opportunity for Simon to recapture space encumbered by below-market leases.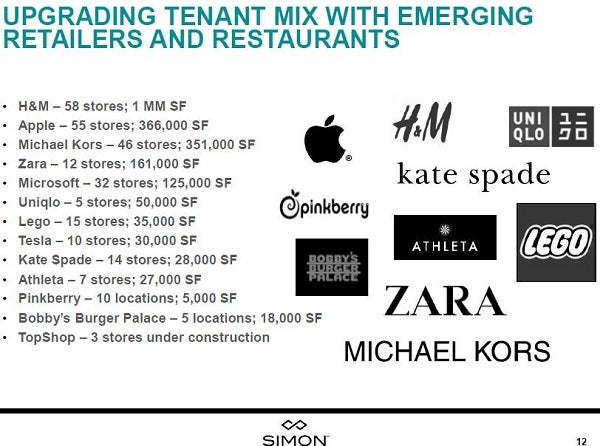 In addition to the latest style or hip fashion trend, Simon pointed out that Apple Inc. and Tesla Motors Inc -- two of the most dynamic technology companies in the world -- both see the value of a bricks and mortar presence in many markets.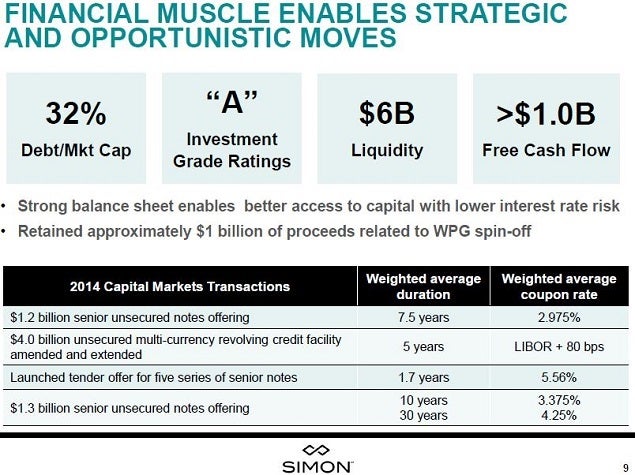 Simon was recently able to leverage its fortress balance sheet to take advantage of historically low long-term interest rates, further reducing risks for shareholders in the event of another global economic slowdown.
The company's strong balance sheet has also allowed for opportunistic acquisitions in difficult economic times, which is another reason why the company has been able to consistently grow its FFO and increase dividends.
Investor Takeaway
The week of September 8 ended with a precipitous decline in the entire REIT sector on Friday September 12. Coincidentally, Simon Properties had announced the previous day that it was taking a $128 million charge to Q3 FFO related to its senior notes tender offer highlighted in slide 9, above.
Investors may want to take advantage of systemic weakness in the REIT sector either to initiate or add to a long position in this fiscally solid industry leader, based upon the information the company shared in this recent presentation.
Posted-In: Barclays brick and mortar retail REITREIT Top Stories Trading Ideas General Real Estate Best of Benzinga
View Comments and Join the Discussion!