The Blackstone Group LP Files A New Real Estate IPO - Should Investors Be Excited?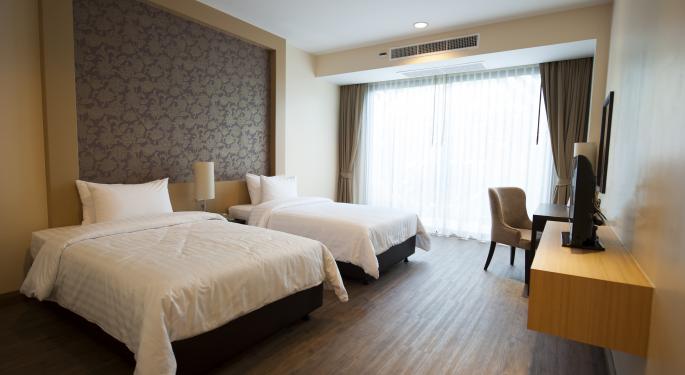 The Blackstone Group LP (NYSE: BX) is the largest alternative asset manager and one of the most sophisticated real estate operators in the world.
It has recently been hitting on all cylinders, with its own shares up ~45 percent over the past year and paying a dividend yield of 6.77 percent.
Bloomberg reported on September 8 that Blackstone had filed a registration statement with the SEC for its IndCor Properties, Inc. initial public offering as a REIT. IndCor owns and operates a portfolio of industrial properties, which according to a Bloomberg source will be valued at approximately $8 billion, based upon plans to raise about $1 billion through the IndCor IPO.
Related Link: Digital Realty Trust, Inc. Returns 40% YTD And Has More Great News For Investors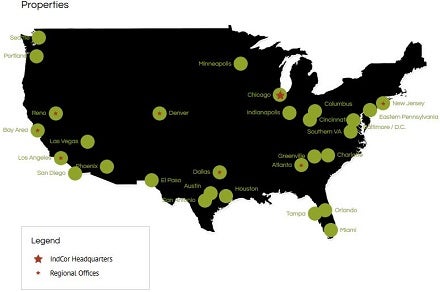 Blackstone assembled its IndCor portfolio by creatively purchasing large portfolios of strategically located distressed industrial properties, including:
Seeding the IndCor portfolio in 2010 with ~40 million SF resulting from a 180 property purchase from Prologis, Inc. (NYSE: PLD), and a separate purchase of 75 assets from a Prologis/Eaton Vance Corp. JV.
In 2012, closing on the 65 property Dexus Industrial Portfolio and the (95) property CalWest Portfolio; thereby increasing the IndCor holdings from ~45 million SF to more than 85 million SF located in 23 states.
During May 2013 IndCor along with Prologis closed on a 17 million SF portfolio of former Lehman Brothers assets, resulting in IndCor acquiring 9.5 million SF of industrial warehouse and distribution centers in Reno, Nevada.
On Jan. 2, 2014 IndCor announced a seven million SF portfolio acquisition increasing exposure to industrial markets in Reno, Las Vegas, Chicago and Southern California, taking the overall portfolio up to 107 million SF.
In late February 2014, IndCor announced a portfolio purchase of another 9.6 million SF on industrial facilities primarily located in Austin, Dallas, San Antonio, Denver, Portland and Los Angeles, along with 185 acres of entitled industrial land located in Texas.
Currently the IndCor portfolio contains approximately 118 million aggregate square feet of 100 percent owned and managed industrial facilities located in 29 key markets in 23 states.
How will IndCor compare with its peer group?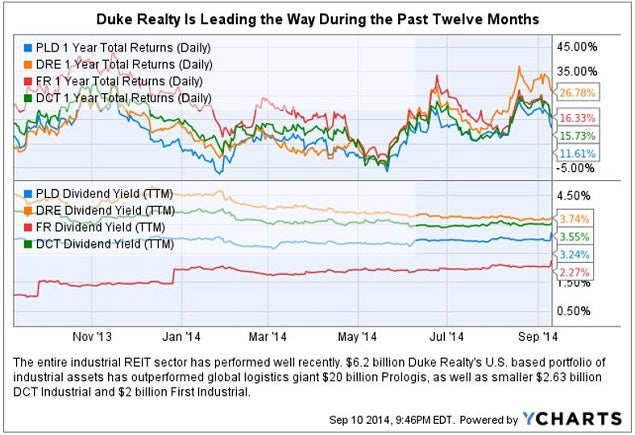 After its IPO, IndCor is likely to be ranked just below Duke Realty Corp (NYSE: DRE) based upon market capitalization and size of portfolio in the U.S. market. It will be interesting to see if IndCor will offer IPO investors a competitive dividend yield.
The two highest yielding industrial REITs currently are Monmouth REIC at a 5.69 percent yield, and STAG Industrial paying a monthly dividend, with a non-compounded annual yield of 5.61 percent.
Have Blackstone Sponsored REIT IPOs Performed Well Recently?
Over the past year, Blackstone has sponsored the IPOs of three hotel REITs, including Hilton Worldwide Holdings Inc. (NYSE: HLT) record-setting $2.34 billion IPO in December 2013 and Brixmor Property Group Inc. (NYSE: BRX). Brixmor owns about 530 shopping centers, making it the second-largest neighborhood shopping center REIT with a current market cap of $5.8 billion.
According to Bloomberg, as of September 8, Hilton is trading up 28 percent from its IPO price, while Brixmor is up 19 percent since its public listing. The other two Blackstone hotel IPO's -- Extended Stay and La Quinta Holdings -- are up 19 percent and 21 percent, respectively.
Investor Takeaway
When Blackstone sponsors an IPO, it typically remains the overwhelming majority shareholder and looks to exit its position gradually over time. This helps keep Blackstone interests aligned with those of its IPO shareholders. As always, investors should perform due diligence and seek professional advice prior to investing in any new offering.
View Comments and Join the Discussion!
Posted-In: Inc. IndCor PropertiesREIT General Real Estate Best of Benzinga