American Realty Capital Properties Inc Reports Impressive Fund Inflows: REIT Recap September 5, 2014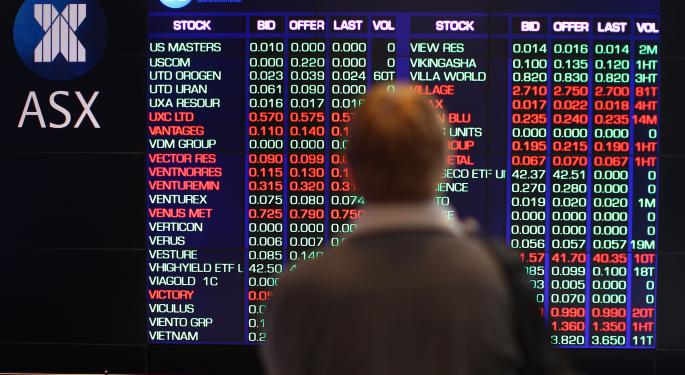 Healthcare REITs and Multifamily REITs continue to outperform the broader market.
On September 4, 2014 REIT.com reported for the month of August, the Healthcare REIT sector gained another 5.1 percent, with the sector up 23.2 percent through August 31.
Multifamily Apartment REITs rose another 2.8 percent during August, contributing to a notable 30.1 percent gain year to date.
In late August, Benzinga reported that some investors were choosing to take profits rather than continue to "let it ride" on the Multifamily Apartment REIT sector.
Analyst Coverage
On September 4, the largest triple-net lease sector REIT, American Realty Capital Properties Inc (NASDAQ: ARCP), was initiated at a Market Perform rating by Wells Fargo, with a price target of $13.50. ARCP finished out the week of September 5 up 1.67 percent to close at $13.37.
Related Link: 3 Small-Cap REITs Yielding More Than 7% - Flying Under the Radar?
REITs in the News
On September 5, ARCP President David S. Kay commented on the increase in fundraising for the non-traded REIT portfolios managed by the company's private capital manager, Cole Capital: "As the industry's premier sponsor of net lease non-listed REIT offerings, we have seen a dramatic increase in requests for offering materials and in-person meetings, as well as a significant upsurge in in-bound call volume to our sales desk.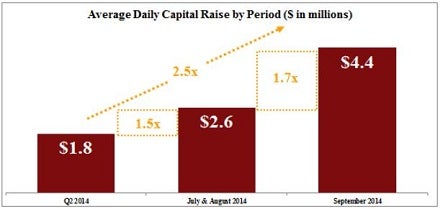 "Even with August and the summertime typically the slowest time of the year historically, as seen in Stanger's monthly report, we are currently averaging approximately $5 million a day."
The significant increase in capital inflows happens to coincide with the announcement on September 2 of the CCIT liquidity event, a sale of the entire $3 billion portfolio to be accomplished through a merger agreement with Select Income REIT.
Industrial Strength
On September 4, global logistics leader, industrial REIT Prologis Inc (NYSE: PLD), announced a 241,800 square foot build-to-suit for an undisclosed third-party logistics provider in Sendai, Japan.
"Demand for modern, well-located facilities in our global and regional markets remains strong as companies look to optimize their distribution networks," said Mike Yamada, president of Prologis Japan. "We are well-positioned to meet these needs by providing modern, Class-A logistics facilities."
Prologis is a leading provider of industrial real estate in Japan, with approximately 33.4 million square feet of logistics and distribution space as of June 30, 2014.
On a worldwide basis, as of June 30, 2014, Prologis owned or had investments in approximately 571 million square feet in 21 countries, serving over 4,700 customers.
Related Link: Morgan Stanley's American Tower Valuation, Rexford Industrial's Latest Buy & Other REIT Movers
EastGroup Properties Inc (NYSE: EGP) has increased or maintained its dividend for 22 consecutive years and increased it 19 years over that period. EastGroup owns and manages approximately 35 million SF of industrial space -- predominantly located in the U.S. Sunbelt states including Arizona, California, Florida and Texas.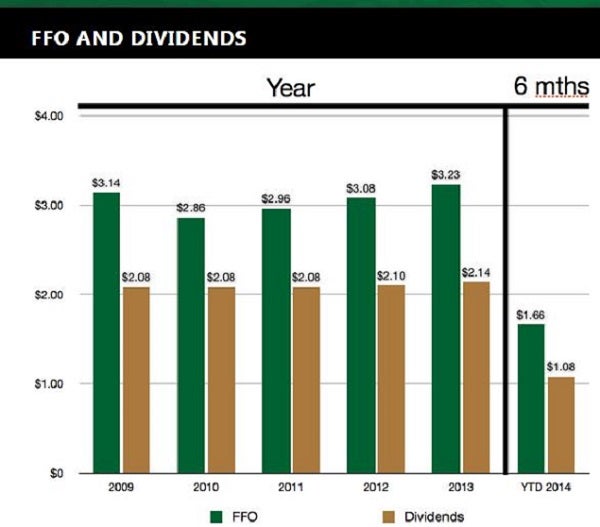 On September 4, EastGroup announced a 5.6 percent increase in its quarterly dividend, raising it to $0.57 per share from $0.54 per share. The dividend is payable on September 30 to shareholders of record of Common Stock on September 19.
Single-Family Home Rental REIT Sector - Paying Dividends for Investors?
On September 4, Silver Bay Realty Trust Corp (NYSE: SBY) announced a 33 percent dividend increase of $0.04 per share, up from $0.03 per share the previous quarter. However, the Silver Bay dividend is currently yielding less than one percent.
At the other end of the yield spectrum, Altisource Residential Corp (NASDAQ: RESI), part of the Ocwen Financial family of companies, on September 5, declared a quarterly cash dividend of $0.55 per share of common stock.
This dividend represents a 22 percent increase over the last quarterly dividend of $0.45 per share and reflects the fourth consecutive increase in the RESI quarterly dividend, and raises the yield to roughly 8.8 percent, significantly higher than the previous trailing twelve-month return of roughly 7 percent.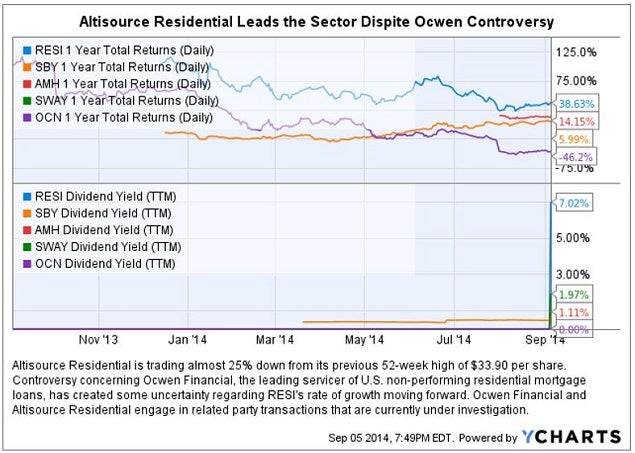 Ocwen Financial is the largest servicer of non-performing U.S. real estate loans and has been under investigation by the New York Department of Financial Services regarding transactions between related companies.
Posted-In: REIT Top Stories General Real Estate Best of Benzinga
View Comments and Join the Discussion!