Key Presentation Takeaways From The Blackstone Group's CFO Laurence Tosi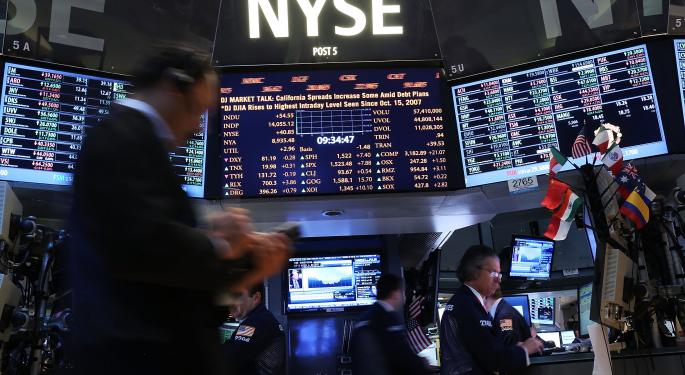 On February 10, The Blackstone Group L.P. (NYSE: BX) CFO Laurence Tosi presented at the Credit Suisse Financial Forum.
Tosi began by looking back 30 years to when Blackstone started in 1985 with a mere $400 million; compared with today pushing $300 billion of assets under management (AUM) in 2015.
Today, one Blackstone advantage is its diversity. There are four main profit centers built over a 20 year period, each with scale of $65 billion or more: Private Equity, Real Estate, Hedge Funds and Credit.
He also reflected on changes in the eight years since Blackstone became publicly traded in 2007, noting positive momentum in Blackstone's portfolio companies.
2 New Flagship Funds
In January 2015, Blackstone launched its new Real Estate BREP VIII and Private Equity VII "flagship" funds. Over a 25 year period Real Estate has returned a 17 percent net IRR to date; with Private Equity following close behind with an IRR of 16 percent.
Notably, these are both global funds. Although this can make it harder to raise money, it allows Blackstone to put capital to work where it will generate the highest returns.
Blackstone is utilizing a "balance sheet light model," with less than 2 percent equity investment in the new funds.
BX shareholders benefit from the "riskless upside" of Performance Fees, (which can never be negative).
The firm put almost 50 percent of the capital raised during 2014 to work outside of the U.S., as many markets in North America were fully valued.
Interest Rate Environment
Tosi noted that in general interest rate increases usually correspond to higher GDP growth rates, where gains from the economy tend to outpace the impact of rates.
Hedge Funds: by design are essentially neutral to rate movements.
Credit: largely a floating rate business, higher interest rates would be a slight plus.
Private Equity: Blackstone does better in a choppy market.
Real Estate: When rates move higher Blackstone's equity becomes more valuable.
On balance, Blackstone has been "planning for a rate rise over time, we think we will see it toward the middle or end of this year."
Technology
Blackstone feels technology is a competitive advantage. The firm participates and benefits in multiple ways, including: a Blackstone platform that provides real time P&L information for every asset and operating company, across multiple platforms, including mobile; BX partners and invests in technology companies; while other PE firms buy licensed technology from Blackstone.
Limited partners are able to check in on investment asset values daily if they desire.
Limited Partners - Growth Potential
Tosi sees a global shift continuing toward investment in alternative assets by managers of long-term investment portfolios. The shift to alternative assets for a typical pension fund takes several years to accomplish.
U.S. Pension Funds: most mature, about 12 to 14 percent invested vs 15 percent target.
European Funds: current investment in 7 to 10 percent range vs 15 percent target.
Sovereign Wealth: less than 5 percent invested vs estimated 15 percent target.
The 10-year forecast for growth of the alternative investment class is pegged at 8 to 10 percent.
Additional Asset Classes
Blackstone continues to innovate additional funds to meet the needs of institutional investors:
Core Real Estate: stabilized assets, in contrast to real estate that needs a Blackstone "fix it." This is a scalable business with many synergies available from operation of similar assets.
Tactical Opportunities: a $5.3 billion global fund to take advantage of unique opportunities.
Evergreen Funds: in 2014 $14 billion was raised for funds that are "perennially in the market," or about 20 percent of funds raised during the year.
Retail - Strategic Initiatives
Blackstone asked the question: Why aren't alternatives selling well to high net worth retail investors?
Blackstone has invested $30 million over the past few years to answer that question. Findings included:
Blackstone had strong brand recognition, among a small group of alternative firms.
Blackstone University was created to educate financial advisors how Blackstone underwrites an asset class.
Blackstone focus is on core products, "priced right," distributed by top advisors such as Merrill Lynch and Morgan Stanley.
Bottom Line: Blackstone raised $10 billion from high net-worth individuals in 2014.
Posted-In: Credit Suisse Laurence TosiHedge Funds Management Events Top Stories General Best of Benzinga
View Comments and Join the Discussion!