Learning To Be Parents Means Teaching Your Kids How To Save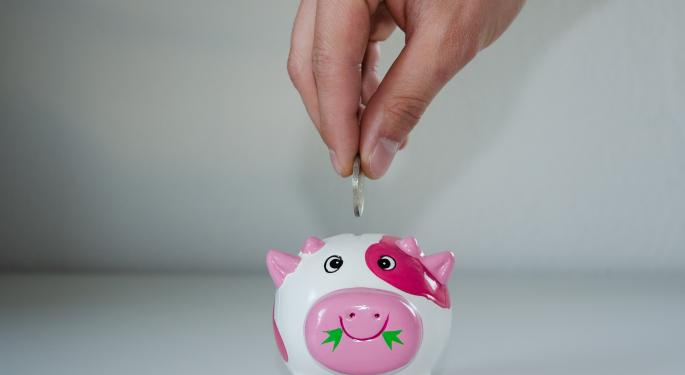 Beginning a family marks a substantial milestone in life, one that usually comes shortly after the milestone of finally discovering what conscientious financial planning actually entails. While you may not be a financial expert, you've finally got some money put away for the future, and it's growing.
As those money management skills become sharper, and that family grows, now is a good time to think about how to best pass that newfound sense of fiscal responsibility to the little ones.
Below are a few things to keep in mind on what financial values you should focus on imparting and some strategies that might help make the lessons stick.
Start An Account
The most common and straightforward approach to shaping penny-wise kids is to start a junior savings account. Most banks and credit unions have this account option, which generally carries low minimum balance and no maintenance fees. The accounts are also linked to parents' accounts, making transfers and monitoring a straightforward process.
This handy graphic from Doughmain illustrates this common strategy and looks at how child savings accounts have generally been utilized by the owners and their parents.

Another good illustrative perk is that your child will also receive their very own statement on the account, which could serve as an enlightening, if a bit dry, way to teach them the fundamentals of saving. However, there are additional, more impactful methods to convey the benefits of saving and managing money.
Establish Investment Models
It is news to no one that keeping the attention of anyone under 10 years old is a feat. Good luck attempting to sit a kid down and explain why putting possible candy or video game money aside for later is a good idea.
While your kid may not appreciate the particulars of rate of return and accrued interest as they apply to investing, there are ways you can make these models more applicable by setting savings goals and putting ideas like interest into terms that they can grok.
One possible way to do this is to modify how you pay their allowance. Instead of meting out money by the task, tell them that they will get a very low fixed amount every month. But, if they do their chores, take care of the dog, help out their folks, you will multiply that amount by 5–10 percent. This can begin to shape the way they think about interest, especially as they learn how much their money can grow if they keep you happy.
Set Financial Goals With Your Kids
After your child begins to appreciate the basics of savings, you can start to teach them about planning by setting goals. Typically, and most intuitively, these goals are generally amount to pricey toy purchases.
Even though toys and big purchases offer something concrete, it also sets an iffy precedent for how to treat money. In lieu of using the money, you can establish savings milestones that you can celebrate with your kid at a destination or with an activity of their choice.
In keeping that junior savings account as intact as possible before graduating to a more advanced version, your child will have a massive head start on their financial future, both in dollar amount and through education. As the following chart from USAA shows, that length of head start depends on where you start.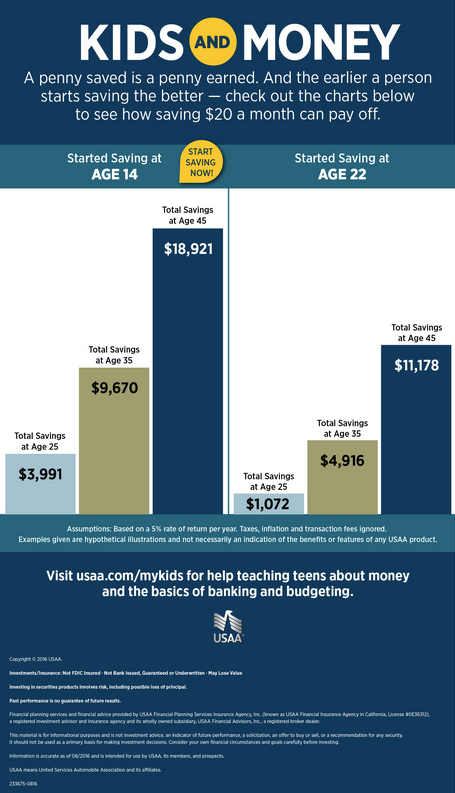 But before you make plans for Junior's retirement, sit down with your financial advisor to learn what child friendly banking options are available to you.
Posted-In: millennials USAAPersonal Finance General Best of Benzinga
View Comments and Join the Discussion!