4 Smart Money Tips From Dumb And Dumber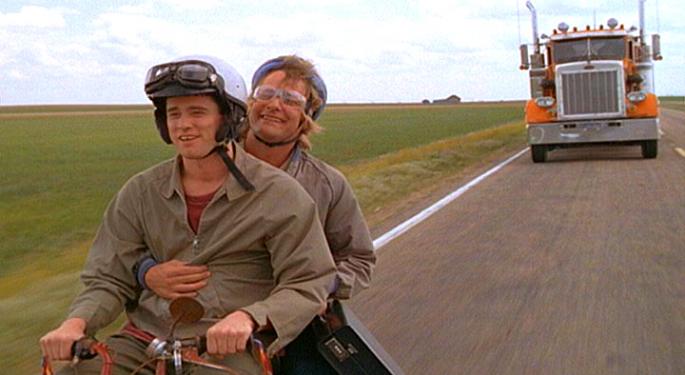 This post is sponsored by GOBankingRates
This post is sponsored by GOBankingRates
Jeff Daniels and Jim Carrey recently made their return to the big screen as the lovable incompetents Harry Dunne and Lloyd Christmas for the "Dumb and Dumber" sequel — "Dumb and Dumber To" — after a 20-year hiatus. The movie, which chronicles Harry and Lloyd's adventures as they embark on another journey of stupidity and mishap, raked in a cool $36 million on opening weekend.
As "Dumb and Dumber To" earns stupid amounts of money, many of you probably remember the financial lessons of the first installment, which taught you exactly how not to manage your finances. Here are a few to keep in mind.
Money Lessons From "Dumb and Dumber"
Don't: Fly When You Can Drive
Harry and Lloyd's decision to drive from Providence, R.I., to Aspen, Colo., might have actually made some sense. Flying is more convenient than driving, but you'll probably pay for that convenience. It's typically cheaper to drive from point A to point B. Then again, it's always a good idea to add up the amount you plan to spend on gas and hotels along the way to make sure you're really coming out ahead.
When driving roundtrip with a passenger between those locations in a 2013 Ford E350 van (a 1984 Ford Econoline wasn't available!), you'd pay about $1,700 in total costs, according to BeFrugal.com's Fly or Drive Calculator. This factors in not only fuel expenses, but also hotels, and wear and tear.
A round-trip flight between both locations would cost more than $2,400 when counting baggage fees, rental car costs and so on. So you'd save about $700 by driving.
Naturally, time constraints and other issues might factor in, so flying can be the most practical option in some cases. And your vehicle's fuel economy as well as potential tolls, fluctuations in fuel prices and other issues could change the math. Be sure to assess your specific situation before making a decision on whether to drive or fly.
Don't: Trade Your Van for a Moped
Remember when Lloyd traded the duo's van for a moped? That wasn't an excellent financial decision.
While vehicles generally decline in value, you want to get as much money back as possible for your investment. You won't accomplish that by selling or trading it for less than it is worth.
While Lloyd could have used common sense to avoid this mishap, he probably didn't know the internet even existed (the film was released in 1994). So, while he can be forgiven for not researching the value of the vehicle before trading it away, you don't have that excuse! Research your vehicle's value through Kelley Blue Book or another similar source before selling or trading it in to ensure you get a fair deal.
Don't: Buy Frivolous Suits
Harry and Lloyd purchased gaudy suits that they didn't really need in the first film. And, apparently, they have them again in the sequel.
While most people don't wear brightly colored suits, it could be argued that many waste money on clothing. The average household spends around $1,600 annually on apparel and services, according to the Bureau of Labor Statistics. While this might be reasonable for a family with children, who frequently outgrow their clothes, you probably shouldn't be spending over $130 per month on your wardrobe if your clothes fit well and are in good shape.
That new shirt might look great as you stroll through the store to pick up socks. But if those socks are the last thing you can squeeze into your clothing budget this month, the shirt will have to wait for another buyer.
Factor clothing into your budget and, unless there's an emergency (the dog just tore up your only suit and you have an interview tomorrow), don't spend anything beyond that amount.
Don't: Get Stuck Paying Someone Else's Bill
Lloyd tricked Sea Bass into paying for the duo's food at the diner in the first film. While you obviously wouldn't allow this to happen to you, you could inadvertently end up paying a much larger bill for someone in the future by cosigning on a loan. By doing so, you'll have to pay it off and possibly all late fees or collection costs if the borrower cannot do so. It'll also be considered one of your financial obligations, which could limit your access to financial resources. And if you cannot pay the bill, your credit will suffer, which could put a major damper on your finances for years to come.
Financial expert Dave Ramsey recommends avoiding cosigning for anyone, saying you're essentially "being asked to stick your head in the noose so the bank can hang you when they don't pay up." So, when your cousin, the one you can barely get a hold of because he's always on the phone with collectors, asks you to cosign on that $50,000 car loan, just imagine the financial ruin you'll be exposed to if you agree.
Find out more about Sponsored Posts.
Image credit: Insomnia Cured Here, Flickr
Find out more about Sponsored Posts.
Posted-In: BZ SponsoredPersonal Finance Best of Benzinga