12 Ways To Save On Summer Grilling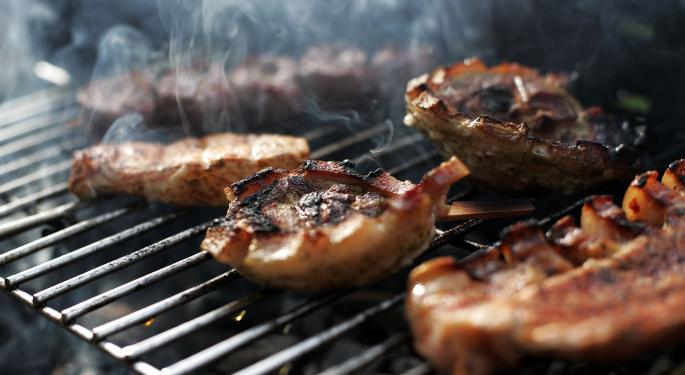 Summer is almost here and that means grilling season. If you're a hardcore griller, you don't wait for the summer months; the season starts to heat up in late spring and runs through Labor Day.
Grilling can be an expensive hobby. Luckily, it doesn't have to be. Below are a few ways to save money.
1. Don't fall for bells and whistles. In the market for a new grill? Having the optional gas burner for baked beans might look cool but what you really want is a sturdy frame, high quality, heat-retaining grates and possibly a warming rack.
2. Buy the right size. If you plan to entertain guests outside, have a big family or grill a lot, you need a larger grill.
3. Don't cheap out. You can find cheap grills but you might only get a year or two out of them. Pay more now and you'll save more over time. Check out this buying guide.
4. Cover it! Want to extend the life of your grill even more? Keep your grill covered when not in use. (And keep it clean.)
5. Buy at the right time. Grills go on sale in the fall when stores want to liquidate their stock. If you need a new grill, that's the time to buy.
6. Marinate your meat. Marinating allows you to purchase cheaper cuts of beef like skirt or flank steak.
Related: 8 Ways to Save on Pet Care
7. Buy scraps. The days of the local butcher are quickly dying but if you have one, ask them if they have any leftover scraps of meat. (Give your local grocery store a try too.) You can use these scraps in stir-fry, shishkabobs and many other recipes.
8.  Cut steak into small strips. If you're entertaining, some people aren't going to want a full steak. Cut it into smaller strips so people can take only what they'll eat. Less wasted food equals less wasted money.
9. Wholesale clubs! Sam's Club is a favorite place among the hardcore grillers, but any wholesale club will do. Not everything is cheaper, but you can find some great deals in the meat department.
10. Grill in larger amounts. Just like in the kitchen, making larger portions and using them throughout the week is a big money saver. Some people even freeze leftovers right after grilling for later use.
11. Shop in the morning. Meats are often marked down when the store opens. Shop early for the best deals.
12. Make dry rub in bulk. Do you use grandpa's old dry rub recipe? Make it in a single large batch for the summer by storing it in an airtight container. Not only are you saving by making your own, you're saving by purchasing your ingredients in bulk.
View Comments and Join the Discussion!
Posted-In: BBQ butcher grilling meat Sam's ClubPersonal Finance Best of Benzinga