The Future Of Retail Will Be Won Or Lost In 'Digical'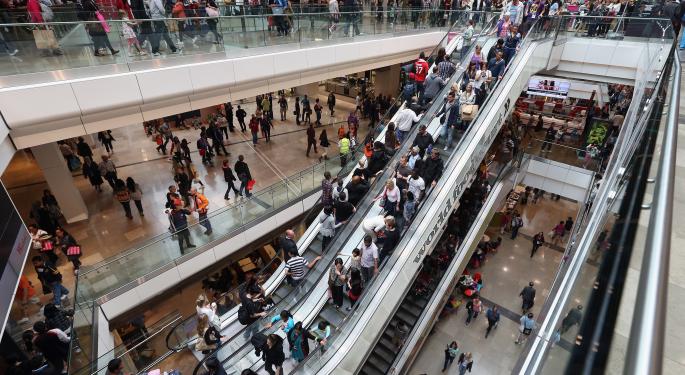 Disrupt to survive.
That was one of the shared underlying themes at the 2015 Global Retailing Conference at University of Arizona's Terry J. Lundgren School of Retailing on April 24-25 in Tucson.
The state of retail is essentially Darwinian. Virtually every retailer has experienced severe disruption by pure-play on line competitors.
As a result many retailers have heavily invested in digital marketing efforts and e-commerce platforms, and perhaps even adopted an "omnichannel" strategy—a retail buzzword meaning seamless customer experience from handheld, to tablet, to store and back.
However, not only to exist, but, to profit from capitalizing on the evolution of retail, as well as massive demographic shifts, one needs more: more technology investment, more data, more consumer connection.
According to Macy's, Inc. (NYSE: M) CEO Terry J. Lundgren, one needs to adopt a "Digical ℠" strategy, a term coined by Bain & Company's Darrell K. Rigby and Suzanne Tager-- and adopted by Lundgren-- meaning the seamless integration of digital with physical retail. "Bricks and mortar" sounds so last season, as does "bricks and clicks." "Off-line" and "on-line" purchasing seems much more au courant. I'm running with that.
Related Link: Lilly Pulitzer For Target: Bullseye Or Bust?
"93 percent of all retail sales are "off-line," meaning in a physical retail environment-- according to Google's President of Americas, Margo Georgiadis, another guest speaker at the conference. And "70 percent of retail sales will be INFLUENCED by digital."
Which begs the question of the relevancy of physical retail stores: Perhaps the death knell of the mall is on mute?
Georgiadis went on to say "I'm interested in malls, as long as they innovate."
Therein lies the rub. And the opportunity.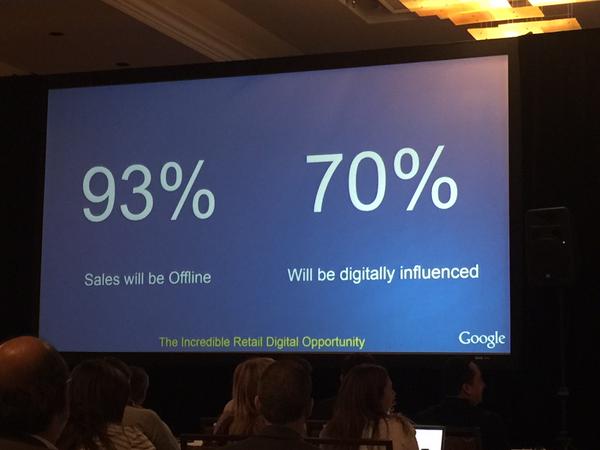 Source: Google/Global Retail Conference
Retailers—if not industries, that deftly navigate the experiential connection between physical stores and digital innovation will not only create value, but may also completely change the retail landscape, as well as our behavior as consumers.
For example, pure-play on line retailers like Warby Parker are rolling out stores with revenue per square foot second only to Apple stores. And do not turn your back on Amazon (and Amazon/Fashion) for one second. For if they master physical retail stores along with digital innovation, Amazon could very well be the Wal-Mart of the digital generation.
Luxury designer Rebecca Minkoff recently opened her first interactive store and second location in New York's SOHO equipped with 'magic mirror' touchscreen technology and consumer controlled ambient lighting. Sephora's contour application on its mobile app takes a picture of a customers face and can then show exactly where one should apply light and shadow for that selfie-perfect smile.
Walter Robb, co-CEO of Whole Foods Market, Inc. (NASDAQ: WFM) says the future of retail is to meet the consumer where and how they want to be met.
Considering 75 percent of retails sales occur 15 miles from home, his comments couldn't be more poignant.
So who is winning the "Digical ℠" revolution? Although the concept is relatively nascent, Bain & Co. considers Macy's an intermediate adopter. Mobile is paramount with Macy's. Furthering innovation, the company created a separate Idea Lab near Silicon Valley, where employees can vet new concepts in a veritable shark tank environment.
Macy's CMO Martine Reardon: "Mobile is what we think first & then we go to everything else. The best way to reach her is through our app." Indeed Macy's is experimenting with social via clickable ads on Instagram, Snapchat 'Discover' and Periscope.
When asked about the company's involvement with Apple Pay, CEO Terry J. Lundgren commented: : "They have the customer data. I need that to be relevant to the customer. We'll work this out with Apple."
In typical uber-merchant style, Lundgren quipped: "We will stop changing when consumer will stop changing."
Disclosure: Author holds no positions in any of the companies mentioned.
Posted-In: 2015 Global Retailing Conference Bain & Company Darrell K. RigbyPsychology Opinion Economics Exclusives General Best of Benzinga
View Comments and Join the Discussion!