Yellen Vs. Apple: An Unlikely Duel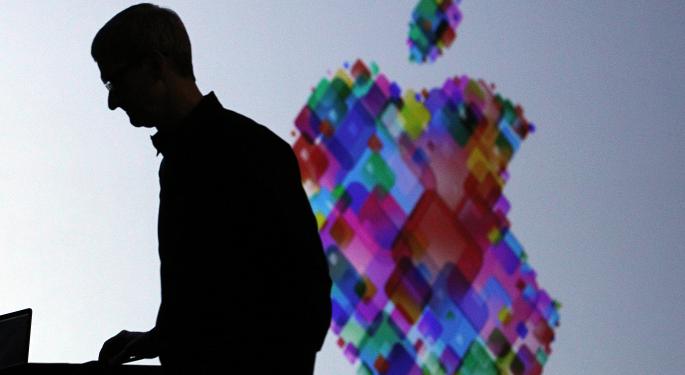 There was no shortage of stories to attract the attention of traders and their computers yesterday.
It seemed like there was a new item flashing across the screens every 15 minutes or so. However, at the end of the day, the market only seemed to care about a couple things - Yellen and Apple.
In case you missed it, there was news out of Ukraine, Greece, OPEC, and the San Francisco Fed, as well as word of a potential terror threat at the Mall of America. Now toss in the back-and-forth, will she or won't she, discussion about what Janet Yellen will or won't say on Capitol Hill this week, and you had a recipe for volatility in the stock market.
Greece Misses a Deadline - Again
Just when you thought it was safe to assume that the deal between Greece and the eurozone meant that this subject could be put on the back burner, Athens was back in the news yesterday. In an almost comical headline, we learned that within 24 hours of inking the deal to extend the deadline for bailout funding, Greece missed a deadline. It's first deadline. An important deadline. You see, apparently the Greek government wasn't quite ready to send a list of reforms demanded by the eurozone yesterday. In essence, Athens said, "We'll get it to you tomorrow."
While this didn't create much of a stir in the markets (recall that most analysts, including yours truly have put the drama in Greece aside for now), the news did cause some traders to wonder if Greece was once again the word for the day. But as has been the case throughout this so-called crisis, the major market indices didn't seem to care much by the time the closing bell rang.
Related Link: Runaway Bull Stampede In Apple - A Technical Look
Fedspeak Sounding Hawkish
Also placed in the non-event category on Monday was word that San Francisco Fed President John Williams - who is a voting member of the FOMC this year - had hinted at a June rate hike. In an interview with the Nikkei, Williams said he viewed the recent gains in the jobs market as 'remarkable' and then predicted unemployment would fall to 5.2 percent within the year. He also talked about the ways the Fed could change its language in order to let markets know a rate hike might be coming.
While there was really nothing new here, the takeaway seemed to be that Fed members may decide to "talk tough" on the rate front in order to establish some credibility. In short, although everyone knows that Janet Yellen is a dove, the Fed doesn't want to appear to be wishy-washy on its policy at this time. Therefore, we may hear more tough love from Yellen this week.
OPEC Beginning to Notice?
What DID get the attention of the high speed trading algos yesterday was a report that OPEC was considering an emergency meeting. The FT reported that Nigeria's oil minister and OPEC president - Diezani Alison-Madueke - said yesterday afternoon that OPEC members have discussed holding an emergency meeting if oil prices continue to slide.
Alison-Madueke said that if prices slip any further it is highly likely that she will have to call an extraordinary meeting in the next six weeks or so, adding that "we're already talking with member countries." The OPEC president also noted that "it is hoped that (oil) will stabilize at no less than $60, but we cannot be sure." She said almost all OPEC members, except perhaps Saudi Arabia, are very uncomfortable.
However, after the expected spike in oil prices and the stock market caused by the headline, reality set in as other officials quickly said there is no such meeting being considered.
All About Apple?
One could also make the argument that the recent market action is really all about a little technology company started by a guy named, Jobs. Apple Inc. (NASDAQ: AAPL) got an awful lot of attention yesterday as the company's market cap continues to balloon. (The recent spike in price doesn't hurt here.)
Apple (NASDAQ: AAPL) - Daily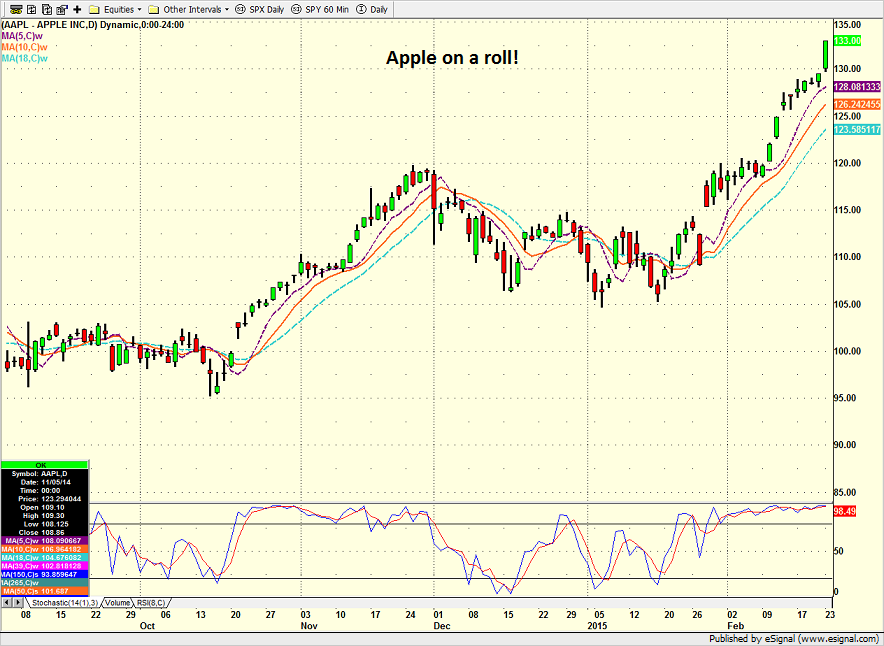 An article in the FT mentioned that with Apple's valuation now over $770 billion, its market cap is now greater than entire S&P 600 small-cap index.
The article added that stock now makes up 4.1 percent of S&P 500, a level surpassed by only five other companies in history. Next, the WSJ noted that Apple is now worth at least twice that of any other publicly traded U.S. company.
Finally, it is worth mentioning that if AAPL hits the most aggressive Street target (currently sitting at $165), the company's market cap would be just shy of $1 trillion.
So, if you are looking for the real key to the recent advance in the NASDAQ and the NASDAQ 100, look no further than AAPL.
Related Link: Why Are Apple And Facebook Making Big Bets On Virtual Reality?
Waiting on Yellen
Despite all the news flow, the S&P 500 wound up doing very little to start of the week. And although a late rally took prices from the low of the day to the high of the day, the end result would seem to suggest that stocks have stalled out.
The easiest explanation for the lack of follow through to Friday's breakout is the simple fact that Janet Yellen will testify on Capitol Hill twice this week. Her first congressional testimony on the state of monetary policy is scheduled to begin at 10:00 am eastern time.
Most analysts don't expect much from Yellen here. The consensus is that she will stick to the language provided in recent FOMC statement and that the Fed Chairwoman isn't likely to provide any new insight in terms of when the "patient" forward guidance language will be removed. Also look for Yellen to talk up the recent momentum in the labor market and the softness in inflation.
However, Yellen has provided some surprises before, so be sure to tune in.
Tags: Greece Janet Yellen John Williams OPEC
Posted in: Opinion Top Stories Economics Federal Reserve Best of Benzinga