Charging Infrastructure SPAC Plays: Is EVGo The Best Of The Bunch?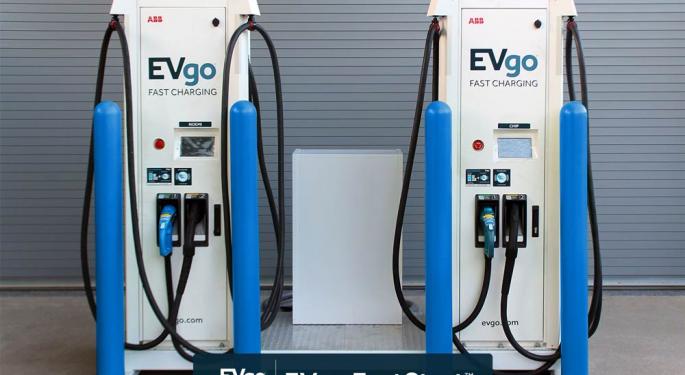 Last week, EVgo became the latest charging infrastructure company to announce a SPAC deal to go public during a time that is seeing rapid adoption of electric vehicles and infrastructure.
About EVgo: Climate Change Crisis Real Impact I Acquisition Corp (NYSE: CLII) is bringing EVgo public in a deal that values the company at $2.1 billion.
EVgo has over 800 locations for its fast-charging stations in 34 states, including 67 major metropolitan markets. The company has supported over 220,000 customers. EVgo has the largest public DCFC (direct current fast charging) network.
The company is a partner with General Motors Company (NYSE: GM), Tesla Inc (NASDAQ: TSLA), Nissan, Lyft Inc (NASDAQ: LYFT) and Uber Technologies Inc (NYSE: UBER). Charging stations are hosted at retail locations like Albertsons, Wawa and Kroger (NYSE: KR).
DCFC is the key that sets EVgo apart from competitors. DCFC made up only 5% of the market in 2019 and is expected to grow share to 40% by 2040. EvGo has 818 DCFC sites and 1,412 charging units.
Related Link: 7 Current And Former SPACs That Could Be 2020 Election Plays
Competitors: EVgo is the only charging partner engaged by multiple OEMs to build out the network. A deal with General Motors will see the company add over 2,700 additional fast-charging locations. EVgo also has a deal with Nissan that gives $250 charging credits to customers.
The company is also the first charging network with integrated Tesla connectors. Going forward, over 770 connectors are being added to chargers to help Tesla customers.
In the electric vehicle charging market, EVgo competes with Blink Charging (NASDAQ: BLNK), Electrify America, which is owned by Volkswagen (OTC: VWAGY) and ChargePoint, which is merging with SPAC Switchback Energy Acquisition Corp (NYSE: SBE). EVBox Group, which is going public with SPAC TPG Pace Beneficial Finance Corp (NYSE: TPGY), could also soon be a competitor as it seeks to enter the U.S. market.
ChargePoint and EVBox both have hundreds of thousands of charging stations. EVgo is the leader in DCFC trailing only Tesla by the number of locations with fast charging stations. Chargepoint had 731 locations as of June, Electrify America had 438 and Blink was part of a combined group that had 140 DCFC.
One notable difference between the competitors is an area of concern for EVgo. Despite its lead in the number of DCFC locations, EVgo has less connections than rivals due to an average of 1.7 per location. EVgo's total of 1,338 ranked behind Electrify America's 1,807 and ChargePoint's 1,614. The industry average was 3.8 connections per charging location.
EVgo is working on expanding the number of connections per location in the future with future spots having four, six or eight charging connectors.
EVgo also prides itself in a 98% uptime rating. Customer satisfaction scores reflect the uptime with EVgo scoring an 8.5 out of 10 for customer satisfaction compared to 8.0 for Electrify America, 7.6 for ChargePoint and 7.0 for Blink Charging.
Benzinga's Take: There could be room for several charging infrastructure stocks to gain on the continued rollout of the additional thousands of stations promised by President Joe Biden.
ChargePoint looks like it could be a big winner with its large number of stations and lead in the total number of DCFC connectors.
EVgo could be a winner as it works with partners like GM and Tesla to rollout additional DCFC locations and add Tesla connectors going forward.
Share Performance: CLII shares have more than doubled since announcing the deal. Switchback shares are up nearly 300% in the last year. Blink Charging shares are up over 2,000% over the last year.
View Comments and Join the Discussion!
Posted-In: charging infrastructure charging stations electric vehicles Joe Biden SPACSmall Cap Tech Trading Ideas Best of Benzinga