Is Roku's Speculated IPO A Viable Option Right Now?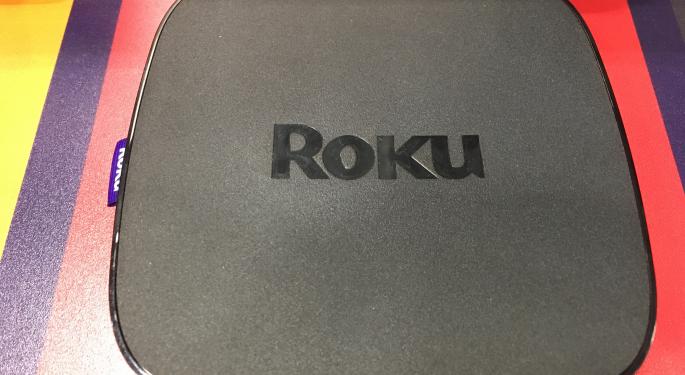 Video and audio streaming device maker Roku is reportedly prepping for an IPO, which could materialize before the end of the year.
Even as news trickled in, there were musings over the legitimacy and viability of the public offering.
The IPO rumors aren't new, as Dow Jones reported back in 2014 that Roku was readying to raise $150 million through a public offering.
The company is known for its streaming sticks, boxes and software that makes watching internet content on TV a pleasurable experience. Competing devices include Apple Inc. (NASDAQ: AAPL)'s AppleTV and Alphabet Inc (NASDAQ: GOOGL) (NASDAQ: GOOG)'s Chromecast.
The Wall Street Journal report suggested that the speculated IPO valued Roku at about $1 billion.
See also: Tech Sector Finally Recovers From The Dot-Com Bubble Of 2000
Roku announced on July 12 that its monthly active accounts rose 43 percent year over year to 15 million. The company added that users streamed about 7 billion hours on the Roku platform for the six-month period, 61 percent growth.
Data from eMarketer carried by Fortune showed that Roku led among streaming device companies, with 39 million people using a Roku device at least once a month in July compared to 37 million for Chromecast, 36 million for Amazon.com, Inc. (NASDAQ: AMZN) Fire TV and 21 million for AppleTV.
Apparently, Apple is relegated to the bottom of the pack due to a lack of original content offering, a lack of support for the hugely popular Amazon video content and higher pricing of the devices.
With most others having entry-level devices priced at $40 and under, Apple's cheapest device costs $150.
Despite all the arguments in favor of Roku's competitive positioning, pessimism abounds.
Here are some of the arguments against the company's purported move to test the IPO waters.
The IPO market is still lackluster, extending the lean patch seen in 2016. Although there have been some high-profile offerings from companies such as Snap Inc (NYSE: SNAP), investors are still skeptical concerning the heady valuation of companies, especially the startups. Snapchat's parent is now trading well below the IPO price of $17.
Rumors that Roku is looking at a confidential filing, allowed under the JOBS Act, aka Jumpstart Our Business Startups Act, of 2012, has increased nervousness among investors about limited visibility into the company's prospects. The act allows companies with less than $1 billion in revenues to submit registration statements for initial non-public review. Such a confidential filing helps a company gauge interest among investors for a potential offering before it can file publicly.
Competition in the space is heating up despite Roku's strong positioning in the market currently. The company's rivals are established companies with deep pockets and can invest their way to superiority.
Roku is also seen to be constrained by a lack of original content, having had to rely on original content companies such as Netflix, Inc. (NASDAQ: NFLX).
It's still unclear whether the IPO would get done by this year, if at all. When and if the IPO materializes, there are several wrinkles Roku needs to iron out for smooth sailing in the not-so-clear IPO waters.
_______
Image Credit: By FASTILY - Own work, CC BY-SA 4.0, via Wikimedia Commons
View Comments and Join the Discussion!
Posted-In: Amazon Fire Amazon Fire TV AppleTv ChromecastRumors IPOs Top Stories Tech Best of Benzinga