These Are The 10 Best Cities To Work If You're A CFA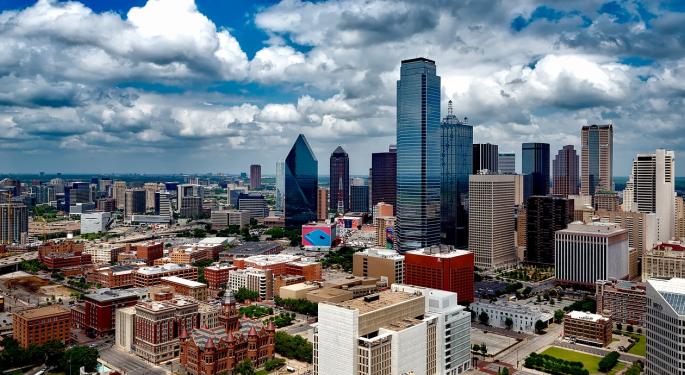 In 1963, there were less than 300 candidates to sit for the CFA exam. Now, with CFA salaries soaring, there are expected to be more than 180,000 candidates sitting for these exams in the coming years, as more and more people try to get jobs at big banks like JPMorgan Chase & Co. (NYSE: JPM), UBS Group AG (NYSE: UBS) and Wells Fargo & Co (NYSE: WFC).
The CFA Institute membership can be seen as a microcosm of the global investment profession, with virtually every type of professional at every type of firm represented. People holding the CFA designation can be found working as portfolio managers, research analysts, and chief level executives.
Based on density of job offerings, here are the best cities to work in if you have a CFA designation.
New York City
Considered the financial capital of the world, NYC is the beginning for many CFA professionals. We're currently seeing demand in the financial service, healthcare, nonprofit, real estate, advertising/media, retail, and insurance industries. Many of the largest investment banks, including Goldman Sachs Group Inc (NYSE: GS) Morgan Stanley (NYSE: MS), JP Morgan, and Merrill Lynch are headquartered there. Nearly every large, global financial institution has an office in New York. The city has lost a large number of jobs due to the credit crisis, but Wall Street is still the place to be.
London, England
London is the finance capital of the United Kingdom and some would say the European world. Home to nearly all of the large international banks and brokerage firms, London is particularly strong in currency trading, commanding more than twice the market share of its closest rivals.
Boston, Massachusetts
Boston is known for its asset-management business and large money managers, such as Fidelity Investments and Putnam Investments. The job market for asset management tends to be relatively more stable than that for investment banking or trading. This makes Boston a relatively appealing financial job market during economic recessions or market pullbacks.
Dallas, Texas
The Big D's core industries (energy and anything relating to it) have a heavy need for CFAs. And, energy companies can hire two to three times the accounting and finance staff a non-energy client would be able to. Currently, all sectors within energy are trending, including oil and gas, production and exploration, shale plays, energy trading, utilities, oilfield service, and energy-related technology.
San Francisco, California
San Fran's unique advantage is that its technology innovative environment is balanced by many privately-held "traditional" financial and professional service firms. This provides the foundation for high-risk companies to thrive and an aggressive job market. This city has some of the highest salaries in the nation. There are many brokerage and banking firms with offices in the San Francisco area, and companies such as Charles Schwab and Franklin Templeton Investments have their headquarters there. As the gateway to Silicon Valley, San Francisco has a particular focus on the technology sector.
Dubai, United Arab Emirates
As one of the fastest-growing cities in the world, Dubai is rapidly increasing in importance as a financial capital of the Middle East. Many global financial institutions are rushing to open and staff regional offices here. Even if you don't speak Arabic, many international applicants are able to find a job here.
Tokyo, Japan
As the capital of the world's third largest economy, Tokyo is the headquarters for most Japanese financial institutions as well as the regional headquarters for many international firms. Tokyo rivals New York for the title of world financial capital. While there are opportunities available, Tokyo is a difficult place to get a job if you don't speak the language.
Houston, Texas
Houston has a large concentration of Fortune 500 companies across a diverse set of industries, especially in the energy sector, including oil and gas, and real estate. As with Dallas, the city is extremely livable, with many attracted to its relatively low cost of living.
Frankfurt, Germany
Argued to be the finance capital of mainland Europe, Frankfurt is home to many large German companies such as Deutsche Bank AG (NYSE: DG). Many international firms also keep their European headquarters in Frankfurt. Frankfurt may be the destination for banks and other financial institutions that are relocating from London after the Brexit vote.
Zurich, Switzerland
Zurich is a great place to find a wide variety of finance jobs for CFAs. As the capital of the Swiss banking industry, global giants like UBS and Credit Suisse Group AG (NYSE: CS) have their headquarters here. Zurich is known for wealth management and private banking. You will have more success if you speak some German or French.
Brett Phillips is a contributor at Crush The CFA Exam an online resource dedicated to helping professionals pass their Financial Analyst Exams.
Posted-In: Global Economics Markets Personal Finance General Best of Benzinga
View Comments and Join the Discussion!