Must-Try Money Saving Strategies For Millennials In 2017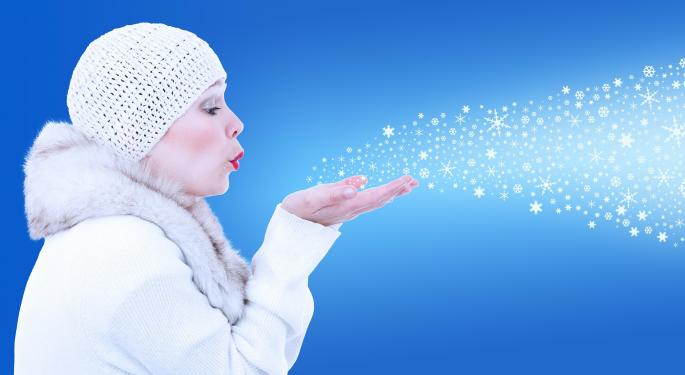 Whether or not your New Year's resolution is to save more money, it is important for millennials to consider how saving now will improve their future. Yes, retirement can be attainable, and here's how to get there: Consider what you spend the most on and, of those expenditures, what can be eliminated.
Millennials, Food And Experiences
Millennials tend to spend relatively more money than other generations, including baby boomers and generation X, on items that have no real return on investment (ROI): food and experiences.
According to a September 2016 Business Insider article, millennials are not investing in things that might be considered long-term investments such as a car or house.
"[M]illennials spend on a lot more on 'experiences' – things like travel, entertainment, and dining," the article explained.
Regarding experiences, Business Insider reported in a recent survey administered by Eventbrite, a digital platform that promotes local events, that more than three quarters of millennials surveyed reported that they prefer to spend money on experiences rather than products.
Why is this exactly? Many argue that the memory of an experience brings more lasting joy than a tangible product. Time Magazine reported that personal finance experts and top psychologists believe this is the very reason.
When it comes to purchasing groceries, millennials don't hold the bucks back. In an article entitled "How Millennials Spend: They prefer their foods organic, their products natural, and their banks small," The Atlantic reported that the Boston Consulting Group found this particular generation prefers to spend their money on "fresh fruits, organic food, and natural products."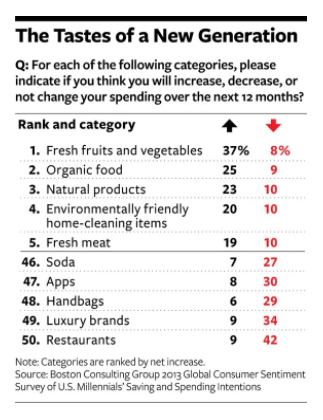 Goldman Sachs Group, Inc. (NYSE: GS) echoed this finding in a recent article. The article states, "They're (millennials) using apps to track training data, and online information to find the healthiest foods. And this is one space where they're willing to spend money on compelling brands."
And Nielsen Holdings (NYSE: NLSN) can confirm this very same phenomenon with recent data findings.
In its 2015 article entitled "Younger Consumers Endorse Healthy Foods with a Willingness to Pay a Premium," Nielsen included the following quote from Executive Vice President of Nielsen's Global Professional Services, Susan Dunn.
"While age often dictates a need for foods that contain certain health attributes, it is the youngest consumers who are most willing to back up their sentiments with their wallets."
So while healthy food and experiences will certainly allow millennials to enjoy the comprehensive good life, it may very well be wise to consider how much of one's budget is being poured into these items. After all, a well-rounded life also includes making smart, strategic long-term investments. Take control of your financial situation today and consider trimming your entertainment and foodie budget to put more money in long-term investments in 2017.
Infographic designed by The Atlantic with data from the Boston Consulting Group. The Atlantic article is entitled "How Millennials Spend: They prefer their foods organic, their products natural and their banks small." The article was written Peter Bell and Nancy Cook.
Posted-In: Budget Budgeting Business Insider Eventbrite millennialsEvents Media Personal Finance Best of Benzinga
View Comments and Join the Discussion!