Strong Earnings From Salesforce Could Help Tech, But Retail Hit By Disappointing Nordstrom Results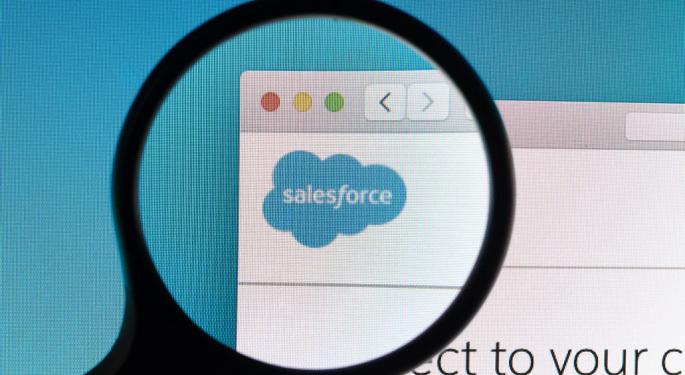 Though Fed meetings don't have much drama in the COVID-19 era, any speech by Fed Chairman Jerome Powell can still put investors on the edge of their seats. Tomorrow's Jackson Hole symposium—which won't be in Wyoming for obvious reasons—is a good example.
It sounds like Powell's going to be talking inflation in his speech after tomorrow's opening bell, and the 10-year Treasury yield has been creeping up as investors await his words. While stocks have a mixed tone this morning, it's interesting to see the 10-year yield climbing above 0.7% early on for the second day in a row. This might point to investors getting a sense that the Fed can't be ultra-dovish forever, though it seems doubtful Powell would change his tone tomorrow.
Headlines emphasized that Powell might be addressing "average inflation targeting," which means letting inflation run hotter than 2% at times to offset other periods when inflation is below that.
This could translate into the Fed getting less focused on its longtime 2% inflation target and allowing inflation to run above 2% if it's spent a long time below that. The idea is inflation would average out over time, though the Fed's sure had a tough go just getting inflation to 2% in the first place. Yields might be climbing this morning on thoughts that inflation could start veering higher if the Fed signals a willingness to let that happen.
There's nothing all that new about the idea of letting inflation run hot, actually. In fact, even before the pandemic slowed price growth down to a trickle, the Fed had been talking about the possible benefit of letting inflation exceed 2% for a while if it got there (it never really did according to the Fed's favored Personal Consumption Expenditure, or PCE index, which in June was up 0.8% year over year).
"We really ought to be getting inflation above 2% to show that it's a symmetric objective," Chicago Fed President Charles Evans told CNBC early this year, before the pandemic. "If it goes to two and a quarter or two and a half, that would be all right with me." That wasn't necessarily official Fed policy, but the thinking was there and it went beyond that one interview.
Powell, as he often does, finds himself trying to thread the needle. He's got a tough assignment with yesterday's consumer confidence number coming in surprisingly weak and American Airlines Group Inc (NASDAQ: AAL) announcing the layoff of thousands of workers. Those news items tend to point toward the economy needing current high levels of monetary accommodation, but the stock market continued charging higher before pausing Wednesday morning.
Pieces Don't Fit
This weird dichotomy between what the economy and consumers are telling us and what the market tells us isn't necessarily going away anytime soon. The period from September through the end of the year could be one of the strangest times in economic history if layoffs continue coming in, confidence continues to sag, but stocks keep climbing.
Wall Street's gains have been fueled by dovish rate policy, which makes it hard for many investors to know where else besides stocks to put their money. If Powell's speech makes it sound like the Fed plans to be even more accommodating by allowing inflation to rise above 2% and not taking any action, that could give the stock market more of a boost.
The consumer confidence miss might have helped snuff out yesterday's yield rally and kept Financials from getting traction. If confidence starts to flag, that could ultimately dent the housing sector, a key metric for the banks that's been one of the few really booming areas of the U.S. economy lately. Still, we're talking just one data point here, so it's important not to get carried away. University of Michigan consumer sentiment due this Friday might get a closer look from many investors, though, to see if it reinforces the pessimism from yesterday's number.
Crude is down slightly this morning, which isn't too surprising after it hit five-month highs yesterday. The market awaits more news from the storm heading toward the Gulf Coast, which could damage oil infrastructure there.
A Walk Down Earnings Row
Before salesforce.com, inc (NYSE: CRM) reported late Tuesday, the feeling on Wall Street was that if they didn't do well when so many companies are depending on the cloud and other digital services, shares would likely get punished.
It turns out no woodshed trip was necessary as the company not only had a good quarter, but also impressed with guidance—a nice change from the previous quarter when guidance disappointed. Shares of CRM, which is now joining the Dow Jones Industrial Average ($DJI), climbed double-digits before the opening bell. This could give the Tech sector a little more zip today after light gains Tuesday.
Things weren't so joyous over at the mall, where Nordstrom, Inc (NYSE: JWN) shares got tackled for a 7% loss ahead of the bell after quarterly revenue and earnings came up short of analysts' estimates. Digital sales fell 5%. See a deeper analysis of JWN's challenges below.
We're not done with retail earnings. Dick's Sporting Goods Inc (NYSE: DKS) leads the pack this morning, followed by Williams-Sonoma, Inc. (NYSE: WSM) after the close. Tomorrow we hear from Dollar Tree, Inc (NASDAQ: DLTR) and Dollar General (NYSE: DG), two companies that often do well during recessions.
DKS had a blowout quarter and shares rose 15% in pre-market trading. It goes back to what we've been saying: People want to do things besides sit around the house. As we've seen throughout the lockdown, many consumers are out there buying weights and stationary bikes. They want to exercise. Maybe if the shutdown's been good for one thing, it's getting us all back into shape.
CHART OF THE DAY: DOG DAYS FOR DOLLAR: This five-year chart of the U.S. dollar index (DXY—candlestick) shows just how low the greenback has descended in these tough days for the U.S. economy. One benefit of the lower dollar has been growth stocks, which tend to do well when a weak dollar strengthens overseas buyers and fuels "risk-on" trading. The other side of the coin is that sometimes a weak dollar is tough on small-cap stocks, and favors overseas stock markets vs. domestic. Data Source: Intercontinental Exchange. Chart source: The thinkorswim® platform from TD Ameritrade. For illustrative purposes only. Past performance does not guarantee future results.
Why Digital Shopping Isn't Always the Answer: JWN finds itself in maybe the toughest realm of all during these days when so many continue to stay home. Some investors might look at them and say it's time to focus on digital. Not so easy, and maybe not such a great idea, JWN differentiated itself in the first place from the Target Corporations (NYSE: TGT) of the world by offering a high-end experience and customer service that was among the best you could find.
Sure, they could focus more on digital, but why would someone go online and buy something that's more expensive at JWN than it is a few clicks away at Amazon.com (NASDAQ: AMZN)? Online, JWN can't offer differentiation of experience, and might start to cannibalize their own brand to a certain extent if people start to see it as just another online store competing on the discount aisle.
To add it up, investors might be disappointed with JWN's online sales, and it might cost JWN the coming holiday season. In the longer run, the company could ultimately benefit if it doesn't throw away the experience-based model that's been its bread and butter. Assuming things eventually get back to normal.
GDPNow and Later: Everyone who roots for the U.S. economy is probably hoping for optimistic tidings from tomorrow's weekly initial unemployment claims. Last time out, the data disappointed with claims coming in at 1.1 million after falling under a million the prior week.
Tomorrow's data could come in right at 1 million, according to Wall Street analyst consensus reported by research firm Briefing.com. A figure like that wouldn't be all that helpful by any stretch of the imagination. However, remember to look at continuing claims, too, because they fell pretty sharply last time.
Normally, tomorrow morning's second government estimate for Q2 gross domestic product (GDP) would be big news. However, after coming in at negative-32.9% the first time out, it would probably take some kind of huge adjustment to move the market much. Analysts expect a number similar to the first estimate. Looking ahead, the latest Atlanta Fed GDPNow estimate for Q3 growth is a very solid 25.6%.
Golden Apple? The way Apple Inc (NASDAQ: AAPL) shares have behaved this year, it feels like they've taken on an unusual role. Though AAPL is just a company with quarterly earnings, a dividend, a product line, and competition, the stock has morphed into being thought of as a traditional "safe haven" like gold instead of just an equity. This doesn't mean it's safe at all. No one is saying it's bulletproof, and it's pretty amazing how much its valuation has risen over the last year as earnings haven't kept pace with the stock price.
What seems to be happening is that many people looking for somewhere they think might be safe to put their money are turning to Cupertino. Bonds and cash have almost no yield, earnings across most sectors are down substantially, and even some of the other FAANGs like Facebook Inc (NASDAQ: FB), Amazon, and Alphabet Inc (NASDAQ: GOOGL) (NASDAQ: GOOG) are under regulatory pressure. So is AAPL, for that matter, but not quite as much, because it's not a social media stock and it's not so dependent on advertising.
That said, AAPL shares took a breather yesterday while most of the other FAANGs rose. Cyclical sectors keep trying to move higher and then flagging as investors seem more comfortable going back to the FAANGs that have led this long rally. People tend to fall back on what they know. As a father once told his son, "Dance with the girl you took to the dance." We've all been dancing with these Nasdaq (COMP) mega-caps for months.
TD Ameritrade® commentary for educational purposes only. Member SIPC.
View Comments and Join the Discussion!
Posted-In: Earnings News Bonds Retail Sales Global Federal Reserve Markets Tech