Barbie World Isn't So Fantastic: A Look At The Challenges Facing Mattel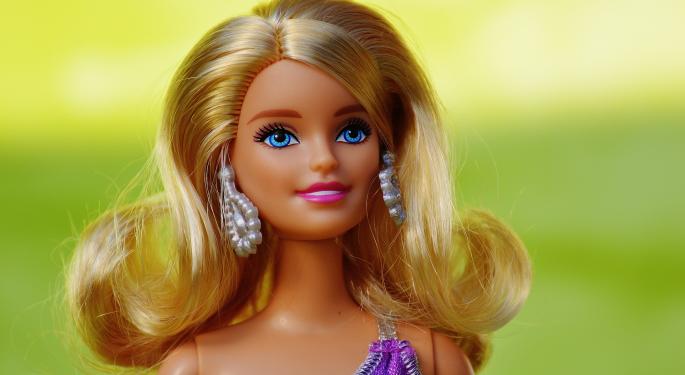 Mattel, Inc. (NASDAQ: MAT) is in some serious trouble. The toy company has seen its shares fall 13 percent since its June 14 high and 27 percent over the past year. Following the liquidation of Toys "R" Us, the company cut 2,200 jobs and is looking to Party City Holdco Inc (NYSE: PRTY) to help make up for lost sales.
Mattel released its second quarter earnings report on Wednesday and subsequently fell over 7 percent before recovering slightly. Shares were still 4 percent below their pre-earnings close by Friday's end.
One of the key questions facing investors is whether kids today still play with Barbies and Hot Wheels, or if they are just fine staring at a phone screen the whole day.
Where Does the Toy Industry Stand?
Before there were online retailers like Amazon.com, Inc. (NASDAQ: AMZN) or eBay Inc. (NASDAQ: EBAY), physical toy stores were every kid's dreamland. However, the influence of technology and e-commerce has resulted in a shift of where demand lies for toys.
According to analysis done by Jumpshot Inc., Amazon was responsible for more than 83 percent of sales for top toy brands like Lego, Mattel and Hasbro, Inc. (NASDAQ: HAS). In comparison, Toys "R" Us accounted for only 12 percent of online sales.
Although Mattel reported a loss in its share price and revenue, it saw an increase in gross sales of 12 percent and 21 percent for Barbie and Hot Wheels, respectively. And even though toy companies were put under sudden pressure after Toys "R" Us stores closed down, Hasbro has performed better than expected. Although revenues were down for both Mattel and Hasbro, they are consciously making an effort to remain on the forefront of this industry.
What Does This Mean For Mattel?
Even though Mattel reported a rise in sales for two of its most popular products, it is risky to be depend them for hope that the company will do well in the future. With losses the past four straight quarters, it is hard to determine whether or not Mattel has been left in the dust compared to its competitors.
According to UBS, there has been no evidence of industry structural declines. Therefore, any market share losses that Mattel has incurred are self-inflicted. The toy industry is a global industry worth billions of dollars, so on its own it is doing quite well. The struggles, or sometimes even successes, come from the individual companies within this industry.
Other Toy Companies
Other global toy companies such as Namco and LEGO have been doing extremely well within the industry. According to Statista, worldwide revenue for Namco alone was around $6.40 billion in 2017. LEGO has seen changes too after they regained a surge in revenue in 2015.
Bottom Line
Mattel has cut jobs and is closing its factories in Mexico in order to cut costs. It's apparent that as an individual toy company, Mattel is struggling. However, the industry as a whole still seems to be intact. As of now, investors should watch how the company reacts to the loss of workers and increased outsourcing.
Related Links:
Analyst: Mattel's Fundamentals Don't Warrant Its Recent Run
Goldman Sachs Downgrades Funko On Valuation, Says Market Understands Toy Stock's Momentum
The preceding article is from one of our external contributors. It does not represent the opinion of Benzinga and has not been edited.
View Comments and Join the Discussion!
Posted-In: contributor contributorsEarnings News Best of Benzinga