Pot Stocks, ETFs, Top News And Data From The Cannabis Industry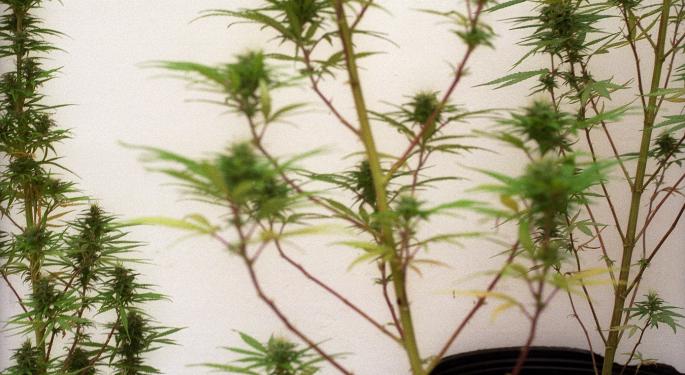 In a pretty unexpected turn of events, a federal appellate court in California rejected a motion to change CBD's Schedule I status, keeping this medical compound, which can be extracted not only from cannabis but also from non-psychoactive hemp and hops, in the same category as heroin. Meanwhile, protesters in Argentina and Peru gathered to demand the application of medical cannabis laws passed recently but still not applied.
The Denver Post cut all of the editorial staff at its trailblazing cannabis vertical "The Cannabist." Founding editor Ricardo Baca submitted an offer to acquire and salvage the publication.
The bad news drove the United States Marijuana Index, which tracks 17 of the largest marijuana stocks in the U.S., down toward the end of the week, closing down 1.2 percent by Friday. The North American Marijuana Index, which also includes Canadian stocks, posted losses of 1.5 percent.
The Horizons Marijuana Life Sciences Index ETF (OTC: HMLSF) gained 2.5 percent over the five days of the week, while the ETFMG Alternative Harvest ETF (NYSE: MJ) rose 3.1 percent. The SPDR S&P 500 ETF Trust (NYSE: SPY) slipped 0.2 percent.
Here are some of the top marijuana stocks in U.S. exchanges and how the performed this week:
In The News
A consortium of cannabis-related media professionals are conducting a Cannabis Media Survey at this link.
Censorship of cannabis-focused channels continues in Alphabet Inc (NASDAQ: GOOG)'s YouTube. Over the past few months, the video streaming platform has been closing many of these accounts with little or no explanation.
"Thousands of subscribers, videos, documentaries and years of work just vanished," Clara Sativa, co-founder of Spanish-language MarihuanaTelevision, one of the censored channels, told Benzinga. "We feel like we've been unfairly censored, since we were following every rule. Consequently, we've joined forces with more than 30 other YouTube banned channels and many supporters to sign a collective statement denouncing this censorship. YouTube is violating fundamental rights like those to freedom of expression and freedom of information."
The Green Organic Dutchman Holdings completed its initial public offering. Its stock started trading on the Toronto Stock Exchange under the ticker TGOD, opening Wednesday at C$3.73 ($2.80) per unit, versus the IPO's price of $3.65 ($2.84) per unit. Total gross proceeds from the IPO surpassed C$115 million – $89 million. Interestingly, Aurora Cannabis exercised its option to participate on a pro-rata basis, acquiring roughly C$23.1 million ($17.9 million) in units to maintain their 17.5 percent stake in the company.
"We are extremely pleased to list directly onto the TSX," CEO Rob Anderson told Benzinga. "The tremendously positive response from the investment community truly validates the company's business plan; becoming the world's leading organic cannabis company. Additionally, the support of our partner Aurora and their CEO Terry Booth has been nothing less than amazing. Our Company traded over 12 million shares today, and was the third most active stock on the TSX."
Making use of the first temporary Prop. 64 event license awarded by the California Bureau of Cannabis Control's, High Times hosted the nations' first-ever state-sanctioned recreational cannabis sales and consumption event at CalExpo in Sacramento, California -- the Central Valley Cannabis Cup. The event featured an expansive cannabis exhibitor village where all guests could sample and purchase an assortment of marijuana products and performances from artists like Lauryn Hill, Lil Wayne, Gucci Mane, Ludacris and Cyrpress Hill.
"We couldn't be more excited to welcome our community into this historic gathering - truly the first of it's kind. This isn't just a celebration for High Times, but for the entire community that has been fighting for this cause for decades. This is a win for us all," High Times CEO Adam Levin told Benzinga.
Cronos Group reported fiscal fourth-quarter revenue of $1.6 million up 274 percent year-over-year. For the full fiscal 2017, sales hit $4.1 million up from $554,000 in the previous fiscal year.
Learn more about these news, and others on Namaste Technologies Inc (OTC: NXTTF) and Sunniva Inc (OTC: SNNVF) with our partners at Green Market Report's Marijuana Money:
Interesting Data
According to New Frontier Data, growth in legal cannabis sales is expected to continue to surge in Canada and California through 2025 and reduce the illicit market by more than 20 percent in California to an estimated $2.62 billion in 2018 versus 2017. Illegal sales in Canada are expected to drop by 5 percent to $5.47 billion this year.
The total cannabis markets were worth $5.81 billion in California and $6.23 billion in Canada last year in 2017. These numbers are expected to hit $6.86 billion and $6.88 billion respectively in 2019.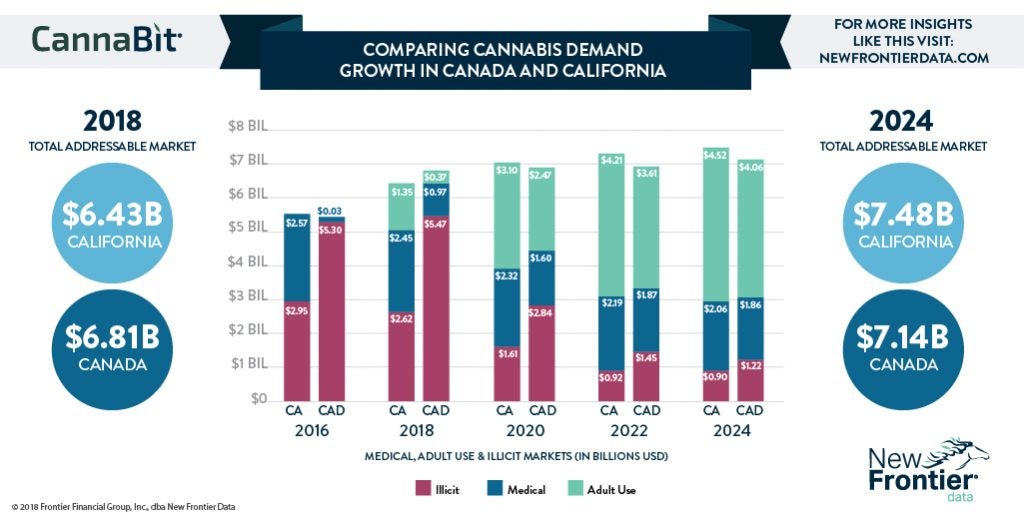 Source: New Frontier Data
A recent Washington D.C. market study conducted by Consumer Research Around Cannabis revealed interesting data about cannabis consumers in the nation's capital, like the fact that 47 percent of them are white collar workers. See all results below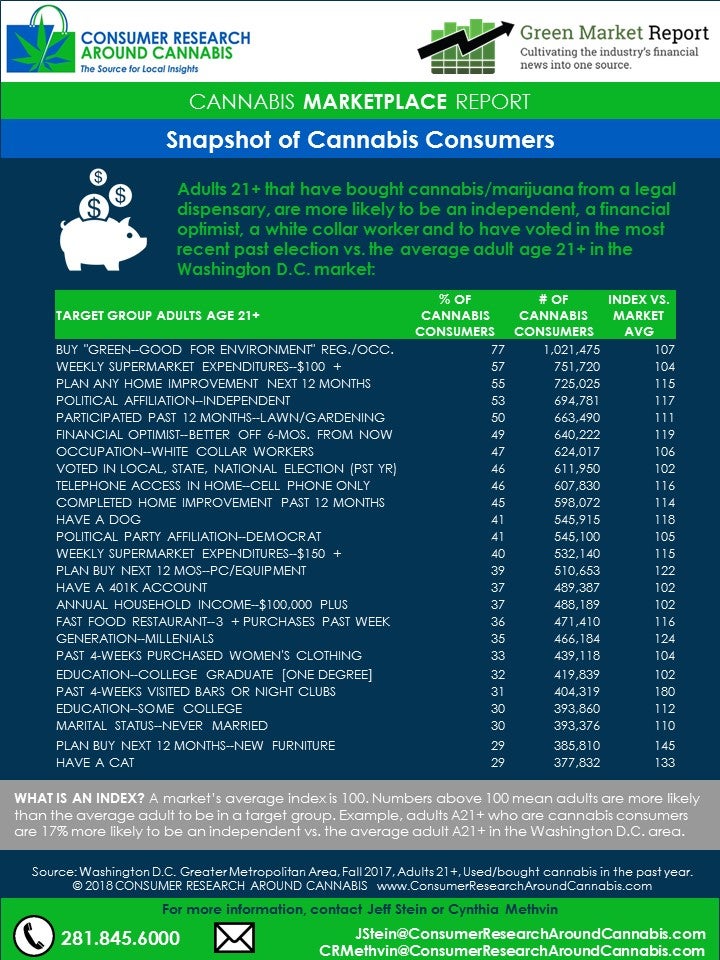 Source: Consumer Research Around Cannabis
Events Calendar
May 9 – May 11: Marijuana Business Daily is hosting MJBizCon NEXT at the New Orleans Morial Convention Center. Focused on the near future of the expanding cannabis industry NEXT will feature cutting edge innovations and new technologies for marijuana businesses.
May 18: WebJoint is hosting the California Cannabis Awards in Los Angeles. The CAAs is a high-end event geared towards nominating and awarding the top companies, entrepreneurs and advocates in the cannabis industry. Check out details and nominees following this link.
May 19-20: The 7th CannaGrow Expo will take place in Palm Springs, California, featuring more than 35 cultivation-focused educational sessions and an expo hall filled with cannabis-related technologies. In addition, the event will include a special Extraction Summit. Pass prices range from $99 - $399.
May 30 – May 31: Former Mexican President Vicente Fox announced his own cannabis event, "CannaMexico." This world summit will take place in Guanajuato, Mexico. Speakers include Mr. Fox, activist Cheryl Shuman and many others. See details here.
August 17 – August 18: Benzinga is hosting its first Cannabis Capital Conference in Toronto, Canada. Speakers include 420 Investor Alan Brochstein, MedMen's CEO Brett Roper and Lewis Goldberg of KCSA. Read all about it here.
Picture by Javier Hasse.
View Comments and Join the Discussion!
Posted-In: Cannabis Earnings M&A News Emerging Markets Specialty ETFs Politics Events Best of Benzinga