Cramer: The Title For 'Most Serious' Beat And Raise This Quarter Goes To Caterpillar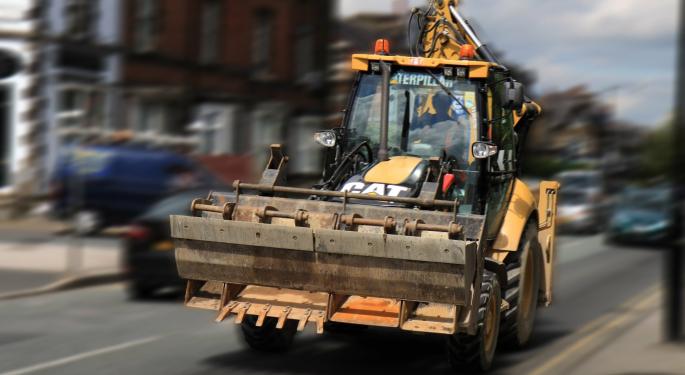 Shares of Caterpillar Inc. (NYSE: CAT) hit a new all-time high of $114 Tuesday after the company reported what CNBC's Jim Cramer described as the "most serious beat and raise" of any company this quarter.
Caterpillar earned $1.49 per share in the second quarter on revenue of $11.331 billion, which beat expectations of $1.26 per share on revenue of $10.93 billion. The company also raised its full-year 2017 sales outlook from a range of $38 to $41 billion to $42 to $44 billion and now the low-end of the range sits on top of the Street's estimate of $40.54 billion.
Caterpillar also boosted its full-year earnings per share guidance from $3.75 to $5.00.
"Construction is just on fire," Cramer said Tuesday morning. "You have got a tremendous, tremendous story here where the numbers are much higher than anybody was thinking. This stock will not stop at $113."
Granted, there will be some investors who don't share such a high level of optimism, especially since any weakness coming from China will "hold it down." But the bears may have it wrong, as the earnings report made it clear that construction equipment sales are "coming back" — even without the much-anticipated infrastructure bill from the White House.
Meanwhile, the energy sector benefited from "favorable price realization" even at a time when oil is trading south of $50 per barrel.
"I mean this is an incredible streamline cat," Cramer concluded. "Caterpillar is back much harder than I thought."
At last check, shares of Caterpillar were up 4.74 percent at $113.31.
Related Links:
What You Need To Know About Dow Components Reporting This Week
Posted-In: construction construction equipment energy Infrastructure SpendingEarnings News Movers Media Best of Benzinga
View Comments and Join the Discussion!