Tesla's 2016 In Review: From Model 3 To Gigafactory And Acquisitions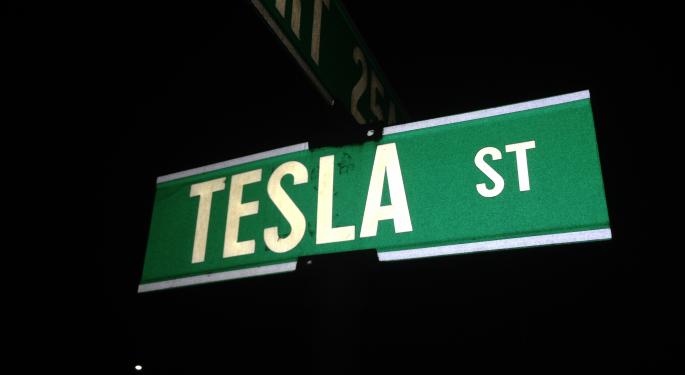 Electric vehicle maker Tesla Inc (NASDAQ: TSLA) has delivered a hit, with its forecast-beating fourth-quarter results. More comforting was the commentary from CEO Elon Musk that its mass-market Model 3 vehicle, on which the company has pinned its hopes for turning to black, is on track for commercial launch this year.
The company's revenue growth has been superlative over years, although it is yet to make a profit to date. The Street appreciates the fact that the company is operating in an investment-intensive environment and has given the benefit of doubt to the company, going by the 1020 percent gain notched up by its shares since it went public in 2010.
TSLA
Source: Y Charts
Forecast Beating Q4 Drive
The company reported a fourth-quarter loss of $0.78 per share, narrower than the year-ago loss of $2.44 per share. Revenues nearly doubled year-over-year to $2.3 billion. However, sequentially, revenues were down from $2.30 billion.
The top- and bottom-line results were ahead of expectations.
Total automotive revenues were at $1.99 billion, or roughly 87.3 percent of the total revenues compared to $1.12 billion in the fourth quarter of 2015. The company noted that global net orders for its Model S and X combined rose 49 percent year-over-year in the fourth quarter. Due to a continued mix shift to Model X, the company said average transaction price rose 1 percent sequentially.
Vehicle production in the fourth quarter was at 24,882 compared to 25,185 in the third quarter and 14,037 in the year-ago quarter. Deliveries totaled 22,252 compared to 24,821 in the previous quarter and 17,478 in the year-ago quarter.
Related Link: Tesla Is A 'Gift To U.S. Manufacturing'
Gross margin was at 19 percent, up from the year-ago's 18 percent.
Full-year loss was $674.91 million compared to a loss of $888.66 million in 2015. Revenues climbed 73 percent to $7 billion from the year-ago's $4.04 billion. Gross margin came in at 22.8 percent, almost unchanged from 2015.
Model 3 Production Schedule On Track
The company indicated in the earnings release that Model S and X order reached record high in the fourth quarter. Updating the itinerary for Model 3, its mass market electric vehicle, the company said it is on track for initial production in July, with volume production expected by September. Specifically, the company expects to produce over 5,000 vehicles per week at some point in the fourth quarter and 10,000 vehicles per week at some point in 2018.
The company's plan to make profits primarily hinges on the Model 3, which it plans to produce in high volumes. Meanwhile, Musk indicated on the call, though Model 3 won't need capital, it makes sense to raise capital to alleviate the risk due to the tightness of capital.
Telsa also said battery cell production started at its Gigafactory 1. The company reiterated all its vehicles in production have the hardware necessary for full self-driving. SolarCity and Grohmann integrations are underway, the company noted, with the acquisitions of these companies completed in November 2016 and January 2017, respectively.
Looking forward toward 2017, the company said it expects to deliver 47,000 to 50,000 Model S and Model X vehicles combined in the first half of 2017, up about 61–71 percent year-over-year. The company also expects gross margins to expand in the first quarter to the levels in the third quarter 2016 and then continue to expand in the second quarter of 2017.
The company also stated that it expects to invest $2 billion to $2.5 billion in capital expenditure ahead of the start of the Model 3 production.
Superlative Revenue Growth Since IPO
A comparison of how Tesla did in the fiscal year after its IPO date of June 29, 2010, would paint a clear picture of the company's growth trajectory.
Compared to revenues of $7 billion in 2016, the company's top line was a mere $116.74 million in 2010, roughly 60 times increase over a six-year timeframe. The company's net loss amounted to $154.15 million or $3.04 per share in 2010.
Telsa's 2016 was overwhelmingly positive, as it went from strength to strength on its existing models and made huge progress on its Model S. The company also succeeded in laying the foundation for vertical integration with its two recent buys. The year 2017 could prove to be an inflection point for the company, as it chases the elusive profits.
Image Credit: By Andrew Herzman - Own work, CC BY-SA 3.0, via Wikimedia Commons
Posted-In: Elon MuskEarnings News Guidance Travel Tech Trading Ideas General Best of Benzinga
View Comments and Join the Discussion!