How The Athletic Footwear Market Has Changed In Recent Years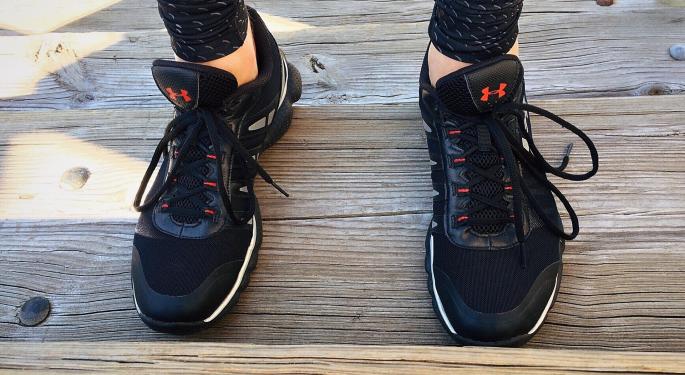 Under Armour Inc (NYSE: UA) (NYSE: UAA) shares are down more than 24 percent on Tuesday after the company broke its streak of 26 consecutive quarters of at least 20 percent revenue growth by delivering 12 percent revenue growth in Q4. The possibility of slowing growth is certainly disappointing for Under Armour considering the momentum the company had generated in recent years and the massive size of the global athletic apparel market, particularly when it comes to footwear.
Despite Under Armour's strong growth in the past decade, the company still has a long way to go to compete with the golden standard in athletic footwear: Nike Inc (NYSE: NKE). Nike has certainly lost market share to Under Armour and others in the past 20 years, but it remains the dominant force in athletic footwear.
Twenty (20) years ago, Nike's share of the global athletic footwear market stood at roughly 35 percent. Nike's largest market share competition at the time was Reebok at around 15 percent and adidas AG (ADR) (OTC: ADDYY) at around 10 percent.
Beyond Nike
There have been big changes and plenty of new competition in the athletic footwear space since 1997, but some things never change. As of 2015, Nike is still the dominant brand in footwear with roughly 22.9 percent of the global market share. The company's top two competitors back in 1997 joined forces along the way but are still chasing Nike. Adidas bought Reebok for $3.8 billion in 2005, but Reebok's footwear business has really lost steam. Statista reports that Reebok's brand value has fallen roughly 33 percent in the past four years alone. As of 2015, adidas held roughly 9.7 percent of the global athletic footwear market.
Other names have come on strong in the past two decades. As of 2015, New Balance and Sketchers USA Inc (NYSE: SKX) had 4.4 percent and 3.0 percent of the market, respectively. PUMA SE NPV (OTC: PMMAF) held around 2.1 percent market share. Despite its impressive growth, Under Armour still held led than 1.0 percent of global market share.
Retro shoes were the dominant theme in footwear in 2016. Shares of Under Armour are now down 52 percent in the past year, while adidas and Puma shares have skyrocketed 52 percent. Nike is down 15.5 percent and Sketchers is down 13.7 percent.
View Comments and Join the Discussion!
Posted-In: Athletic Footwear BZTV New BalanceEarnings News Education Trading Ideas General Best of Benzinga