A View From The Sky: Jets ETF Executive Provides Top-Down Look At Airliners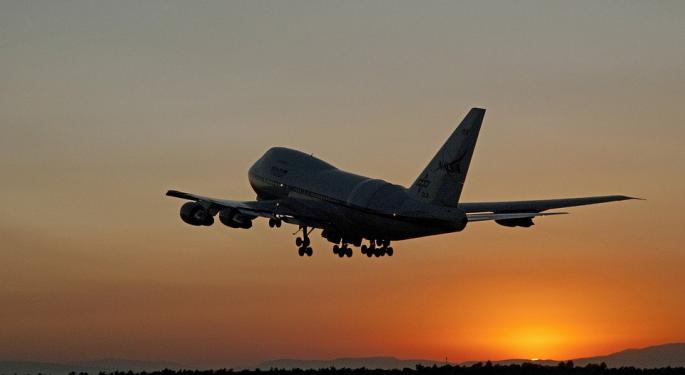 If there has been one consistent upside industry this earnings season so far, it is airliners. Delta Air Lines, Inc. (NYSE: DAL), United Continental Holdings Inc (NYSE: UAL) and Southwest Airlines Co (NYSE: LUV) have all come out with strong reports, exceeding revenue estimates and showing consistent quarterly earnings growth over 2016. American Airlines Group Inc (NASDAQ: AAL), which is due to report in the next few days, is the last of the big four to deliver their end of year earnings.
The recent market turnaround of the previously maligned industry is no fluke, according to Frank Holmes, CEO of U.S. Global Investors, which manages the airline-centric U.S. Global Jets ETF (NYSE: JETS). However, it is the result of a deliberate overhaul and revenue generation strategy on the part of company executives.
Since starting the fund in mid-2015, Holmes said he has recognized a distinct emphasis to more effectively monetize commercial travel without out pricing customers: "When we first launched Jets as an ETF there was a lot of pushback. 'Well Buffett doesn't like the industry, they're destroyers of capital.' But since they've gone through all of this restructuring, they've hired new CEOs, the industry's captains are very focused on high cash returns on investor capital."
As a result, the Jets ETF posted a high of $29 late in January, due mostly, Holmes suggests, to the fund's emphasis on growth value. "Our ETF is a smart beta that looks for who has the strongest revenue one quarter over four quarters and cash returns on investor capital," he elaborated.
A First Class 2016
The excellent numbers being posted by the big four airlines, which make up nearly 50 percent of Jets' asset value, for the end of 2016 came in part as a result of the post-election market boom. "They started in a rally last year and rolled over," Holmes pointed out, "and then after the election, everything exploded in America, and that ignited the airlines."
However, the internal efforts to create revenue on the part of the airlines played a more substantial role in ensuring sustained growth over the course of the year. Holmes highlighted consumer-centered investments that made travel more affordable without losing profits. "The options for you and [me] to fly are 25 percent less than they were 10 years ago, but they've put a lot of money into technology. Lost baggage has dropped dramatically, and they charge you for Wi-Fi. That's a big revenue source. They charge you for many other things while flying — baggage, etc. This has allowed them to have ancillary sources of revenue."
The 2017 Flightpath
When asked about what to expect from airline stocks over the next 12 months, Holmes expects closer analyst attention and appraisal of the industry, garnering re-ratings that will carry over into the discount airliners. However, even following their strong 2016 performance, in Holmes estimation, the industry remains a great value. "A year ago, UAL was trading at 3 times earnings," he emphasized. "Even today, the airline industry is trading at a third of what the S&P is trading at. So they still offer you really attractive upside rating."
What Holmes believes will be a big indicator of how the industry will perform in 2017 is strength of the middle class across the globe and the impact of international competition. He pointed out that airlines will most likely see increased business from China, the middle class of which has grown substantially.
Nevertheless, domestic consumer and business confidence will have its part to play in impacting both the revenue and overhead during 2017. Holmes explained: "When we look at the sentiment of America's economy, we see that the Purchasing Managers' Index, is very positive. As long as that's taking place, it's good for energy prices. It means they're not going to explode on the upside. So, the airlines are not going to get hammered in their cashflow. But, it also means economic activity will remain healthy. Sentiment since [Donald] Trump has become the president is very strong and the airlines have said that they've noticed, and they've been able to have pricing power even on business class seat."
For more analysis on the airline industry, watch this video provided by U.S. Global Investors and look for Frank Holmes on the February 8 episode of Benzinga's PreMarket Prep morning show.
View Comments and Join the Discussion!
Posted-In: Earnings Sector ETFs Specialty ETFs Travel Top Stories Markets Trading Ideas Interview Best of Benzinga