Gun Stocks In The Cross-Hairs Ahead Of FBI Background Check Data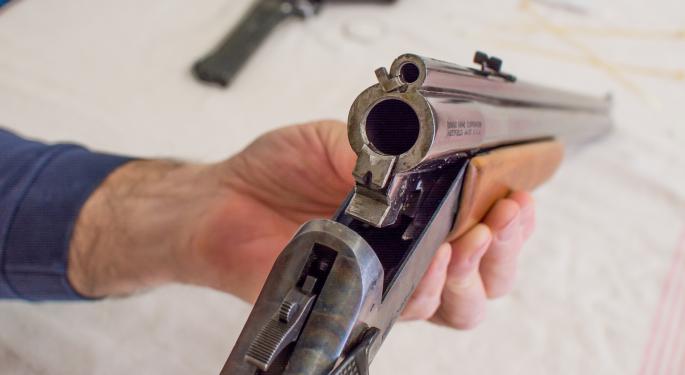 Investors and traders will be looking at gun stocks ahead of the FBI's background check data release this week. Additionally, of particular interest is the earnings announcement of Sturm Ruger & Company Inc (NYSE: RGR) on Tuesday.
The Firearm Background checks data is released by the National Instant Criminal Background Check System, which is followed in the United States to determine if the prospective buyer qualifies for buying a firearm or explosives.
The key stocks that may witness significant upside/downside movement following the data release include: Cabelas Inc (NYSE: CAB), Sturm Ruger and Smith & Wesson Holding Corp (NASDAQ: SWHC).
For the month of September, the data showed the agency's firearms background checks rose 11 percent to 1,992,219. For September, the adjusted NICS data rose 6.6 percent year-over-year for Cabelas.
According to Mass Shooting Tracker, 40 people were killed and 137 wounded in October in various shooting incidents across the United States. This was lower than the 51/157 number recorded in September.
This year, fear levels surrounding potential changes to gun laws have been doing the rounds following high profile campaigning of Hillary Clinton and other Democrats who have made gun violence a central part of their platforms.
On her website, Clinton's campaign says:
"As president, Hillary will:
"Expand background checks to more gun sales — including by closing the gun show and internet sales loopholes — and strengthen the background check system by getting rid of the so-called 'Charleston Loophole.'
"Take on the gun lobby by removing the industry's sweeping legal protection for illegal and irresponsible actions (which makes it almost impossible for people to hold them accountable), and revoking licenses from dealers who break the law.
"Keep guns out of the hands of domestic abusers, other violent criminals, and the severely mentally ill by supporting laws that stop domestic abusers from buying and owning guns, making it a federal crime for someone to intentionally buy a gun for a person prohibited from owning one, and closing the loopholes that allow people suffering from severe mental illness to purchase and own guns. She will also support work to keep military-style weapons off our streets."
At last check, Cabelas traded at $61.61, Smith & Wesson traded at $26.43 and Sturm Ruger at $61.50.
View Comments and Join the Discussion!
Posted-In: FBIEarnings News Previews Politics Topics Trading Ideas General Best of Benzinga