Markets Open to the Downside Amid Pullback Abroad
Another day, another venture into record stock-market territory, right? Not so fast. It looked like the three major benchmarks might hit a hurdle in the early going after the markets slumped in Asia and Europe.
That could change, however, as the day unfolds and investors absorb today's key data points. Consumer prices for July were the yawn they were expected to be: no significant change in the Consumer Price Index from June. Core CPI, which deducts the volatile food and energy costs, inched up 2.2% compared with June's 2.3% gain.
Housing data was mixed, with starts rising a robust 1.21%, but building permits down 0.1% month-over month. Permit data offers a window into the future of new-home construction.
Meanwhile, Home Depot Inc (NYSE: HD)'s Q2 results appeared to bolster the housing market with higher sales and profits as housing continues to be a "tailwind" for the do-it-yourself big-box retailer, the company said. HD also upped its full-year profit guidance to $6.32 a share from $6.27.
How High Is Too High?

Is this a double trifecta? For only the second time since 1999, the three major benchmarks edged into record terrain Monday amid volume that was as slow as molasses. As a result, the gains were small but enough to trickle onto new ground. The Dow Jones Industrials Average (DJIA) crawled up 0.32%, or 59.58 points to 18,636.005 while the S&P 500 (SPX) added 6.10 points, or 0.28% to settle at 2,190.15 with seven of the 10 major sectors moving to the upside. The Nasdaq Composite Index (COMP6), making it a perfect threepeat, rested at 5,262.02, up 29.12, or 0.56%.
Yesterday's gains were sparked by a better-than 3% jump in crude oil prices, putting West Texas Intermediate (WTI) at $45.83 a barrel, up 1.34, a one-month high and all that much closer to a key level of $50 a barrel.
Again, the VIX, the market's fear gauge, was in low double digits, at 11.82, indicating that there is a wall of complacency surrounding the markets. Is that a good thing? Analysts are debating the sustainability of more market advances once fall gets back into full swing and all traders are home from the beach and back in their stock-market saddles. The "sell in May and go away" adage may have hurt traders who followed it this year, but many bulls think the market's volatility came and went before the 4th of July, which might explain why it's so dull in Traderville now. The Brexit vote, after all, happened June 23.
But what does that mean for the rest of the year? Can SPX reach 3,000 before then? And what about that Federal Reserve? What are they going to do? Futures show them doing a whole lot of nothing on the interest-rate hike front now until after the November elections. But Fed members are on the ground this week with Dennis Lockhart and James Bullard scheduled to speak.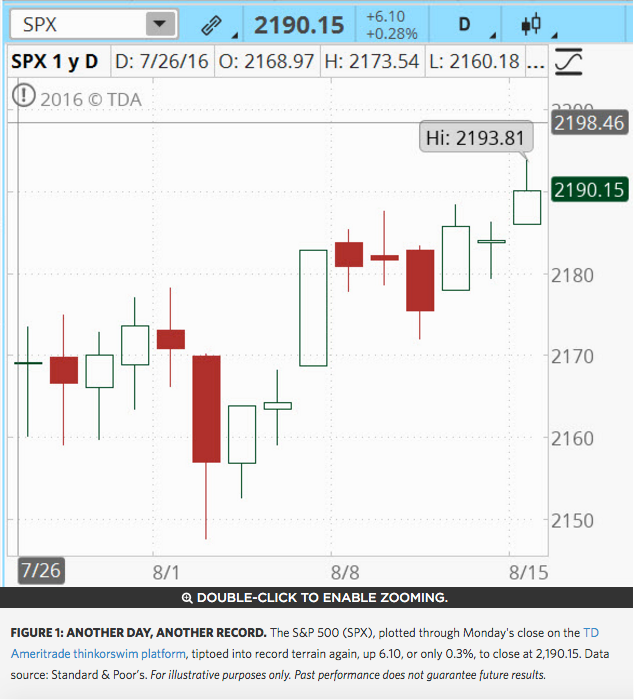 New Game Play for Fed? That's what John Williams, the Fed's San Francisco bank president thinks, according to an essay he penned that was released Monday. He's calling for policy makers to put their heads together and reconsider how they write fiscal and monetary policy, particularly in the data-dependent approach to targeting inflation amid multiple years of ultra-low interest rates. This practice of targeting low inflation doesn't work when interest rates are already at rock-bottom levels, according to Williams. "There is simply not enough room for central banks to cut interest rates in response to an economic downturn when both natural rates and inflation are very low," he said in the essay. Either raise the inflation goal or find something completely new to put in place, he suggested. "We can wait for the next storm and hope for better outcomes or prepare for them now and be ready," he wrote.
TD Ameritrade and all third parties mentioned are separate and unaffiliated companies, and are not responsible for each other's policies or services.
Inclusion of specific security names in this commentary does not constitute a recommendation from TD Ameritrade to buy, sell, or hold.
Market volatility, volume, and system availability may delay account access and trade executions.
Past performance of a security or strategy does not guarantee future results or success.
Options are not suitable for all investors as the special risks inherent to options trading may expose investors to potentially rapid and substantial losses. Options trading subject to TD Ameritrade review and approval. Please read Characteristics and Risks of Standardized Options before investing in options.
Supporting documentation for any claims, comparisons, statistics, or other technical data will be supplied upon request.
The information is not intended to be investment advice or construed as a recommendation or endorsement of any particular investment or investment strategy, and is for illustrative purposes only. Be sure to understand all risks involved with each strategy, including commission costs, before attempting to place any trade. Clients must consider all relevant risk factors, including their own personal financial situations, before trading.
TD Ameritrade, Inc., member FINRA/SIPC. TD Ameritrade is a trademark jointly owned by TD Ameritrade IP Company, Inc. and The Toronto-Dominion Bank. © 2016 TD Ameritrade IP Company, Inc. All rights reserved. Used with permission.
Posted-In: Earnings News Guidance Analyst Ratings Reviews General
View Comments and Join the Discussion!