Well, That Was Quick. Markets Barely Budge in Early Trading
Stocks wandered into negative territory in early trading today, giving back some of yesterday's gains. Was Monday's rally an anomaly?
It was an unlikely pair—crude oil and shares of Apple Inc (NASDAQ: AAPL)—that made Monday's trading look like a celebratory party. Every major benchmark turned higher, and analysts and traders everywhere were debating the thinking behind Berkshire Hathaway, or really, Warren Buffett's decision to invest in a sector he has long shunned: technology.
Turns outs, Mr. Buffett—who, for years, has been very vocal about his reservations about investing in a segment, or categorically, anything he didn't understand and couldn't make predictions on future earnings (and tech, he always said, was never a good wager in his horizon)—didn't actually make the bet to invest more than $1 billion in AAPL. His investing lieutenants, Ted Weschler and Todd Combs, made the call. They, apparently, don't need the Big Man's OK to make the move, according to published reports.
"It appears to be a low-risk investment with considerable upside potential…however, I do not think this is an investment that Buffett would make," David Kass, a Berkshire shareholder and finance professor at the University of Maryland business school, told The Wall Street Journal. "Todd Combs and/or Ted Weschler…perhaps have a better understanding of the competitive advantages Apple possesses vis-a-vis the technological challenges it might face in the years ahead." According to WSJ, the two are considered major players in Buffett's succession plan, when his roles as chief executive, chairman and investment manager will be split into three.
Whatever. The markets, helped also by a disruption-related jolt in crude oil prices, were as primed as a well-seasoned steak throughout the day but all ended the session off of intraday highs. The Dow Jones Industrials (DJIA) logged a solid 1% gain to close at 17,710. The S&P 500 (SPX) and Nasdaq (COMP) were able to recoup losses from last week's choppy trading with the SPX landing at 2,066.66, up 20.05, and COMP adding 57.78, or 1.2%, to 4,775.46. Even gold, considered a safe-haven investment that typically does better when markets are down, ramped up. The New York Spot price ended the session higher by $1.20 at $1,274.00, and was advancing in early trading today.
West Texas Intermediate (CLM6) crude oil prices, which were benefiting from production woes in Canada, Nicaragua and Venezuela, finished the session at $47.72, after flirting with a six-month high of $47.85. That's up 3.3%, or $1.51—its peak since Nov. 3. A last-minute buying burst appeared to be testing the $48 level, according to Reuters. In the early goings today, crude's price levels were struggling to stay in the green.
As happy as it all appeared, we've been to this kind of party before—and it hasn't always ended well. Every other day there is some kind of news that moves the markets up or sucks the air out of the balloon in a big way. On the SPX, our next challenge is 2,100. Until we break out of this tight span of 2,050 to 2,100, some analysts suggest you might want to consider this trading as range bound.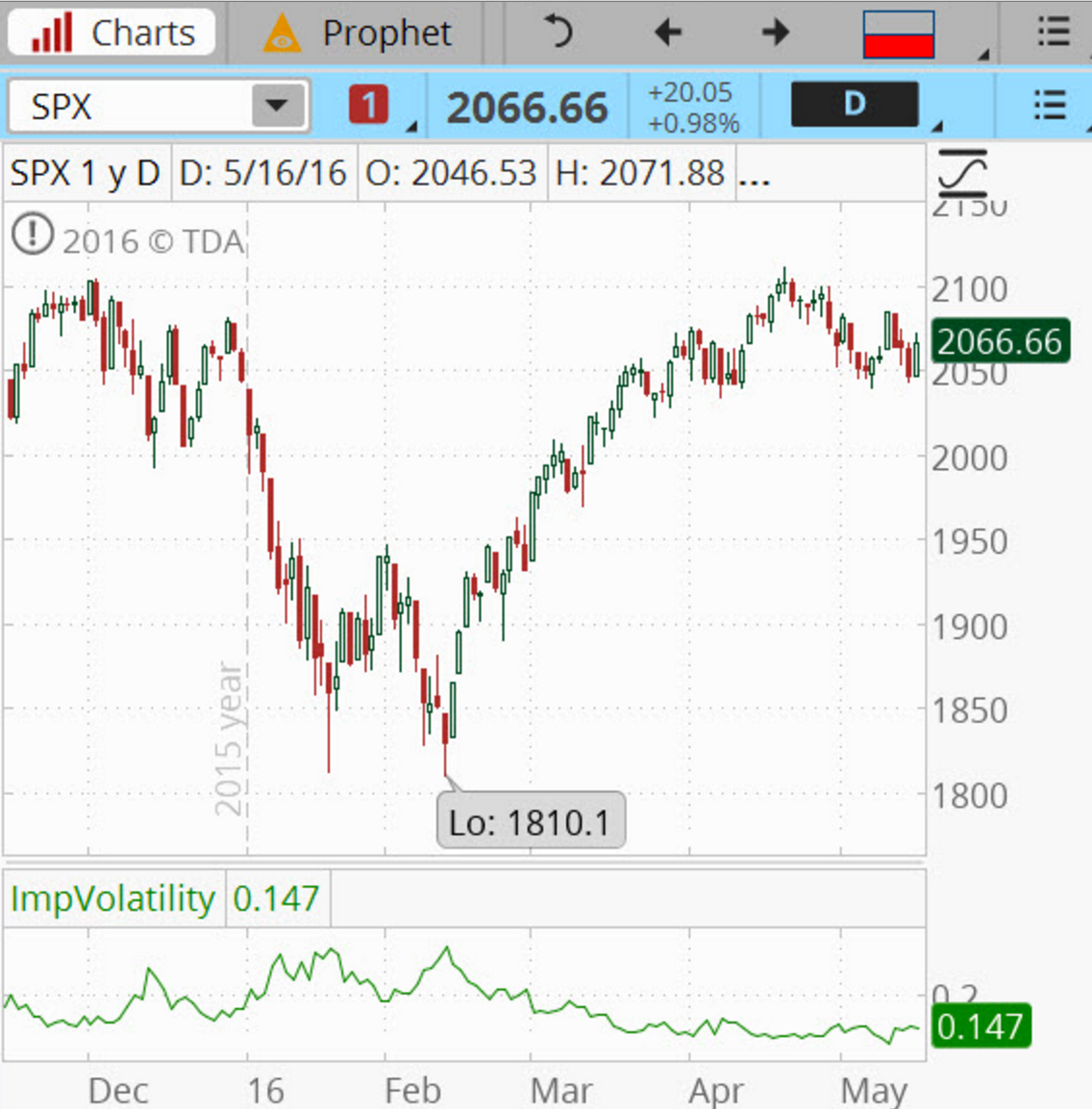 Everything's Getting Pricier. The Consumer Price Index, the measure of what we're all paying for everything we eat, drink and wear, jumped a seasonally adjusted 0.4% in April, the government said this morning. That ranks as the biggest one-month leap since February 2013. Stripping out food and energy, categories economists consider volatile, CPI added 0.2% for core prices. This is an important metric for the Federal Reserve, which has an eagle-eye on anything that might signal inflation. The Fed has said annual inflation at 2% might help trigger an interest-rate hike.
Berkshire's Bet on AAPL. Berkshire Hathaway Inc (NYSE: BRK) swapped more than 46.58 million shares of AT&T Inc. (NYSE: T) for 9.81 million shares of Apple as of March 31, according to regulatory filings. MarketWatch's Tomi Kilgore says BRK did "exactly what S&P Dow Jones Indices, the keepers of Dow Jones Industrial Average, did by swapping AT&T for Apple, except (Berkshire) waited a year." He was referring to AAPL replacing T as a blue-chip stock. AAPL's share price is down more than 27% in the last year, making BRK delayed purchase more valuable.
Love That Amazon Trail Mix. As Amazon builds its reign over retail, it is expanding its private-label brands into non perishable items, like nuts, spices, tea and coffee, according to the Wall Street Journal. Happy Belly, Wickedly Prime and Mama Bear are among the brand names you'll see on Amazon's website, maybe as soon as this month, that will also include baby food and vitamins, and household items such as diapers and laundry detergents, WSJ reported. "Amazon is 'carpet-bombing' the market with new products," Bill Bishop, chief architect of brand consultancy Brick Meets Click, told WSJ. "Private label allows them to test out new prices and distinctive flavors with less risk."
Inclusion of specific security names in this commentary does not constitute a recommendation from TD Ameritrade to buy, sell, or hold.
Market volatility, volume, and system availability may delay account access and trade executions.
Past performance of a security or strategy does not guarantee future results or success.
Options are not suitable for all investors as the special risks inherent to options trading may expose investors to potentially rapid and substantial losses. Options trading subject to TD Ameritrade review and approval. Please read Characteristics and Risks of Standardized Options before investing in options.
Supporting documentation for any claims, comparisons, statistics, or other technical data will be supplied upon request.
The information is not intended to be investment advice or construed as a recommendation or endorsement of any particular investment or investment strategy, and is for illustrative purposes only. Be sure to understand all risks involved with each strategy, including commission costs, before attempting to place any trade. Clients must consider all relevant risk factors, including their own personal financial situations, before trading.
TD Ameritrade, Inc., member FINRA/SIPC. TD Ameritrade is a trademark jointly owned by TD Ameritrade IP Company, Inc. and The Toronto-Dominion Bank. © 2016 TD Ameritrade IP Company, Inc. All rights reserved. Used with permission.
Posted-In: Earnings News Econ #s Markets Analyst Ratings
View Comments and Join the Discussion!