So What's the Fed Thinking Now? Members to Speak, Markets Could React
U.S. markets were heading higher Tuesday, shaking off the expected, but still disappointing start to earnings season with Alcoa Inc.'s (NYSE: AA) late-Monday results. But if yesterday's topsy-turvy day of trading taught us anything, it's that there's little conviction on the direction of trading. Will we see more of it today?
It was if the markets teased investors all day Monday. The Dow Jones Industrials (DJIA), the Nasdaq (COMP) and the S&P 500 (SPX) all started the day comfortably in positive territory. And they danced around there for nearly the entire session. And then, about an hour before the close, the tables turned. It also happened to be when major oil contracts closed—to the upside. Coincidence? Maybe, maybe not.
The Chicago Board Option Exchange's Volatility Index, nicknamed the VIX, is Wall Street's so-called fear gauge, measuring market sentiment. It also was prancing about, on the low end, as the markets skipped around. But when the frolicking stopped on the floor of the markets, the VIX tensions shot up 6% to close above 1600. That's not too problematic, per se, given the historical worry average of 2000, but notable.
The U.S. oil benchmark clinched a closing price above $40 a barrel for the first time in three weeks. Does that end the link between oil and the stock market? Remember, one day does not make a trend, but it sure shoots up flags. Oil was moving ahead again early Tuesday and since last week is riding a near-12% gain.
The markets are likely to be listening to Fedspeak for some direction today. We've also got a battalion of regional Federal Reserve presidents hitting the speaking circuits and there could be a lot of hawkish chatter out there based on who is next up on the dais. There are only two weeks left until the April meeting, so we may hear the drumbeat for a sooner-than-later Federal funds hike reverberating loudly. Will Fed Reserve Chair Janet Yellen listen?
The CME Group's FedWatch tool charting the futures market's expectation of a Fed funds rate hike indicates the answer appears to be no. There is only a 2% probability of a hike in April and another anemic 17% chance in June, though that prospect has been jumping around all month, trending as high as 31% at the beginning of April. The first time that we're now looking for a probability over 50% is in December, and it's only at 51%. But remember who's in charge over there. Yes, Yellen—and she's been pretty clear about the dovish direction she's headed into in April.
Dallas Fed President Rob Kaplan appeared to straddle the hawkish/dovish line in an interview on CNBC this morning. "The path to normalizing rates is never going to be easy. The next five years are going to be as complicated as the last five to 10 years," he said. "The move in December was right, but I think we're going to have to be slow and patient. It doesn't mean standing still…but expect a slow, patient, gradual normalization."
Speaking of Yellen, she was hanging out with President Obama yesterday in what the White House described as just a friendly get-together. Sure, they talked about the state of the economy, banking regulation, consumer protection—all those things you'd expect them to. Interest rates, you ask? Did they chat about those? Not likely, the White House said before the meeting. (There were no wrap-up statements after the meeting.) This is what WH spokesman Josh Earnest said then: "I would not anticipate that, even in the confidential setting, that the president would have a conversation with the chair of the Fed that would undermine her ability to make these kinds of critical monetary policy decisions independently," he said. "I know that the president cares deeply about preserving both the appearance of and the fact of the independence of the Federal Reserve and the chair."
As we noted yesterday, this is a data-laden week with numbers that may be meaningful to the Fed as it weighs the when and the if about raising interest rates. Tomorrow's retail sales numbers could be a tell-all for just how wide consumers are opening their wallets, if at all. Many analysts expect the numbers will be jacked by higher prices at the gas pump and this year's early arrival of Easter, a historically robust shopping period. Later in the week, the consumer price index (CPI) and manufacturing numbers are expected to open the blinds on what else has gone on in the economy.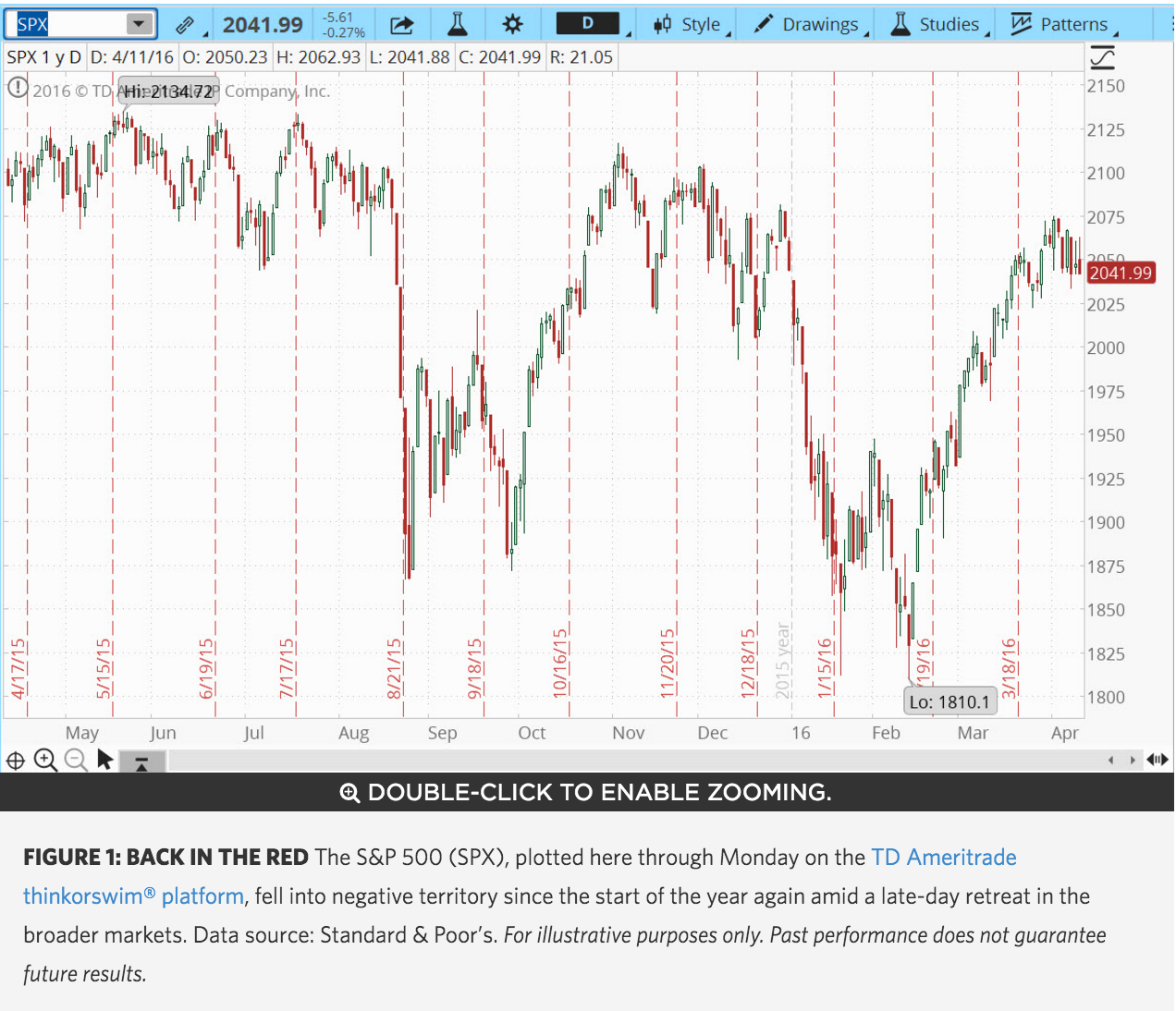 Goldman Hit with $5 Billion Fine: The Justice Department slapped Goldman Sachs Group, Inc. (NYSE: GS) with a $5-plus billion fine over accusations of misleading investors of mortgage-backed securities. The Feds held GS "accountable for its serious misconduct in falsely assuring investors that securities it sold were backed by sound mortgages, when it knew that they were full of mortgages that were likely to fail," according to a statement. The $5.06 billion fine, which includes a $2.39 billion civil penalty, ends the state and federal probes into how Wall Street banks may have contributed to the housing bubble and the heavy losses investors were left holding. Goldman is the last of the big banks to settle with the government. Here's the penalty scorecard: $13 billion from JPMorgan Chase & Co. (NYSE: JPM), $16 billion from Bank of America Corporation (NYSE: BAC), $7 billion from Citigroup, Inc. (NYSE: C) and $3.2 billion from Morgan Stanley (NYSE: MS). The New York Times points out that GS will not end up paying the headline amount because of a combination of government incentives and tax credit. Other big banks got such concessions too, according to NYT.
Tesla Sounds a Recall: Add Tesla Motors, Inc. (NASDAQ: TSLA) to the list of automakers issuing recalls. The electric-car maker is calling back its new Model X crossover SUV because of faulty seats. This is TSLA's first recall for the Model X, which surfaced when the auto company discovered the third-row back seats had a bad latch that might not work during a crash. It's recalling 2,600 of the luxury crossovers that were built before March 26. The flaw showed up in tests TSLA was making to meet European standards. If you've got a bum X, TSLA will ring and dispatch the repair team to you.
Inclusion of specific security names in this commentary does not constitute a recommendation from TD Ameritrade to buy, sell, or hold.
Market volatility, volume, and system availability may delay account access and trade executions.
Past performance of a security or strategy does not guarantee future results or success.
Options are not suitable for all investors as the special risks inherent to options trading may expose investors to potentially rapid and substantial losses. Options trading subject to TD Ameritrade review and approval. Please read Characteristics and Risks of Standardized Options before investing in options.
Supporting documentation for any claims, comparisons, statistics, or other technical data will be supplied upon request.
The information is not intended to be investment advice or construed as a recommendation or endorsement of any particular investment or investment strategy, and is for illustrative purposes only. Be sure to understand all risks involved with each strategy, including commission costs, before attempting to place any trade. Clients must consider all relevant risk factors, including their own personal financial situations, before trading.
TD Ameritrade, Inc., member FINRA/SIPC. TD Ameritrade is a trademark jointly owned by TD Ameritrade IP Company, Inc. and The Toronto-Dominion Bank. © 2016 TD Ameritrade IP Company, Inc. All rights reserved. Used with permission.
Posted-In: Earnings News Analyst Ratings General
View Comments and Join the Discussion!