Wal-Mart Set To Kick Off Retail Earnings Season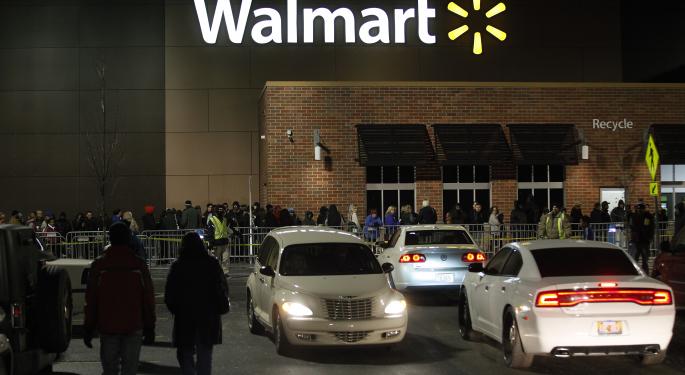 The world's largest retailer kicks off the retail earnings parade later this week.
Results from an upscale department store operator will be another highlight this week.
Wall Street is looking for shrinking earnings from both of them.
If the earnings season is starting to wind down, then it must be time for the big retailers to begin taking their turns in the earnings spotlight. The biggest retailer of them all, Wal-Mart Stores, Inc. (NYSE: WMT), kicks off the retail earnings parade this week.
Wall Street analysts are looking for declines on the top and bottom lines for the fiscal fourth quarter of Sam Walton's empire, relative to the same period of a year ago. And the consensus earnings estimates for both the quarter and the year have been on the decline.
The analysts' expectations for earnings from Nordstrom, Inc. (NYSE: JWN) are also pretty low, when it shares its latest results this week as well. On the other hand, the revenue story could be a bit different.
More big retailers are expected post their results next week, including Best Buy, Gap, Home Depot, JC Penney, Kohl's, Macy's, Office Depot and Target.
Below is a quick look at what is expected from the reports of Nordstrom and Wal-Mart. That is followed by a quick peek at some of the week's other most anticipated earnings.
Nordstrom
Wall Street's fourth-quarter forecast for this Seattle-based fashion retailer calls for earnings per share to have drooped from $1.32 in the year-ago period to $1.22. The consensus of 14 Estimize respondents concurs, though both Estimize and Wall Street did overestimate EPS considerably in the third quarter. The Wall Street estimate has slipped by $0.02 in the past 30 days.
Revenue also fell short of consensus estimates in the third quarter. This time, Estimize is looking for about $4.23 billion, which is essentially in line with what Wall Street expects. Nordstrom posted $4.04 billion in revenue a year ago. The company is scheduled to report after Thursday's closing bell.
See also: Your Recession Playbook: Avoid These Stocks, Buy Ross Stores
Wal-Mart
When the Bentonville, Arkansas-based retailer shares its results Thursday morning, the consensus Estimize forecast is that it will show a profit of $1.45 per share for the fiscal quarter. That would be down from EPS of $1.61 in the same period of last year. Wall Street is looking for just $1.43 per share, after the consensus estimate has ticked down three cents in the past 30 days.
Revenue for the three months that ended in January will be $130.50 billion, or down fractionally year-over-year, if the 36 survey respondents are correct. Wall Street is a bit more optimistic, with the consensus estimate set at $130.76 billion, and full-year revenue is forecast slightly lower to $483.27 billion.
And Others
Agilent Technologies, Dean Foods, Discovery Communications, Duke Energy, Express Scripts, Hormel Foods, Liberty Global, Marriott, MGM Resorts, Priceline, T-Mobile and Waste Management are among the companies that Wall Street analysts expect to show earnings growth this week.
Earnings declines are in the works for Analog Devices, Applied Materials, Barrick Gold, Community Health Systems, Deere, Devon Energy, Dish Network, Rackspace and Starwood Hotels, as well as a net loss for Marathon Oil, if the consensus forecasts are correct.
At the time of this writing, the author had no position in the mentioned equities.
Keep up with all the latest breaking news and trading ideas by following Benzinga on Twitter.
Posted-In: EstimizeEarnings News Previews Crowdsourcing Top Stories Trading Ideas General Best of Benzinga
View Comments and Join the Discussion!