ARCP CEO Glenn Rufrano, Key Takeaways From First Earnings Call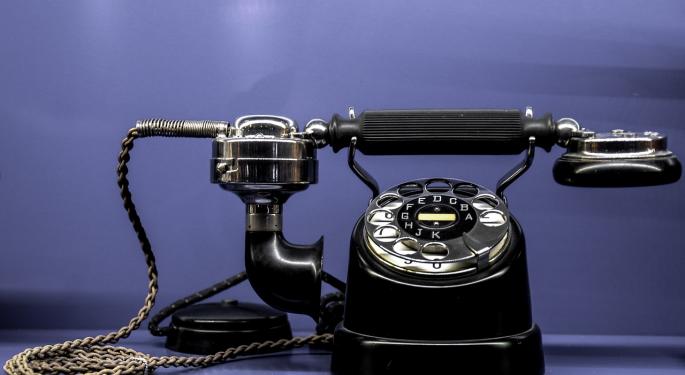 One of last year's biggest REIT stories resulted in American Realty Capital Properties Inc (NASDAQ: ARCP) Executive Chairman Nick Schorsch and then-new CEO David Kay stepping down amid accounting errors and related cover-ups.
Fast forward to Thursday and five weeks into his tenure, new CEO Glenn Rufrano hosted his first ARCP earnings call. He took the reins of a triple-net REIT in transition, which owns 4,660 properties, containing in excess of 100 million square feet, spread across 49 states, Puerto Rico, Washington D.C. and Canada.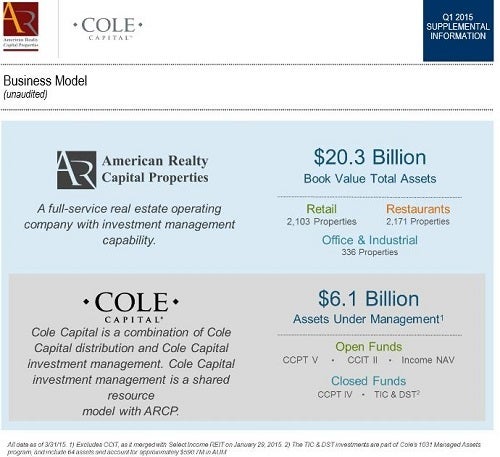 Additionally, $8 billion cap ARCP owns non-traded REIT broker/dealer Cole Capital. The only other triple-net REIT that also manages and acquires properties on behalf of its non-traded REITs is dividend stalwart W.P. Carey Inc (NYSE: WPC).
Related Link: Oppenheimer: Glenn Rufrano Is Big For ARCP, But There's Still Work To Be Done
Net-lease REIT stalwarts Realty Income Corp (NYSE: O) and National Retail Properties, Inc. (NYSE: NNN) only underwrite and acquire properties for their own balance sheets. This makes for a more transparent story that is easier for Mr. Market to understand, and therefore, to fully value.
Tale Of The Tape: Past Year
ETF Risk/Return Alternative
The Vanguard REIT Index Fund (NYSE: VNQ) is a good proxy for the entire equity REIT sector and has delivered a total return of 12.75 percent to investors over the same period.
The VNQ ETF is diversified with over 144 REIT holdings, with the top 10 just under 38 percent, which reduces any single REIT "headline risk." The VNQ expense ratio is a low 0.10 percent.
Related Link: Stifel Resumes Coverage: Net-Lease REIT ARCP - New AFFO Est.
ARCP – Q1 Earnings Highlights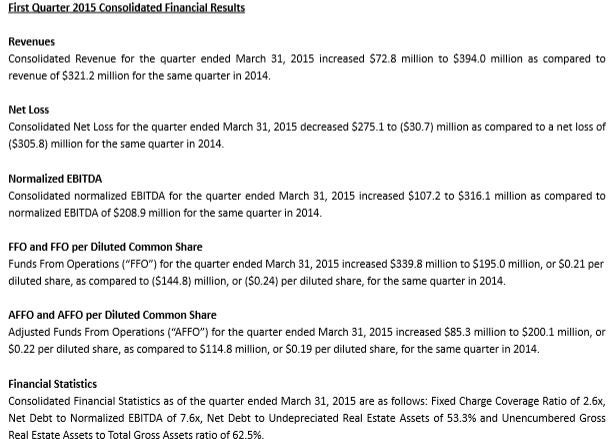 Source: ARCP Q1 2015 Earnings Release
ARCP – Rufrano On Guidance
It did not take long for ARCP shareholders to learn that it will take months before they receive a clear picture of company direction, including the declaration of a reinstated dividend. At the end of Rufrano's prepared remarks, he shared:
"Additionally, we will establish a business plan to be presented during our second quarter earnings call, expected to be held in early August.
"The plan will include an analysis and a review of our properties, Cole Capital, as well as a direction on how we plan to manage the balance sheet. With business planning in place, we can provide guidance for the year and establish a dividend policy."
While this is certainly not what investors hoped to hear, it was anticipated; ARCP shares traded in a narrow range, closing at $8.93, two pennies higher than the prior close.
Related Link: Key Takeaways From ARCP 2014 Earnings Call And Presentation
ARCP – Conference Call Takeaways
Occupancy: 98.4 percent as of March 31; 0.9 percent lower Y/Y, due primarily to a vacant 800,000 SF industrial facility.
Goodwill: $2.3 billion of total goodwill was recorded by the company in conjunction with the acquisitions of Cole Capital and Cap Lease. "As of December 31, 2014, goodwill totaled $1.5 billion in the Real Estate segment and $385 million in the Cole Capital segment."
Apollo Headquarters: ARCP was able to sell the asset "for $183 million on February 24 at a 7.1 percent cash cap rate."
CCIT Sale: On January 29, ARCP announced that Cole Corporate Income Trust, Inc. successfully closed its previously announced merger with Select Income REIT (NYSE: SIR), bringing total AUM for Cole Capital to $6.1 billion.
Cole Capital Fund Raising: Q1 $62 million (including DRIP) vs. $461 million Y/Y; also acquired $225 million on behalf of its managed non-listed REITs approximated $225 million available for acquisitions.
Related Link: Consumer Discretionary, Corporate Bond And REIT ETFs To Watch
ARCP – Rufrano Q&A Highlights
Portfolio: Rufrano indicated that at the ARCP level (not Cole) "we would be a net seller of assets."
Red Lobster: On culling the ARCP portfolio, "When you look at Red Lobster at 11 percent of the portfolio, it sticks out. So clearly, it's a portfolio we will be thinking about earlier rather than later."
Balance Sheet/Leverage: "I would have no doubt that we should be moving toward investment grade, where we were before."
Headcount: "If we were going to do an allocation, we would have roughly 150 people in ARCP and 250 people working for Cole as a provider of equity and investment management," Rufrano said.
Litigation: ARCP spent $10 million Q1, Rufrano stated, "We don't have a timeline, litigation is ongoing and if we can shed some light on it at any given time, we will."
Investor Takeaway
While ARCP shares are certainly not a "pig in a poke," they still seem a bit speculative given crucial questions that will be answered over months, not days.
Since traditional net-lease REIT investors are there for the relatively large – and hopefully growing – dividend, this makes ARCP a bit of an orphan for most income investors, albeit one hopefully with potential upside under new management.

Image Credit: Public Domain
View Comments and Join the Discussion!
Posted-In: Cap Lease Cole Capital Cole Corporate Income Trust Inc.REIT Sector ETFs Trading Ideas ETFs Real Estate Best of Benzinga