#PreMarket Primer: Monday, December 29: Controversial Film 'The Interview' Makes Millions Online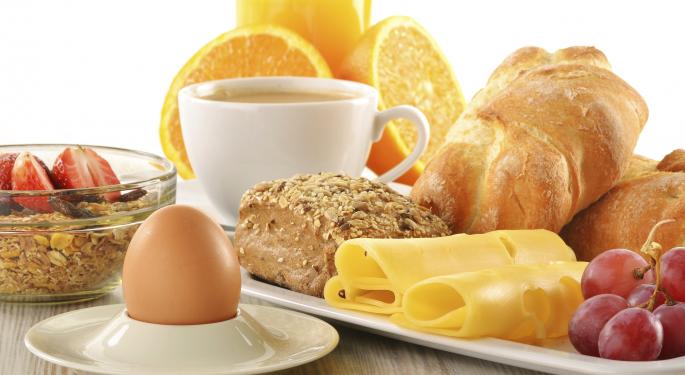 After being at the center of a hacking attack against Sony Corp's (NYSE: SNE), controversial film about the assassination of North Korean leader Kim Jong Un, "The Interview" was able to make millions on its opening weekend despite big theaters' decisions not to show it. Though the movie was only shown throughout a small network of independent theaters, it made more than $15 million in online sales as Americans rented and bought the film in droves. Sony said the film has become its highest-grossing online movie of all time, and the high number of online purchases has made up for the loss of big theater chain distribution.
In other news around the markets:
On Monday, several Asian nations continued their search for a missing AirAsia jet that is thought to have crashed somewhere off the coast of Indonesia. During a flight from Surabaya to Singapore, the pilot was unable to get permission to fly higher and avoid bad weather due to heavy air traffic, but the reason for the crash is unknown. Officials are investigating the plane's radar data in order to locate some debris, which will trigger an investigation into the cause of the accident.
On Monday, South Korean officials proposed renewed negotiations with North Korea despite growing tension between North Korea and the US over the hacking attack on Sony, which has been linked to Pyongyang. Still, the South Korean government is hoping to reopen the lines of communication in order to discuss pressing issues like family reunions for those separated during the Korean war and the possibility of joint projects.
Crude prices saw a boost on Monday after fighting over the weekend in Libya caused a fire that destroyed some of the nation's output. A violent clash between groups looking to gain power ended with a fire at one of Libya's largest export terminals. The blaze destroyed 800,000 barrels of crude, which amounts to more than two days worth of the nation's output.
After a ferry off the coast of Greece caught fire on Sunday, rescue efforts began, but weather conditions have made its evacuation challenging. The ferry was shuttling 422 passengers and over 200 cars between Greece's Igoumenitsa and Italy's Ancona when it caught fire overnight. So far, one fatality has been reported.
Asian Markets
Asian markets were mixed; the NIKKEI was down 0.50 percent, the Shenzhen composite fell 0.99 percent and the KOSPI lost 1.04 percent, but the Shanghai composite was up 0.37 percent and the Hang Seng index rose 1.82 percent.
European Markets
Europe's markets were mostly lower with the exception of the FTSE, which gained 0.05 percent. The DAX fell 0.95 percent, the CAC 40 was down 0.54 percent and the eurozone's STOXX 600 was down 0.35 percent.
Energy futures were higher on Monday; Brent futures gained 0.45 percent and WTI futures were up 0.84 percent. Gold and silver were down 0.17 percent and 0.07 percent respectively, while industrial metals were mixed. Copper gained 0.16 percent and tin was up 3.56 percent, while aluminum and zinc fell 0.43 percent and 0.32 percent, respectively.
The euro made its way above $1.22 and gained 0.18 percent against the yen, but lost 0.01 percent against the franc. The dollar lost 0.03 percent against the yen, 0.11 percent against the pound and 0.53 percent against the Australian dollar.
No notable earnings were released on Friday.
Pre-Market Movers
Stocks moving in the pre-market included:
No notable earnings releases expected on Monday.
Economics
Monday's economic calendar will be relatively thin with notable releases including Italian consumer confidence and Hong Kong's trade balance.
Tune into Benzinga's pre-market info show with Dennis Dick and Joel Elconin here.
View Comments and Join the Discussion!
Posted-In: Earnings News Emerging Markets Eurozone Futures Commodities Previews Options