#PreMarket Primer: Wednesday, November 5: Democrats Lose Control Of The US Senate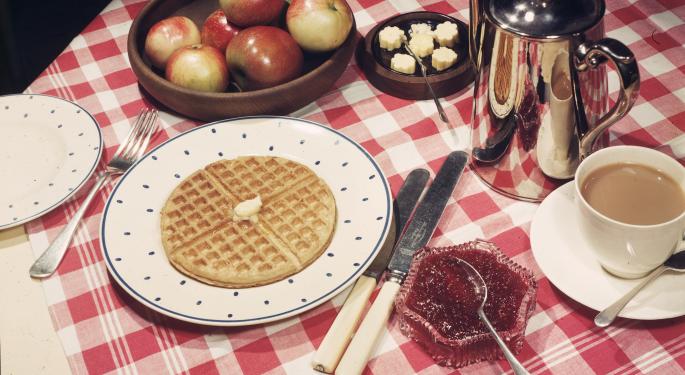 On Tuesday, the Democratic Party lost control of the Senate as U.S. voters expressed disappointment in the presidential administration's progress this term.
The new Congress is set to take power in January and will mark the first time that the Republican Party will control both the House of Representatives and the Senate since 2006.
The change of power will likely limit President Barack Obama's power to make the changes he wants to and could force the administration to move in a different direction for the remainder of his term.
In news around the markets:
BHP Billiton Plans To Export U.S. Oil
BHP Billiton Limited (NYSE: BHP) announced that it was planning to sell U.S. oil to foreign buyers by bypassing the government's approval. U.S. oil exports have been restricted since the 1970s with lawmakers divided over how changing the current laws would affect prices in the U.S. However, BHP is setting a new precedent by making an agreement on Tuesday to export 600,000 barrels of oil condensate, or oil which has not been refined.
Alibaba Earnings Receives Mixed Reviews
Alibaba Group Holding Ltd's (NYSE: BABA) highly anticipated earnings report was released on Tuesday to mixed reviews. Though the company's user growth has had an impressive showing, many investors were concerned that the company did not provide an earnings outlook. The company's September earnings dropped 39 percent from last year, but Alibaba assured markets that the drop was due largely to stock awards to employees, a one time expense.
Data Show U.S. Exports Decreased
Data out on Tuesday showed that U.S. exports dropped to a five-month low in September as economic hardships in Asia and Europe depressed demand, and a stronger dollar made U.S. prices less competitive. The U.S. trade gap increased 7.6 percent to $43 billion in September, a $3 billion increase from October's figure. The lackluster demand for U.S. products gave analysts reason to lower their GDP growth estimates, as many saw the trade deficit report as evidence that the global slowdown will eventually weigh on the U.S. recovery.
Chinese Data Show Slowdown In Service Sector
On Wednesday, services PMI data from China showed that the nation's service sector activity slowed down in October, yet another signal that the nation's economy is grinding to a halt. The HSBC/Markit services PMI was 52.9 in October, down from 53.5 in September and the nation's lowest reading in three months.
Asian Markets
Asian markets were mostly lower with the exception of the NIKKEI, which rose 0.44 percent. The Shanghai composite fell 0.42 percent, the KOSPI was down 0.19 percent, the Shenzhen composite lost 0.07 percent and the Hang Seng index lost 0.63 percent.
European Markets
European markets began the day on a bright note; the FTSE rose 0.63 percent, the STOXX 600 rose 0.87 percent, the DAX gained 1.11 percent and the CAC 40 was up 0.91 percent.
Energy futures were lower; Brent futures lost 1.28 percent and WTI futures were down 0.75 percent. Gold and silver lost 1.77 percent and 3.00 percent, respectively, and industrial metals were also lower. Copper fell 1.06 percent, aluminum was down 0.41 percent, zinc fell 2.15 percent and tin was down 0.99 percent.
The euro continued to slide against the dollar, down 0.38 percent, but gained 0.43 percent against the yen and 0.05 percent against the pound. The dollar was up 0.83 percent against the yen and 0.84 percent against the Australian dollar, but lost 0.47 percent against the pound.
Earnings
Notable reports released on Tuesday included:
Stocks moving in the #PreMarket included:
Apple Inc. (NASDAQ: AAPL) was up 0.28 percent in premarket trade after falling 0.73 percent on Tuesday.
Berkshire Hathaway Inc. (NYSE: BRK-B) was up 0.04 percent in premarket trade after rising 0.97 percent on Tuesday.
Intel Corporation (NASDAQ: INTC) was down 0.54 percent in premarket trade after rising 2.37 percent over the past five days.
Notable releases expected on Wednesday include:
Economics
Wednesday will be another busy day for PMI releases with services PMI due out from the U.K., Spain, Germany, France, Italy, Brazil and the U.S. Other notable releases include Chinese CPI, the Australian unemployment rate and U.S. oil inventory data.
For a recap of Tuesday's market action, click here.
Tune in to Benzinga's #PreMarket info show with Ann Logue, Fari Hamzei & Lydia Idem Finkley here.
View Comments and Join the Discussion!
Posted-In: Earnings News Commodities Forex Econ #s Economics Pre-Market Outlook Markets