All 5 Data Center REITs Hit 52-Week Highs After Equinix's Q3 Earnings Call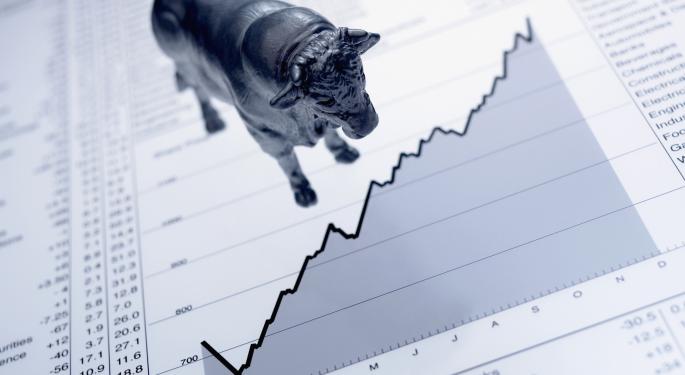 Owning shares of companies that specialize in owning and operating facilities that support big data and cloud computing can be quite lucrative for investors.
Global data center leader Equinix Inc (NASDAQ: EQIX) hosted its Q3 earnings conference call after the bell on October 29. The next day, Equinix shares traded higher on the news, up $14.95 per share (7.76 percent) at the close of the regular trading session.
Related Link: American Realty Capital Properties: Does Management Have More Explaining To Do?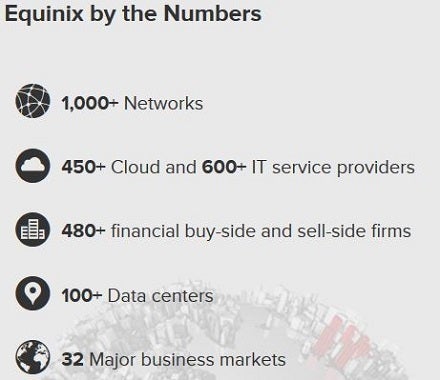 On October 16, Equinix announced a special dividend of $7.57 to be paid to shareholders as part of the REIT conversion process. Equinix has done the heavy lifting required by the IRS and appears confident that it will receive final approval to join the data center REIT club during 2015.
This would result in $11-billion cap Equinix overtaking the reigning leader, $9-billion cap Digital Realty Trust (NYSE: DLR) and joining the ranks of a very hot REIT sector.
Along with Digital Realty hitting a 52-Week intraday high of $66.73 on October 30, data center REITs $2.5 billion DuPont Fabros Technology, Inc. (NYSE: DFT) and $1.7 billion CorSite Realty Trust (NYSE: COR) hit intraday highs of $30.49 and $37.25 respectively.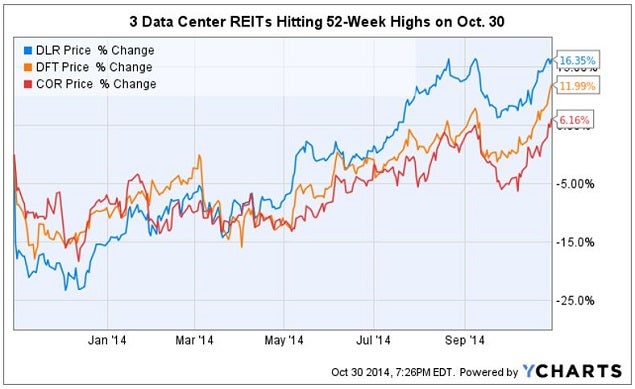 2 Top Performers During The Past 52-Weeks
However, for some investors in the data center REIT sector, the results for the past year have been even better.
Top performers $1-billion QTS Realty Trust Inc (NYSE: QTS) and $1-billion CyrusOne Inc (NYSE: CONE) also hit intraday 52-week highs on October 30, closing at $34.83 and $26.80, respectively.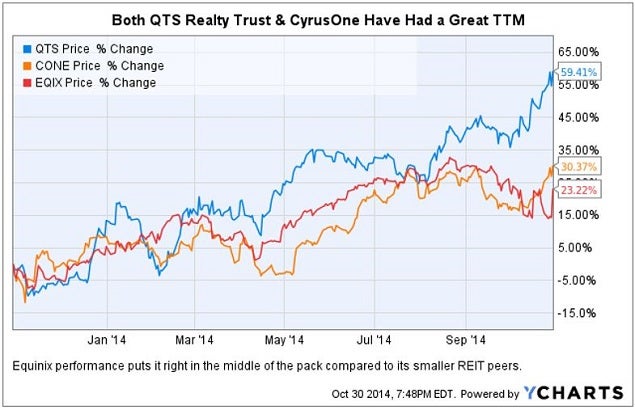 Investors should keep in mind that it is often easier for smaller REITs to grow on a percentage basis than their larger competitors.
REIT Investors Love Their Dividends
When it comes to dividend yields in the data center REIT sector, Digital Realty is the leader of the pack -- having raised its dividend for 10 consecutive years, including through the Great Recession.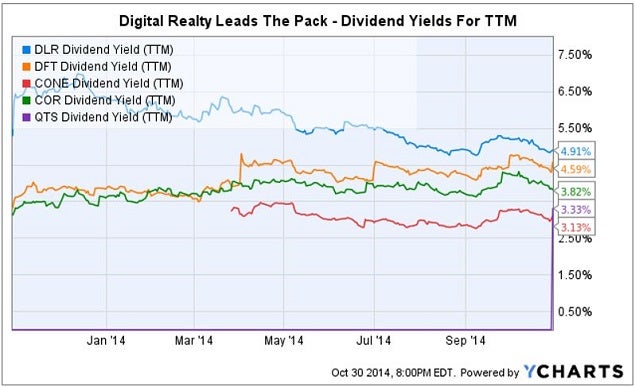 How Does The Equinix Business Model Stack Up?
In some respects Equinix appears to have a competitive advantage compared to its REIT peer group.
Equinix is the global leader when it comes to network connectivity with more than 4,500 customers. By way of comparison Digital Realty has more than 600 customers worldwide, while relatively network dense QTS Realty has more than 850.
This "network effect," of more than 1,000 networks running through IBX datacenters is what helps to create the Equinix moat. Equinix has invested $7 billion into its global network since 1998.
Equinix Cloud Exchange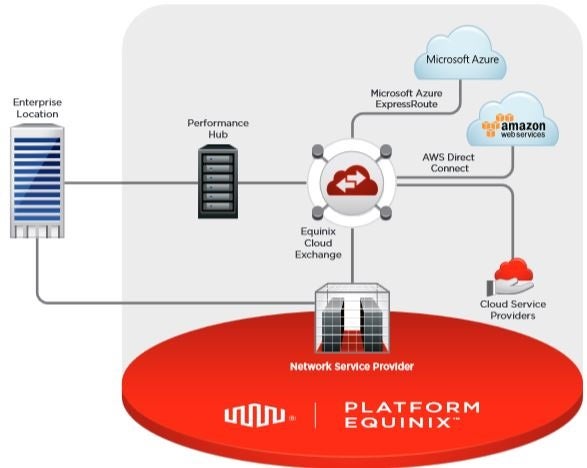 The announcement earlier this year of the EQIX Cloud Exchange, "a multi-cloud switchboard," provides yet another competitive advantage through partnerships with cloud providers such as Amazon Web Services and Microsoft Azure.
Equinix Q3 Earnings Highlights
Revenues of $620.4 million represented a 14-percent increase year over year (Y/Y).
Full year 2014 revenue guidance was raised 13 percent Y/Y, including a $15-million foreign currency adjustment.
Interconnection revenue growth outpaced all other revenue increasing 17 percent Y/Y.
CEO Steven Smith pointed out on the call that 67 percent of recurring revenues come from customers deployed across multiple regions, up from 60 percent last year.
Smith concluded his prepared remarks, "While others may strive to emulate our strategy, we believe that our scale, global footprint, network density and ecosystem reach give us critical advantages that position us as the long-term winner in an increasingly cloud-enabled world."
A Dynamic For Investors To Watch
Historically, Equinix has leased the vast majority of its data centers. This has allowed the company to invest heavily into its network. One Equinix landlord of note happens to be Digital Realty. It appears that the relationship is mutually beneficial, as lease terms have recently been extended, and only six Equinix leases are now up for renewal prior to 2020.
It remains to be seen how pending REIT approval may change the Equinix real estate capital allocation strategy moving forward. Currently, the company owns ~20 percent of its IBX data centers, which generate a disproportional 38 percent of total revenues.
Additional Note
During the after-hours trading session of October 30, Equinix shares traded significantly lower, basically giving back all of the gains during the day's session. Investors should be alert for any news release that could potentially affect the company's share price moving forward.
Posted-In: data center REIT Equinix REITEarnings News REIT General Real Estate Best of Benzinga
View Comments and Join the Discussion!