Simon Property Group Q3 Earnings Call - What Retail Investors Need To Know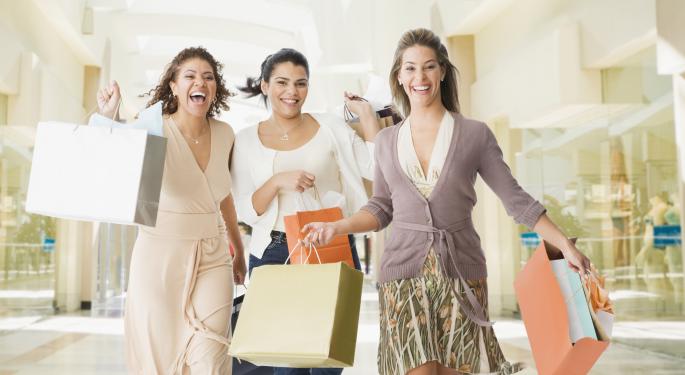 Simon Property Group Inc (NYSE: SPG) results and guidance can provide investors with insights into retail sector trends and the U.S. consumer, as well as the health of the overall U.S. economy.
Therefore, what "Simon Says" is important to many investors for reasons beyond the fact that mall landlord Simon is the largest U.S. equity REIT with a market capitalization of more than $53 billion.
"I am very pleased with our quarterly results that once again beat consensus," said David Simon, Chairman and CEO. "We continue to demonstrate our ability to grow our core business and allocate capital to generate growth in cash flow and FFO per share."
Simon Q3 Highlights
Simon reported Q3 earnings and hosted its conference call on Wednesday October 22, and the news was upbeat across the board year over year (Y/Y):
Occupancy grew 140 basis points from 95.5 to 96.9 percent.
Total sales per square foot grew 5.9 percent from $579 to $613.
Base minimum rent increased 10.9 percent from $41.73 to $46.29 per square foot.
Releasing spread increased 210 basis points from 15.2 to 17.3 percent.
It should be noted that the September 30, 2014 calculations excludes Washington Prime Group Inc. (NYSE: WPG) assets which were spun-out to shareholders earlier in the year.
Related Link: Simon Property Group Inc. And Recent WPG Spin: Billions Bet On Glimcher
Despite Naysayers, Top Malls Reward Investors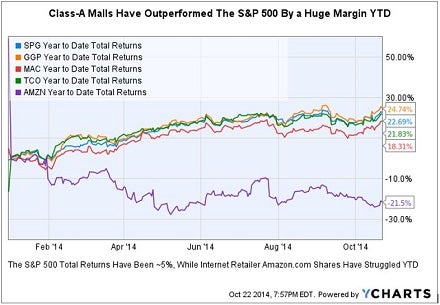 Simon and its peers General Growth Properties Inc, Macerich Co and Taubman Company have handily outperformed the broader market YTD. Internet first-mover Amazon.com, Inc. (NASDAQ: AMZN) has struggled by comparison -- down more than 20 percent YTD. However, Amazon has recently created a buzz by announcing its first bricks and mortar retail store concept, slated for a prime New York City location.
More On Bricks & Clicks
This illustrates one of the points made by David Simon during the earnings call when he discussed Sears Holdings Corp (NASDAQ: SHLD) being a top-10 Internet retailer, and the crucial relationship between having a physical presence and online success in the constantly evolving omni-channel retail world.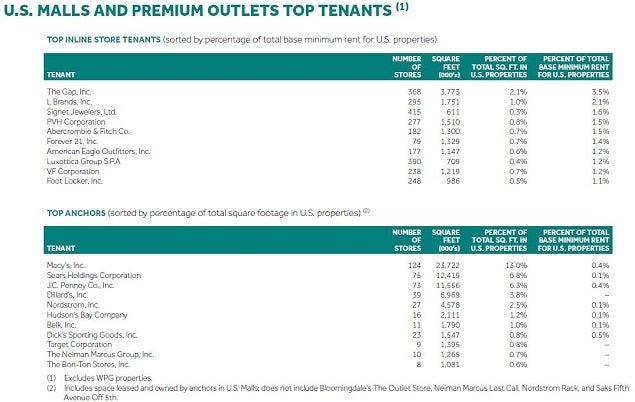 Source - Simon Property Group Q3 2014 Supplemental Presentation
However, Simon also cautioned not to read too much into any "one-of" transaction, including trying to extrapolate a trend from the recent Sears Holdings announcement of a sublease to British fashion retailer Primark of its remaining anchor space in the King of Prussia Mall owned by Simon Properties. Sears had previously subleased space to Dicks Sporting Goods Inc at that location.
Related Link: Sears Shares Skyrocketed Again: 3 Charts Investors Should Study
Trends Vs Forecasts
During the Q&A on the conference call several analysts attempted unsuccessfully to have Mr. Simon comment on retail sales forecasts regarding the upcoming holiday season.
However, Simon was willing to offer up a few trends that bode well for consumer spending by what has been a "cautious retail consumer" YTD. He cited the "good news" for the mall environment, which included: lower gas prices, higher employment, wage growth and lower interest rates.
Mr. Simon also noted that it would be a longer holiday sales season this year, and that extreme bad weather had dampened sales the previous winter season.
Increased Guidance & Growing Dividends
The Simon Property Group Q3 earnings announcement included upwardly revised guidance for the full year ended Dec. 31, 2014. The company raised FFO guidance to a range of $8.84 to $8.88 per diluted share, or an increase of $0.15 from the mid-point guidance previously given July 23.
The company also announced that Simon's board of directors had declared a dividend of $1.30 per share, a Y/Y increase of 8.3 percent, with the dividend payable on Nov. 28, 2014 to shareholders of record on November 14.
This is in addition to an estimated dividend of $0.50 per share for shareholders who chose to hold the WPG shares which were spun out in May 2014 to SPG shareholders.
Developing News
At the end of the call Mr. Simon indicated that the company is getting closer to announcing its first ground up new "full price" mall development "in quite some time." He anticipated that the new project would be a joint venture, with SPG owning about 50 percent. Although the partnership was not quite done "there was a handshake in place."
Demographic Trends
Regarding the future, Mr. Simon also discussed that in addition to the Baby Boomer demographic, Millennials were also a generation that liked mall shopping and Simon Properties is actively experimenting with ways to better connect with them. He was also quick to point out that they represented a unique opportunity; as Millennials get older, they will be focused on entertainment, restaurants and specifically targeted mall retailers.
Posted-In: David SimonEarnings REIT General Real Estate Best of Benzinga
View Comments and Join the Discussion!