#PreMarket Primer: Tuesday, October 21: China's Third Quarter Growth Disappoints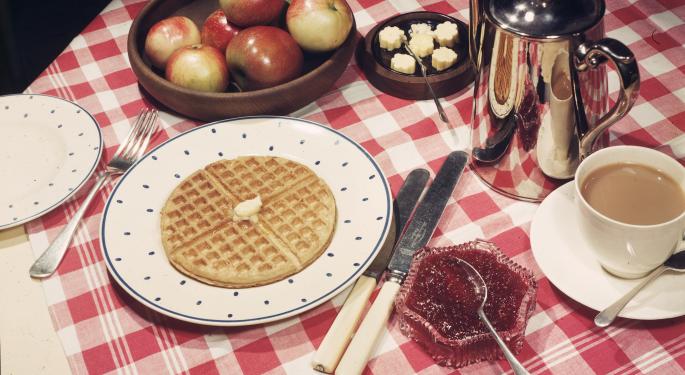 Data out on Tuesday showed that the Chinese economy grew just 7.3 percent in the third quarter, a sizable drop from the nation's second quarter growth of 7.5 percent.
The figure beat expectations, but still marks China's slowest quarter of growth since the financial crisis and is the first time the nation has missed its official GDP target in 15 years.
The disappointing figure was attributed largely to a slowdown in the nation's property sector, and has most analysts forecasting that China will be unable to meet its annual growth target at the end of 2014.
Now, Beijing will be under pressure to ease further as some economists say the government will need to cut interest rates in order to boost growth and get back on track.
In news around the markets:
AbbVie Cancels Takeover Bid For Shire
On Monday, AbbVie Inc (NYSE: ABBV) announced that it had officially rescinded its $55 billion offer to purchase Irish pharmaceutical company Shire PLC (NASDAQ: SHPG). AbbVie's board of directors chose not to continue with the takeover following the U.S. Treasury's changes to corporate tax law in order to make inversion deals like this one less appealing. Without the tax benefits of moving AbbVie's headquarters to Europe, the company opted instead to pay Shire a $1.64 billion break-up fee.
Apple Reports Strong Earnings, Revenues
Apple Inc.'s (NASDAQ: AAPL) earnings report wowed markets after the company's iPhone sales exceeded expectations with a 16 percent rise. The company's only weakness was iPad sales, which have been slowly diminishing over the past year. However, many are hopeful that Apple's new alliance with International Business Machines Corp. (NYSE: IBM) will help boost sales as the tablets are marketed to corporate customers.
France, Germany Clash Over Eurozone Economy
A growing rift between France and Germany has put further pressure on investor confidence in the eurozone as the two argue over how to manage the region's finances. France recently announced that its 2015 budget would not meet the previously agreed upon European Union mandates and that the nation's economy could not withstand any further budget cuts. German policymakers responded by criticizing Paris and saying that as the bloc's second largest economy, France should be leading by example. On Monday, French Finance Minister Michel Sapin called for Germany to invest 50 billion euros into the bloc's economy, something that would make up for France's budget misses.
CVS Caremark Charges More For Filling Prescriptions At Pharmacies With Tobacco
After eliminating the sale of tobacco products at all of its locations, CVS Health Corp's (NYSE: CVS) Caremark is offering a prescription-drug plan that charges customers more if they fill their prescriptions in a place that sells tobacco. The new plan is expected to boost sales at CVS pharmacies as customers will be reluctant to pay co-payments of up to $15 more to shop at a different pharmacy.
Asian Markets
Asian markets were mostly lower with the exception of the Hang Seng index, which rose 0.08 percent. The NIKKEI was down 2.03 percent, the Shanghai composite fell 0.73 percent, the KOSPI lost 0.77 percent and the Shenzhen composite was down 0.90 percent.
European Markets
Europe's markets began the day on a strong note with the region's indexes up across the board. The FTSE rose 0.50 percent, the STOXX 600 was up 0.72 percent, the DAX gained 0.69 percent and the CAC 40 rose 0.96 percent.
Energy futures were higher. Brent futures rose 0.48 percent and WTI futures were up 0.73 percent. Gold and silver rose 0.67 percent and 0.73 percent, respectively, and industrial metals were mostly lower with the exception of tin, which lost 0.26 percent, and aluminum, which was flat. Copper fell 0.20 percent and zinc was down 1.51 percent.
The euro made some gains against the dollar, up 0.12 percent to $1.2813 and gained 0.15 percent against the pound, but lost 0.18 percent against the yen. The dollar gained 0.27 percent against the yen and 0.02 percent against the pound, but lost 0.16 percent against the Australian dollar.
Notable reports released on Monday included:
Stocks moving in the #PreMarket included:
Exxon Mobil Corporation (NYSE: XOM) was up 0.20 percent in premarket trade after rising 1.02 percent over the past five days.
International Business Machines Corp. (NYSE: IBM) was down 1.48 percent in premarket trade after announcing worse-than-expected earnings on Monday.
Verizon Communications Inc. (NYSE: VZ) was down 0.12 percent in premarket trade after rising 0.85 percent on Monday.
Notable releases expected on Tuesday include:
Economics
Notable economic releases on Tuesday will include the Japanese trade balance, U.S. existing home sales and Australian CPI.
For a recap of Monday's market action, click here.
Tune into Benzinga's #PreMarket info show with Joshua Belanger, Randy Frederick & Nic Chahine here.
Posted-In: AbbVie Apple Inc.Earnings News Futures Options Pre-Market Outlook Markets
View Comments and Join the Discussion!