#PreMarket Primer: Monday, October 20: Fed To Tread Softly At October Meeting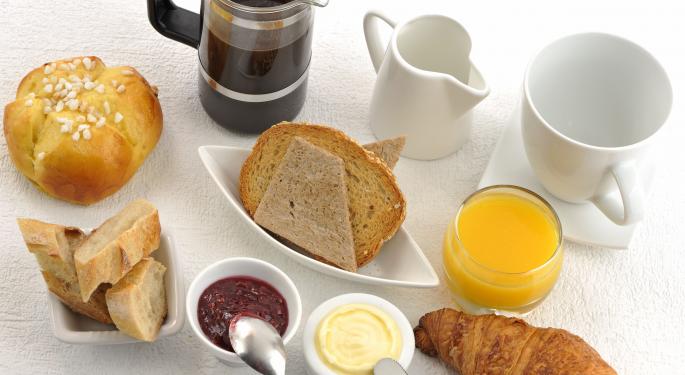 With the market already facing bouts of volatility due to worries about the global economy, the U.S. Federal Reserve is likely to tread carefully at its upcoming policy meeting.
The U.S. central bank is set to hold its two-day policy meeting on October 28 and 29, where it is largely expected to finish its bond-buying program as scheduled. With the quantitative easing package off the table, investors are wondering how long the bank will wait to raise interest rates.
The answer is, seemingly, as long as necessary. Recent comments from Fed officials indicate that the bank is looking to maintain interest rates near zero until mid-2015 at the earliest. For now, the bank's forward guidance will take center stage following the meeting as investors look for any clues about the bank's future plans.
In other news around the markets:
Hong Kong, Abu Dhabi Investors Seek To Buy Reebok From Adidas
The Wall Street Journal reported that investors from Hong Kong and Abu Dhabi are getting together in order to make an offer to Adidas AG to buy Reebok for around 1.7 billion euros. The two athletic apparel manufacturers have had a lackluster eight-year partnership, which the Asian investors say is bringing Reebok's potential down. Jynwel Capital, an Asian investment firm affiliated with Abu Dhabi's government, has said that Reebok has the potential for strong growth in the future if it is managed independently.
Islamic State Militants Push Back Into Kurdish Border Town
Over the weekend, Kobani, a small Kurdish town near Syria's border with Turkey, faced some of the worst fighting to date as Islamic State militants attempted to regain territory after being pushed back by U.S.-led airstrikes. The town was hit by nearly 44 mortars, with some stray fire making its way across the boarder into Turkey. The escalation in violence has many worried that the conflict will spill across the border, and prompted the U.S. to air drop arms to the Kurds who are defending the town on Monday.
CDC Releases New Procedures For Treating Ebola
After two American nurses caring for an Ebola patient in Dallas contracted the disease, the Centers for Disease Control and Prevention has released new, more comprehensive procedures for health care workers who come in contact with those affected. On Sunday, the organization announced the new set of guidelines and confirmed that dozens of Americans who were being monitored after coming in to contact with the infected nurses were expected to be cleared over the next few days.
Protests In Hong Kong Continue With Discussions Set For Tuesday
Demonstrations in Hong Kong looked set to continue for a fourth week on Monday even after violence over the weekend resulted in dozens of injuries and four arrests. Protesters are calling for a full democracy in Hong Kong, something the government says it cannot change. However, new talks between protest leaders and government officials are scheduled for Tuesday and are expected to be broadcast live.
Asian Markets
Asian markets were up across the board; the NIKKEI rose 3.98 percent, the Shanghai composite gained 0.66 percent, the KOSPI was up 1.55 percent, the Shenzhen composite rose 1.31 percent and the Hang Seng index was up 0.20 percent.
European Markets
European markets began the week on a low note; the FTSE lost 0.61 percent, the STOXX 600 was down 0.69 percent, the CAC 40 lost 1.16 percent and the DAX was down 1.15 percent.
Energy futures were higher; Brent futures rose 0.37 percent and WTI futures were up 0.68 percent. Gold and silver gained 0.35 percent and 0.51 percent respectively, and industrial metals were also higher with the exception of copper, which lost 0.23 percent. Aluminum was down 3.08 percent, zinc fell 1.31 percent and tin was down 0.29 percent.
The euro made modest gains on Monday, up 0.04 percent against the dollar and 0.17 percent against the yen, but the common currency lost 0.10 percent to the pound and 0.12 percent to the franc. The dollar was also higher against the yen, up 0.11 percent, but lost 0.12 percent against the pound and 0.25 percent against the Australian dollar.
Earnings
Notable reports released on Friday included:
Stocks moving in the #PreMarket included:
Notable releases expected on Monday include:
Economics
Notable economic releases expected on Monday include German PPI, Italian industrial sales, Chinese GDP, Chinese industrial production and Chinese retail sales.
For a recap of Friday's market action, click here.
Tune in to Benzinga's #PreMarket Prep with Craig Erlam, Jason Sen & Tim Melvin here.
Posted-In: Adidas Jynwel CapitalEarnings News Commodities Forex Pre-Market Outlook Markets
View Comments and Join the Discussion!