Private Equity Quarterly Performance In Context: A Look At Blackstone Group's Q3 Results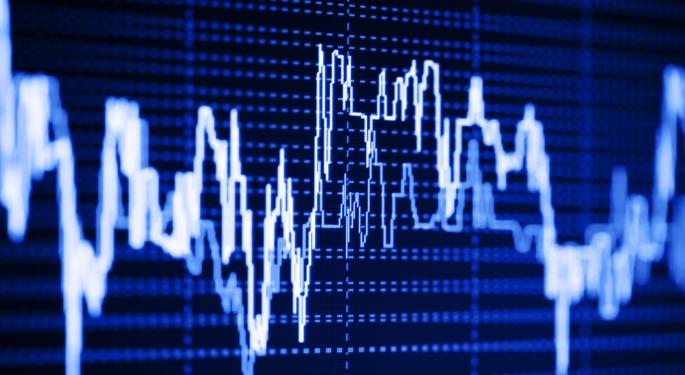 Private equity titans like The Blackstone Group L.P. (NYSE: BX), KKR & Co. L.P. (NYSE: KKR), The Carlyle Group LP (NASDAQ: CG) and Apollo Global Management LLC (NYSE: APO) are so large and complex, it can be difficult for average investors to understand how they operate and make money.
On October 16, The Blackstone Group released earnings and hosted an investor conference call to discuss results for the quarter ended September 30.
While it is useful to understand how recent performance compares with expectations and prior guidance; when it comes to private equity giants, it is equally important for investors to keep in mind the "big picture."
Related Link: Data Center REITs Outperforming Market In Face Of Bearish Retreat
Two-Year Snapshot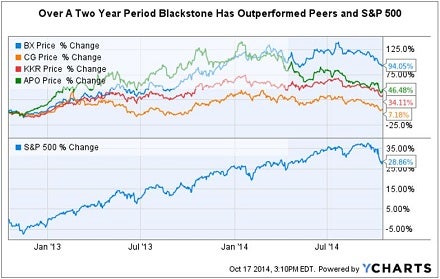 Blackstone investors have seen returns exceeding the S&P 500 by more than a factor of three during the past two years.
Performance YTD
However, year to date this sector has struggled underperformed the broader market.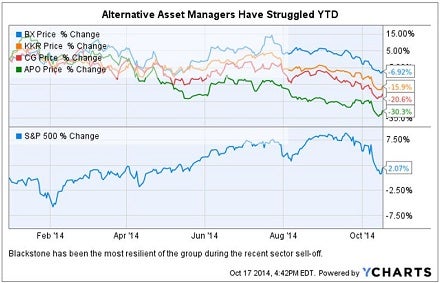 Private Equity - Conundrum For Investors?
Publicly traded alternative asset management firms can be more volatile than the broader market and more traditional financial service sectors. The underlying investments they manage, which include global real estate, hedge funds, private equity and leveraged buy-outs, are not structured with quarter-over-quarter or even year-over-year performance in mind.
These firms are looking to take advantage of market dislocations, asset mispricing, lack of liquidity in a given asset class and a host of other strategies that may play out over several years rather than any particular 90-day interval.
Investors should keep in mind that the patient capital raised by private equity funds is usually focused on compounded annual growth rates (CAGRs) over a much longer time horizon -- typically five to seven years.
Blackstone Reported Another Strong Quarter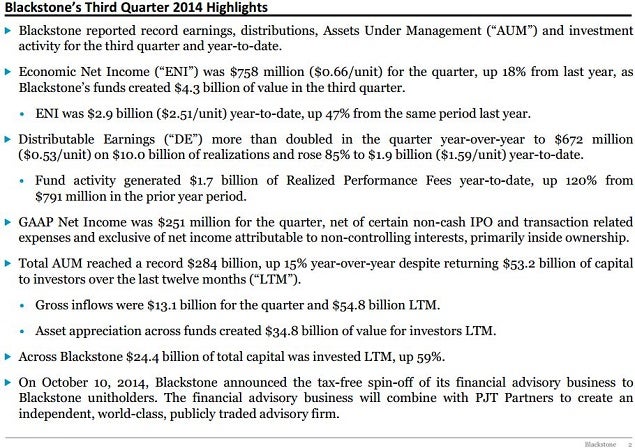 A Structural Change Intended To Unlock Value
One key takeaway from the Blackstone Q3 investor call was the announced tax-free spin-out of its financial advisers business segment into an independent publicly traded advisory firm — slated to trade under the NYSE ticker PJT. Combining its advisory business with PJT Partners allows Blackstone access to the same pool of talent, as well as benefit from the leadership and additional opportunities provided by Wall Street veteran Paul J. Taubman.
One advantage for Blackstone shareholders is that the independent advisory business will be free to grow without many of the conflicts of interest which result from being embedded within Blackstone. Management also hopes that an independent advisory business will be valued at a higher earnings multiple when it trades as a standalone public company.
Assets Under Management (AUM)
Blackstone is the largest alternative asset manager as measured by AUM. During Q3 Blackstone benefited from strong net inflows and asset appreciation compared with the same periods Y/Y.
The company breaks out revenues and fees by major business segments: Private Equity, Real Estate, Hedge Fund Solutions and Credit.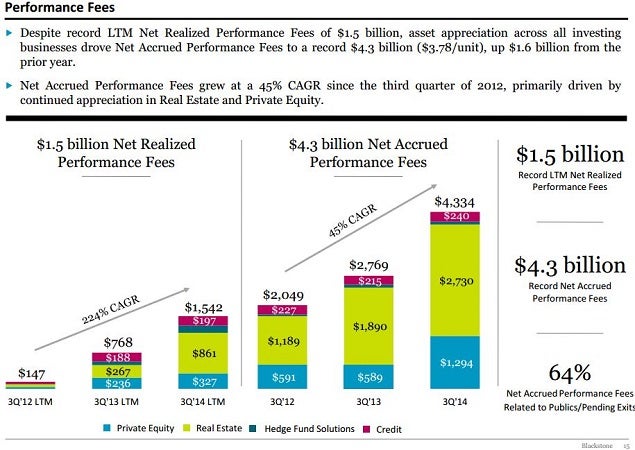 Plenty Of Capital Ready To Invest
As world events continue to evolve Blackstone has plenty of equity capital ready to deploy immediately. Of course, at the margin, Blackstone's earning growth is also dependent upon the rate of future fund raising.
However, during the conference call management pointed out that during the past four years, Blackstone's growth had been limited only by how much capital it can manage efficiently, not by how much capital investors have been willing to provide.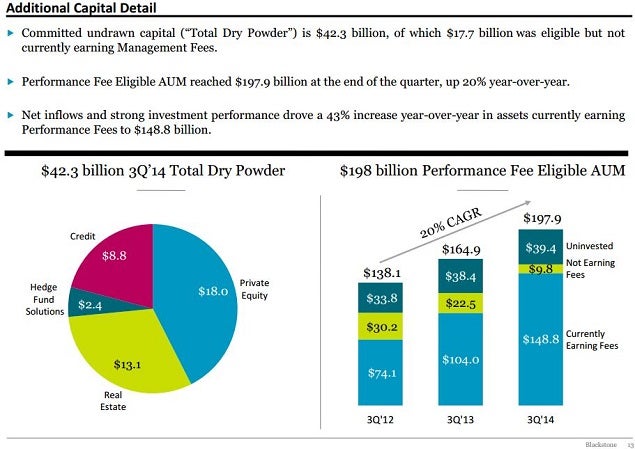 Realization Timing Can Be Lumpy
Blackstone asset management fees are earned based upon performance and paid from asset realizations, so the timing of future distributable earnings can be hard to predict. However, unrealized gains from portfolio companies and AUM still continue to accrue earnings and fees.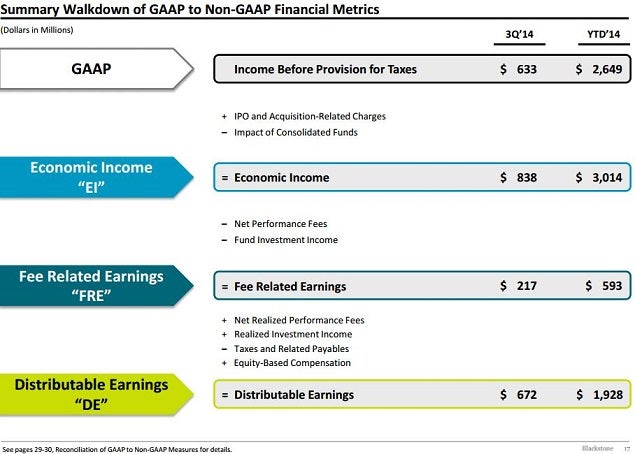 CFO Lawrence Tosi explained during the earnings call that YTD realizations were derived from more than 150 deals, split fairly evenly, about half public sales such as IPOs, and the other half coming from private sales, refinancing and operating earnings.
Fortress Balance Sheet
Management made it clear that Blackstone is never forced to sell and is prepared to wait until the most opportune time to realized gains.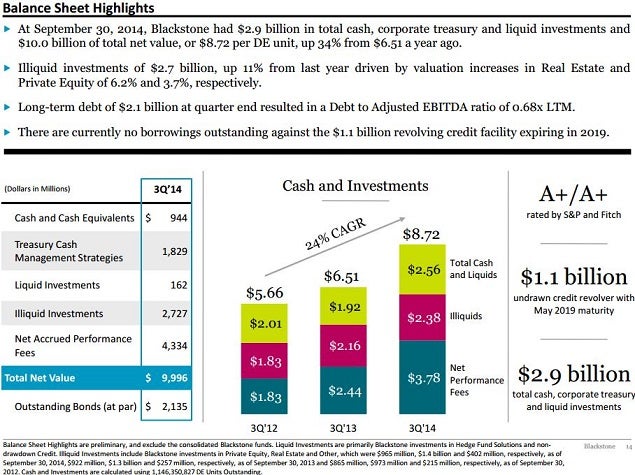 Earnings Call Takeaways
Since the end of Q3, public markets have clearly deteriorated with a sharp increase in volatility.
In addition to discussing record Q3 results, Blackstone management commented upon the global economy, observations regarding world markets and the future demand for alternative asset investments:
Blackstone is seeing decreased liquidity and widening spreads in capital markets.
Some hedge funds have been unwinding positions, sometimes involuntarily.
U.S. economy is growing nicely, and Blackstone was surprised on the upside with results in both real estate and private equity.
Low interest rates and declining oil prices are positive for most countries.
Blackstone had not been optimistic about European growth, so they were not disappointed with recent events.
Sovereign wealth funds and foreign investors remain woefully under allocated to alternative investments -- a plus for Blackstone moving forward.
Bottom Line
While CFO Tosi made it clear that "dynamics have never been stronger for Blackstone," he was also quick to point out that "what drives Blackstone and drives Blackstone stock price are two entirely different and somewhat unrelated dynamics."
Posted-In: Blackstone Group private equityEarnings Education Hedge Funds Previews Trading Ideas General Best of Benzinga
View Comments and Join the Discussion!