Lands' End Gets Boost As Mutual Funds Scoop Up Shares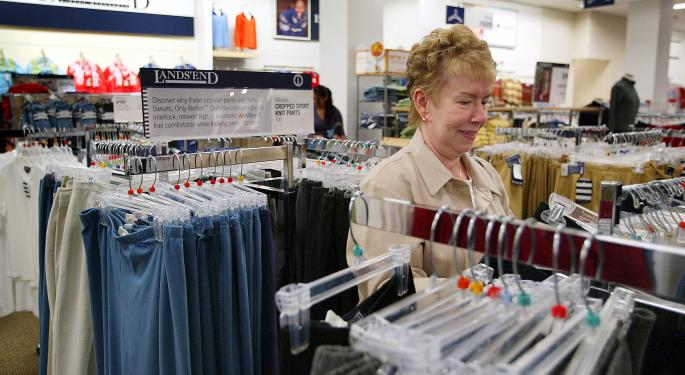 As investors, it's nearly impossible to avoid a fascination with initial public offerings. Just on a general business level, it's fun to see which companies are making shares available to the public.
Companies that have gone public in the past 15 years or so are often some of the market's biggest gainers.
Because institutions, such as mutual funds, banks and insurance companies, own more than 75 percent of shares, it's their buying and selling that causes discernible price moves.
Clothing retailer Lands' End, Inc. (NASDAQ: LE) was spun off from Sears Holdings Corp (NASDAQ: SHLD) in April. Lands' End reported second quarter results on September 10, beating sales and earnings consensus estimates.
Related Link: Watch For Renewed Strength In These 2 Small Cap Value Funds
Investors and traders can track institutional buying and selling on a stock's chart. Lands' End had been consolidating gains since the week ended July 25 and was trading beneath its 50-day moving average prior to its earnings report.
Institutions Went Shopping
The stock gapped up 10 percent at the open on September 10. Make no mistake: That was institutional buying. Retail investors simply don't own enough shares to cause that kind of market action, even in a small cap such as Lands' End.
The fund with the largest position in Lands' End is the Janus Contrarian Fund Class T (MUTF: JSVAX), which owns a whopping 9.43 percent of the outstanding Lands' End shares. The stock accounts for 2.47 percent of fund assets.
When you see a move like the one Lands' End made following that earnings report, it means existing institutional owners are adding to positions.
The Fairholme Fund (MUTF: FAIRX) also owns a hefty chunk of Lands' End shares, at 7.79 percent. That accounts for 0.73 percent of total fund assets.
Fairholme also owns a position in former parent company Sears Holdings, which is how it came to acquire a large investment in Lands' End after the spin-off.
The John Hancock Small Cap Equity Fund Class A (MUTF: SPVAX) owns 0.56 percent of Lands' End shares, but that's enough to constitute 1.48 percent of total fund assets.
Over time, as a newly public stock such as Lands' End gains more traction in the market and has more analyst coverage, expect to see more funds buying in. That's why you can so often chart strong buying in the early years of a company's life as a publicly traded entity.
Posted-In: Lands' End Sears Holdings Corporation small capsEducation Small Cap Analysis Trading Ideas General Best of Benzinga
View Comments and Join the Discussion!