Time To Take Another Look At Tekmira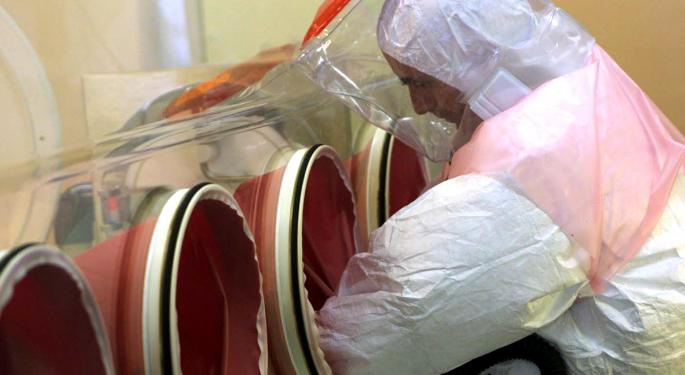 A week or two ago, the Ebola news caused a lot of volatility in some of the stocks of healthcare biotech companies that have possible vaccines or treatments in the works.
Now that the craziness seems to have died down a bit, investors and traders may be able to take a more calculated look at potentially trading or investing in one of the Ebola biotechs.
The name that seemed to get the brunt of the volatility was Tekmira Pharmaceuticals (NASDAQ: TKMR), and the chart below will certainly bear that out.
The company develops ribonucleic acid interference therapeutic product candidates, as well as provides its lipid nanoparticle delivery technology to pharmaceutical partners in the Canada.
Related:The Wildest Biotech Stock Out There
Tekmira's internal product development candidates include TKM-PLK1, an oncology product candidate that is in Phase I clinical trials to kill cancer cells; and TKM-Ebola, an antiviral product, which is in Phase I of clinical trials for the treatment of the Zaire species of Ebola virus infection.
Take a look at the one-year chart of Tekmira with added notations: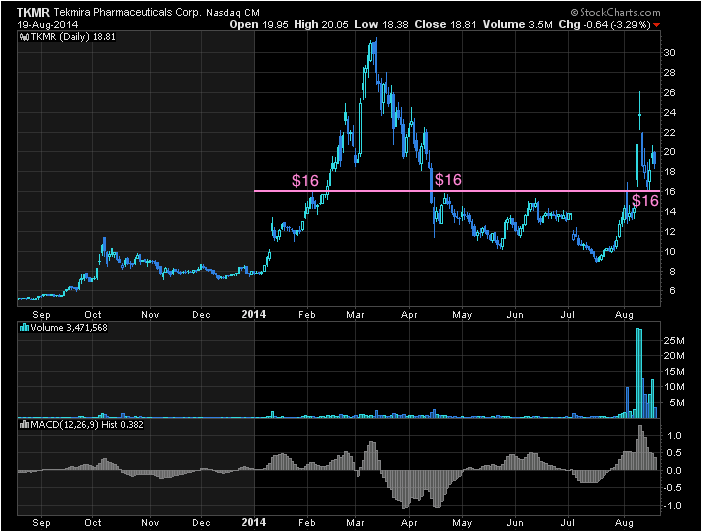 Like most biotech stocks, Tekmira had a rough go of it back in March and April. In reality, the stock's decline really didn't end until mid-July.
From the $9 July bottom, the stock started its ascent, which culminated in a vertical move to $26. The stock then crashed, like vertical moves usually end up doing, eventually bouncing on $16 last week.
The bounce on $16 wasn't that much of a surprise, given Tekmira's history of reacting to that price. Another pullback to that level could provide a nice risk/reward entry.
However, a break back below $16 would most likely mean lower prices to come.
The stock closed Monday at $18.81.
Related: Biotechs That Might Benefit From Ebola Research
Tekmira isn't set to release earnings again until next quarter.
No matter the strategy, always remember to use protective stops. Capital preservation is always key.
Tags: Ebola
Posted in: Health Care Technicals Trading Ideas General Best of Benzinga