The Whole Burrito: What's Behind Chipotle's Earnings News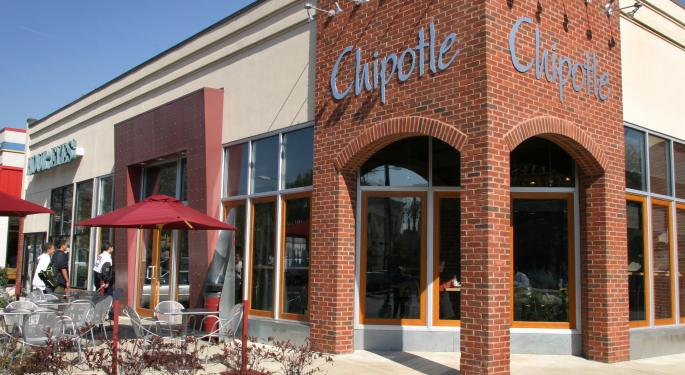 Traders and investors playing the "lotto" style of buying out of the money calls ahead of Chipotle Mexican Grill (NYSE: CMG) earnings have been rewarded.
On Monday, the company announced much better than expected earnings and revenues, exceeding Wall Street estimates for EPS by $0.43 ($3.50 vs. $3.07), while revenue beat more than $50 million (1.058B vs. 987.21M).
The reaction to upside surprise was fast and furious in the after-hours trading that took place on Monday. After ending Monday's regular session at $589.93, it immediately spiked to the $650.00 level and refused to back off. All the traders that came in short were therefore joined by another group of traders that attempted to fade the initial surge.
During the remainder of the after-hours session and into premarket trading (beginning at 4:00 a.m. EDT), CMG climbed above $650, reaching $654.70 before retreating to $650.00 just before the 9:30 a.m. open. This minor pullback may have encouraged more traders to short CMG off the open, banking on the highs for the day being put in place in premarket trading, which is sometimes the case on stocks in the news.
Related: Will There Ever Be Another Pop For Sodastream?
Analysts On The Sidelines
Once again, CMG stuck it to those who shorted it off the open, as the issue declined slightly before once again ripping north, easily eclipsing the premarket high and trading as high as $663.99, more than $40.00 better than its previous all-time high of $622.90.
Since making its high within four minutes after the opening bell, CMG has been finding intraday support at $656.00 level and rebounded to continue on to even higher levels.
Wall Street analysts have mostly on the sidelines since May, when both Raymond James and Longbow Research upgraded the issue. Raymond James upgraded the issue from Marketperform to Outperform, with a $560.00 price target. Obviously, investors that relied on that price target have left a lot money on the table. Similarly, Longbow Research upgraded the issue from Neutral to Buy, and announced a $641.00 price target, which was surpassed in Tuesday's trading.
In response to Tuesday's announcement, Barclays is maintaining its Equal-Weight rating but bumped its price target from $600.00 to $690.00. It should be noted that Barclays bumped its price target from $580.00 to $600.00 just one week ago. Perhaps the Barclays analyst recognized the improvements in margins and adjusted his price target accordingly.
In addition, UBS Securities reiterated a Neutral rating on the issue and raised its target price from $530.00 to $600.00. Also, Wunderlich raised it price target all the way from $560.00 to $680.00. Despite this large increase, Wunderlich analyst Robert Werrington remains on the sidelines with a Hold rating, ouch. Finally, Deutsche Bank maintained its Hold rating but raised its price target from $575.00 to $630.00.
Where To Next?
It certainly will be interesting to observe whether any of the analyst price targets were reached Tuesday, or, as so often they do, continue to chase price and raise their target prices until they find the top.
So what is next for the issue, as it has already exceeded many of the Wall Street price targets but is still well below the Street high estimate of $800.00 by Baird and Company?
If you are short-term player dabbling in the weekly call options, pay close attention the healthy premiums being baked into them following the surge in volatility. Those premiums will quickly fade by Friday's expiration, and the highest price for your option might occur ahead of Friday's close, even if the issue is trading higher than your corresponding exit price.
For longer-term holders of the issue, enjoy the ride. Perhaps move a sell-stop to the area of Tuesday's current low ($649.27), just in case CMG decides to retreat and attempt to fill the gap all the way down to Monday's high ($596.60). Another possible exit point lower may be its former all-time high at $622.90.
Also, with Tuesday's monster rally, there may be some out of the money puts that are whole lot cheaper than they were on Monday, for some downside protection.
Finally, over the next several weeks, look for some kind of consolidation in the issue. Let the major buyers and sellers come together and attempt to determine the fair value for the issue after its earnings beat. On many occasions, the resolution to a consolidation period after a huge move will provide some insights into an issues next move.
Posted-In: Earnings News Technicals Movers & Shakers Intraday Update Analyst Ratings Trading Ideas General Best of Benzinga
View Comments and Join the Discussion!