Earnings Expectations For The Week Of April 28: Big Oil, Big Pharma And More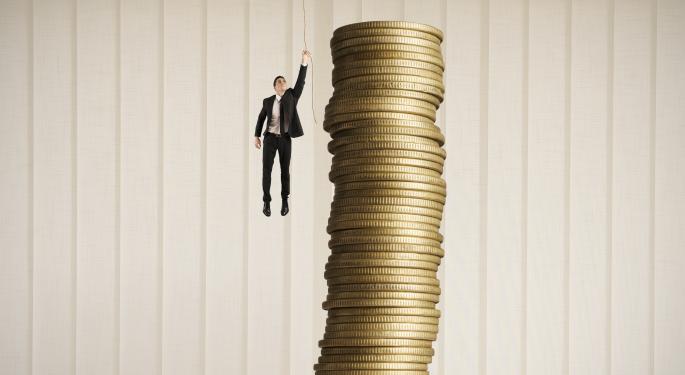 The earnings crunch continues this week.
Among the highlights will be scheduled quarterly reports from Exxon Mobil and Chevron, from Bristol-Myers Squibb and Merck, from Time Warner and Viacom, and also from Twitter.
Early Thursday, Exxon Mobil (NYSE: XOM) is expected to say that it had earnings per share (EPS) of $1.88 and that revenue totaled $109.76 billion in the first quarter. That would compare to $2.12 per share earnings and $108.81 billion in revenue in the year-ago period. Note that consensus EPS estimate was higher, at $1.93, just 60 days ago.
Chevron (NYSE: CVX) and ConocoPhillips (NYSE: COP) also step into the earnings spotlight this week. Analysts are looking for EPS from the former to have declined from $3.18 a year ago to $2.52 in the most recent quarter when it reports Friday. The forecast for the latter has EPS up almost nine percent to $1.56 in its report Thursday.
Revenue for the first quarter is expected to have shrunk about four percent to $54.47 billion at Chevron and to have risen more than three percent to $15.13 billion for Conoco. Both companies so far are expected to show some growth on the top and bottom lines in the current quarter.
In addition, Dominion Resources, National Oilwell Varco, Southern Company, Valero Energy and Williams Companies are expected to show earnings gains this week, while EPS are believed to be lower at BP, Marathon Petroleum, Phillips 66 and Royal Dutch Shell. A wider net loss is predicted for Alpha Natural Resources.
See also: Benzinga Weekly Preview: Earnings Season Continues As Biotech & Pharmaceutical Companies Report
Before the markets open Tuesday, the earnings spotlight shines on Bristol-Myers Squibb (NYSE: BMY) and Merck (NYSE: MRK). Earnings are expected to have grown marginally to $0.43 for the former and to have declined by about seven percent to $0.79 for the latter.
For revenues , the forecasts see $3.89 billion from Bristol-Myers, again up marginally, as well as $10.44 billion from Merck, or more than two percent lower than a year ago. So far, both are expected to show decreasing revenue in the current quarter and for the full year.
Also look for earnings gains from Mylan, Pharmacyclics, Sanofi and Teva Pharmaceutical this week, as well as for wider net losses from BioMarin, Incyte and Seattle Genetics.
Time Warner (NYSE: TWX) steps onto the earnings stage Wednesday morning, followed by Viacom (NASDAQ: VIAB) early Thursday. Analysts are looking for EPS from the former to have increased more than 13 percent year-on-year to $0.88 in the most recent quarter. The forecast for the latter calls for EPS growth of more than seven percent to $1.04.
First-quarter revenue is expected to have slipped less than five percent to $32.41 billion for home of HBO and Sports Illustrated. Revenue at the home of MTV and Paramount Pictures is expected to have risen about two percent to $3.20 billion for the most recent quarter. Both companies so far are expected to report a decline on the top line in the current quarter.
The forecast for Twitter (NYSE: TWTR) calls for a net loss of $0.03 per share and for revenue of $241.47 million. That consensus EPS estimate is unchanged over the past 60 days. So far, Twitter is expected to show a tiny profit and more than $1 billion in revenue for the full year. The social media giant shares its results Tuesday afternoon.
Yelp is also likely to post a net loss this week, while EPS are expected to rise at eBay and Gluu Mobile, but to decline at Expedia.
When Coach (NYSE: COH) shares its latest results early Tuesday, it is expected show a more than 27 percent decline on the bottom line to $0.61 per share, on revenue that is almost five percent lower a year ago to $1.13 billion. Note that analysts overestimated EPS from this luxury goods maker in the previous period by more than four percent.
If analysts are correct, Boston Beer, CVS Caremark, Estee Lauder, Goodyear Tire & Rubber, Herbalife, Marriott International, MasterCard and MGM Resorts will show earnings growth this week, while EPS declined at Avon Products, Kellogg and Newell Rubbermaid, and they were the same as a year ago at Kraft Foods.
See also: Shares of Amazon.com Plummet Following Results, Analysts Maintain Confidence
Other expected earnings gainers this week include Archer Daniels Midland, Boston Scientific, Express Scripts, Nokia and U.S. Steel. On the other hand, Barrick Gold, MetLife, Seagate Technology, 3D Systems and WellPoint are predicted to have earnings declines. Sprint and T-Mobile are likely to post net losses.
View Comments and Join the Discussion!
Posted-In: 3D Systems alpha natural resources archer daniels midlandEarnings News Previews Pre-Market Outlook Trading Ideas Best of Benzinga