Bad Earnings Weigh In On Diet Stocks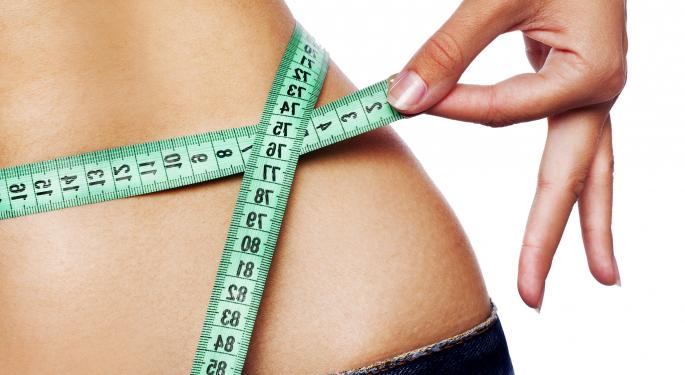 Weight Watchers International (NYSE: WTW) shares are in a freefall Friday after missing Q4 EPS by $0.07 and slashing FY2014 guidance from $2.73 to $1.30-$1.60.
In Friday's trading, Weight Watchers is off by 26 percent at $22.65. This is the lowest level for the issue since April 23, 2009, when it bottomed at $21.98.
Also, GNC Holdings (NYSE: GNC) shares are under severe selling pressure after missing Q4 EPS by $0.14 and lowering FY 2014 guidance from $3.46 to $3.18-$3.46. GNC, being a more diversified company, is faring a bit better and is now trading at levels from last July as instead of multi-year lows.
The disappointing news from GNC has forced Goldman Sachs to downgrade the issue from Buy to Neutral and lower its price target from $72.00 to $54.00. With the issue trading lower by 12 percent at $45.98, one has to consider that target has already been met and investors may never see that price again.
What makes these earnings misses even more of a disappointment is the time of the year during which they occur. Is this the result of abandoned New Year's resolutions? In a perfect world, one's resolutions might still be valid and many people that put shedding a few pounds at the top of the list would still be working towards that goal.
After gorging at Thanksgiving and Christmas dinners, holiday parties and New Year's celebrations, it's nearly impossible not add a few extra pounds. When January 1 comes around, it's either time to buy new clothes or lose that unwanted weight.
Another idea: it could be that people just do not care anymore and obesity is becoming more and more accepted by society. As evidenced by the rise in many restaurant and food stocks, consumers may be more concerned with where and what they eat as opposed to their own physical fitness.
In the case of Weight Watchers, the turnaround plan is simply not working. Consumers simply may not have an appetite for "point counting" and specialized meals. Even with updates to accommodate the cyber world, folks are shying away from the basic programs for losing weight.
Time to consider what other options are available for convenient weight loss.
Belviq, the first FDA approved weight-loss medication in more than a decade may be the alternative consumers are turning to. When used with diet and exercise, it can help overweight individuals lose weight and keep it off.
It has been clinically proven and tested in trials involving nearly 8,000 people. In one trial, Belviq was shown to deliver lasting weight loss up to two years. What makes it different is that the drug works by targeting the hunger receptors in the brain to help users feel full sooner. In turn, the quicker you feel full, the less amount of food you will consume.
The 10 mg tablet taken twice a day, with or without food, results in easy daily doses that can easily fit in almost anyone's schedule.
If investors want to try and profit from the potential shift in dieting patterns, they may to examine the shares of Arena Pharmaceuticals (NASDAQ: ARNA). In conjunction with Eisai and Idong, the company is marketing and distributing Belviq worldwide. With patent applications filed for extension of the patent globally until 2023 and in the United States through 2026, Belviq may be the blockbuster drug needed to drive their share price higher.
So far in 2014, the issue has gained 19 percent at $6.95 and quite some distance from its all time high from back in August 2000 ($47.00). Of course, the results of further trials and the monitoring of potential side effects must being taken into consideration.
Also, further development of similar drugs, targeting appetite suppression may bite into the company's market share if and when they are brought to market.
View Comments and Join the Discussion!
Posted-In: Belviq Eisai Goldman SachsEarnings News Technicals Economics Trading Ideas Best of Benzinga