Market Wrap For January 15: Bulls Take Over As Economic Growth Remains Healthy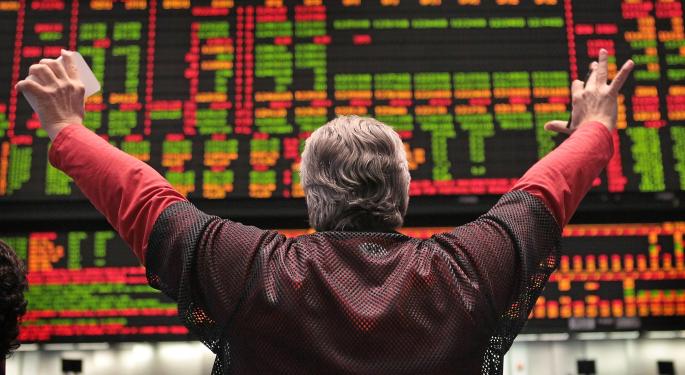 The market picked up where it left off Tuesday and recorded a second straight day of strong gains.
The Dow posted a triple digit point gain while the S&P 500 and Nasdaq all gained as the Federal Reserve's Beige Book indicated that economic growth remained healthy in most U.S. regions.
The Fed's Beige Book stated that nine of the twelve districts it surveys continues to grow at a "moderate" pace, an increase from seven districts that experienced moderate growth in the Fed's prior Beige Book release.
Boston and Philadelphia experienced "modest" growth while Kansas City "held steady." Commercial real estate was strong and all districts saw improvements in manufacturing.
Related: Economic Preview: Initial Jobless Claims
The Dow gained 0.66 percent, closing at 16,481.94.
The S&P 500 gained 0.52 percent, closing at 1,848.38.
The Nasdaq gained 0.76 percent, closing at 4,214.88.
Gold lost 0.38 percent, trading at $1,240.70 an ounce.
Oil gained 2.02 percent, trading at $94.46 a barrel.
Silver lost 0.58 percent, trading at $20.17 an ounce.
News of Note
MBA Mortgage Applications rose 11.9 percent compared to a rise of 2.6 percent last week.
December Producer Price Index rose 0.4 percent, in line with consensus estimates compared to a decline of 0.1 percent in the previous reading. Core PPI rose 0.3 percent, higher than the 0.1 percent expected.
BP (NYSE: BP) said in a research report today that the United States as a whole will be energy self-sufficient by 2035. During this time period, world energy demand will rise 41 percent with 95 percent of demand growth coming from China, India and other emerging economies.
The World Bank said that global economic expansion will speed up to 3.2 percent in 2014 from 2.4 percent in 2013. Leading the way are the advanced economies that seem "to be finally turning the corner" following several years of slow growth. The U.S. expected to expand 2.8 percent in 2014, up from 1.8 percent last year. The bank is forecasting the global economy to grow 3.4 percent in 2015 and 3.5 percent in 2016.
Germany's price-adjusted GDP growth slowed to 0.4 percent in 2013 from 0.7 percent in 2012 and missed the consensus estimate of 0.5 percent growth. "The German economy suffered from the continuing recession in some European countries and from restrained growth of the global economy," according to Roderich Egeler, President of the Federal Statistical Office.
The ECB is considering lowering its capital requirements in its stress tests to 6 percent from the 8 percent the agency previously committed to.
Equities-Specific News of Note
Analysts at Wedbush speculated that internet service providers could try to charge Netflix (NASDAQ: NFLX) a fee for every GB of data transmitted. This view comes a day after an appeals court's decision to throw out the FCC's net neutrality rules. Shares lost 2.25 percent, closing at $330.37.
Analysts at Credit Suisse upgraded Dick's Sporting Good (NYSE: DKS) to Outperform from Neutral with a $65 price target. Simply put, the analysts noted that the specialty retailer will benefit from a more focused management and improvements in its private label products. Shares gained 2.05 percent, closing at $56.38.
Analysts at FBR Capital reiterated an Outperform rating and $50 price target on Wells Fargo (NYSE: WFC). The analysts noted that "despite the lackluster quarter, we believe that Wells Fargo is one of the better-positioned banks in the current macroeconomic environment" and that the company has stable operating revenues in the fourth quarter despite industry challenges. Shares hit new 52 week highs of $46.74 before closing the day at $46.41, up 1.80 percent.
Analysts at Jefferies reiterated a Buy rating and $100 price target on Deckers Outdoor (NASDAQ: DECK) following a meeting with the company's management. The analysts noted that "the company's tone was very upbeat, regarding sales progress through the peak holiday period" and that "we continue to believe the UGG brand is benefiting from a strong and differentiated product assortment and think Deckers is poised to follow it up this year with another solid offering." Shares gained 0.54 percent, closing at $83.04.
Analysts at Goldman Sachs downgraded Hertz (NYSE: HTZ) to Neutral from Buy but increased the price target to $29 from a previous $27.50. The analysts noted that "fundamentals are little changed" following news of activist involvement. "We would point out that Hertz is yet to report what we believe will be two challenging quarters for its rental car segment, and we see little room for error." Shares lost 2.20 percent, closing at $26.71.
Analysts at UBS downgraded PetSmart (NASDAQ: PETM) to Neutral from Buy with a lowered price target of $72 from a previous $82. The analysts noted that the company will have difficulties gaining market share due to its existing size-able position and the departure of the company's COO adds a layer of "unexplainable circumstances." Shares lost 2.43 percent, closing at $65.47.
Analysts at Credit Suisse also downgraded PetSmart to Neutral from Outperform with a price target lowered to $70 from a previous $78. The analysts noted that customers made fewer trips to stores and have embraced purchasing products online.
Analysts at Goldman Sachs lowered its estimates on Lululemon (NASDAQ: LULU) and now estimates the company's 2014 EPS to come in at $1.89 from a previous $1.96. The analysts noted "we acknowledge Lululemon's peer leading brand equity and customer loyalty metrics, but see signs of some impairment subsequent to the luon recall and PR missteps." The analysts also lowered the price target to $55 from a previous $60. Shares gained 0.79 percent, closing at $49.65.
Analysts at Sterne Agee defended GameStop (NYSE: GME) following yesterdays collapse and reiterated a Buy rating with a lowered price target of $52 from a previous $58. The analysts noted that strong console sales will reach 50 million by 2015 and will support the company's business model. The analysts noted that following yesterdays drop, shares are valued attractively. Shares gained 1.82 percent, closing at $36.97.
Related: CNET's Scott Stein Says Video Game Sales Decrease During Generation Transition
The EU is set to implement new release to increase competition among derivatives exchanges including making it easier for a trade to open on one exchange and close on another. IntercontinentalExchange Group (NYSE: ICE) would be directly affected, but analysts at Sandler noted that ICE has around five years to react to the rules. Analysts at Wells Fargo noted that a lack of additional details makes it difficult to determine how bad this ruling could be for ICE. Finally, analysts at Raymond James stated that ICE's decline today is a buying opportunity. Shares lost 4.06 percent, closing at $210.87.
Analysts at Morgan Stanley upgraded Comcast (NASDAQ: CMCSA) to Overweight with a price target of $63. The analysts noted that the company is trading at a discount to its peers and views the company's next generation set-top box and home security as positive catalysts that will drive shares higher. Shares hit new 52 week highs of $54.56 before closing the day at $54.07, up 2.39 percent. .
Shares of Aeropostale (NYSE: ARO) surged higher by more than 7 percent premarket trading following reports that the company has contacted two different private equity firms to explore strategic alternatives which includes a sale of the company. Analysts at SunTrust said that a sale could come with a price tag of $15 to $17 a share. Analysts at Stifel spoiled the rally by stating that there is a better than 50 percent possibility of a sale being completed "however, we believe the transaction would be prolonged. With shares closing at $7.73, the company is more than fully valued on a fundamental basis, in our view." Shares ended the day higher by only 0.65 percent, closing at $7.78.
SolarCity (NASDAQ: SCTY) has acquired Common Assets, a developer of Web-based investment platforms that allows retail investors to provide financing for solar projects. Shares gained 4.50 percent, closing at $68.50.
Related: 6 Reasons Why Startups Continue To Rely On Investors
China Mobile (NYSE: CHL) received 1.2 million pre-orders for iPhone devices. Apple (NASDAQ: AAPL) CEO is currently in China and said that "there are lots more things our companies can do together." Shares of China Mobile lost 0.18 percent, closing at $50.39 while Apple gained 2.01 percent, closing at $557.36.
Riverbed (NASDAQ: RVBD) rejected the $19 per share offer that Elliot Management recently offered. The company said that the offer does not represent the best interests of shareholders. The company also announced guidance for the fourth quarter and is expecting revenues to come in-between $284 million to $285 million, above previous guidance of $270 million to $276 million. First quarter EPS is guided at $0.21 to $0.23 on revenues of $262 million to $268 million. Shares gained 1.62 percent, closing at $20.11.
After announcing a $0.30 quarterly dividend, General Motors (NYSE: GM) issued its 2014 guidance today which was cautious. The company said that it expects a "moderation" in sales this year. Shares lost 1.60 percent, closing at $39.38.
Related: General Motors Revs Ups its Engines at Detroit's Auto Show
Rumors surfaced from a Shanghai news source that stated Anheuser-Busch InBev (NYSE: BUD) is interested in purchasing Ginsberg Beer Company (China's 8th largest beer producer) for $600 million. Shares gained 0.15 percent, closing at $103.08.
A panel of external FDA advisers are discussing whether to approve recommending Merck's (NYSE: MRK) Vorapaxar drug which prevents drug clots. Shares lost 0.91 percent, closing at $52.52.
Charter (NASDAQ: CHTR) COO John Bickham "ripped" Time Warner Cable (NYSE: TWC) during a conference call. Bickham said that Time Warner has shown "a failed operating strategy revealed by fact that they are losing customers at an alarming rate." Shares of Charter lost 0.92 percent, closing at $136.08 while Time Warner Cable lost 0.64 percent, closing at $135.13.
AutoNation (NYSE: AN) CEO Mike Jackson claimed that U.S. dealers have $100 billion worth of unsold cars and trucks and that the supply of new cars is increasing too fast. As a result, Jackson places the odds of an industry wide discount war at 50 percent. Shares lost 3.25 percent, closing at $47.63.
Intel (NASDAQ: INTC) announced that it will delay opening a new factory in Arizona as a result of a fall in demand for PC microprocessors, the company's largest revenue generator. Shares gained 0.60 percent, closing at $26.67.
Total (NYSE: TOT) said that its refining margin fell to $10.10/metric ton from $10.60 in the third quarter. The indicator is a key gauge to determine the health of the refining industry in Europe. Shares finished unchanged at $59.58.
Winners of Note
Analysts at Bank of America (NYSE: BAC) defended its recent $872 price target on shares of Intercept Pharmaceuticals. (NASDAQ: ICPT) The analysts said that investors simply need to be patient. Speaking at the JPMorgan Health Care Conference. The company said that expects final results from the Phase 2B trial for OCA to be presented in the fourth quarter. Shares gained 10.25 percent, closing at $281.26.
Last night, an FDA panel voted 16-1 to approve Chelsea Therapeutics' (NASDAQ: CHTP) Norrthera. Analysts at Needham said the vote "represents a meaningful reduction in risk to the potential commercialization of Northera" and lifted their price target to $8 from $4. Analysts at Deutsche Bank raised their price target to $5 from $4 while noting that the FDA could still decide against approval. If approved, the analysts see shares at a fair value of $8 to $9. Wedbush reiterated their Outperform rating and $8 target and noted that "our impression was that the panel came to appreciate the vagaries of clinical trials for neurological disorders - especially in orphan diseases like NOH." Shares hit new 52 week highs of $5.78 before closing at $4.41, up 91.74 percent.
Analysts at Dougherty initiated coverage on Control4 (NASDAQ: CTRL) with a Buy rating and $30 price target. The analysts noted that "Control4 is a rare pure play on home automation/"the Internet of Things", which combined with the prospect of significant margin expansion, sets the stage for a premium valuation." Shares closed at its new 52 week highs of $31.45, up 23.38 percent.
NuVasive (NASDAQ: NUVA) released preliminary financial results for full year 2013. The company sees its revenue at $683 million, higher than the consensus estimate of $670 million. Operating margin should "exceed guidance" for the full year. 2014 full year revenue is projected at $725 million, ahead of the $711.7 million consensus estimate. Shares hit new 52 week highs of $37.25 before closing the day at $36.66, up 8.53 percent.
NQ Mobile (NYSE: NQ) announced it has entered in an agreement with Sprint. (NYSE: S) Sprint will install NQ's Live interactive home screen wallpaper replacement on Android phones. Shares gained 12.28 percent, closing at $15.63.
Mattress Firm (NASDAQ: MFRM) is in talks to acquire the fourth largest mattress chain in the U.S., Sleep Train, in a $200 million deal. Shares gained 15.33 percent, closing at $45.43.
Decliners of Note
Nu Skin (NYSE: NUS) was the subject of a negative article in People's Daily. The Chinese based paper noted the company's sales practices border on "brainwashing" and mind control. China has very different and strict rules when it comes to direct sellers and is different from U.S. regulations. Shares lost 15.56 percent, closing at $115.23.
Analysts at Hedgeye believe that shares of Restoration Hardware (NYSE: RH) are trading lower because the company is the only retailer yet to pre-announce earnings or offer guidance. The fact that the company was not present at the ICR XChange conference is not an excuse. The company reports its fourth quarter results in March which gives it enough time to reassure investors or recoup lost sales from poor weather conditions. Shares lost 5.96 percent, closing at $57.78.
Related: Best Buy or HH Gregg: Which is the Better Bet?
Earnings of Note
Bank of America (NYSE: BAC) announced its fourth quarter results this morning. The company reported an EPS of $0.29 which came in ahead of the $0.26 consensus estimate. Revenue of $21.7 billion came ahead of the $21.24 billion consensus estimate.
Quote of the Day
"Will capitalist economies operate at full employment in the absence of routine intervention? Certainly not. Are deviations from full employment a social problem? Obviously." - Janet Yellen, comments made in September 2013.
View Comments and Join the Discussion!
Posted-In: Aeropostale Anheuser-Busch Apple AutoNation Bank of AmericaEarnings News After-Hours Center Best of Benzinga