Still More Room for Disappointment in Lululemon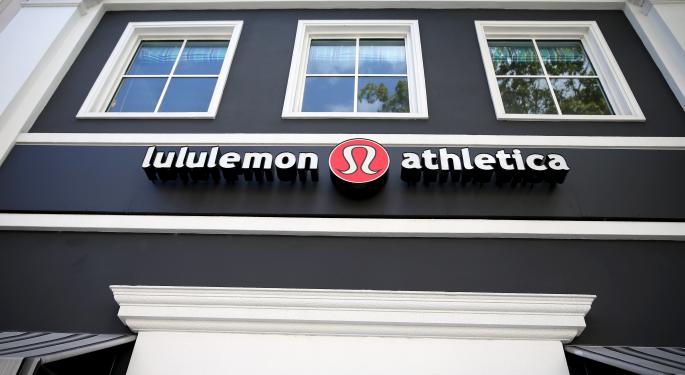 Lululemon Athletica Inc. (NASDAQ: LULU) issued a weak fourth quarter guidance and cut its full year guidance on Thursday, after announcing its third quarter results.
The company expects its EPS to come in at a $0.78 to $0.80 range, on revenue of $535 million to $540 million. Analysts were expecting earnings of $0.84 on revenues of $572 million.
The stock plunged more than 10 percent on Thursday and continued their slide on Friday.
According to Barron's, bargain hunting investors need to exercise caution, as "things are looking especially sour for Lululemon Athletica."
Related: Laurent Potdevin To Replace Christine Day As CEO of Lululemon
"You don't want to be investing in a retailer still valued for robust growth when its financial results are telling you a story that growth is likely to continue to slow 12-months forward," Brian Sozzie, chief equities strategist at Belus Capital Advisors, told Barron's.
Lululemon isn't facing the same macro issues that many other retails are dealing with. "Lululemon is struggling to recover from a series of missteps and public relations snafus that depressed profit and damaged the company's once stellar reputation," Barron's wrote.
Under outgoing CEO Christine Day, the Vancouver, Canada based company earned a strong reputation and cult-like following -- that convinced customers to buy its yoga related products at a cost premium compared to its competitors.
But, in a rather public debacle, the company recalled a popular line of yoga pants that were see-through. The already well-publicized blunder took a turn for the worse when the company's founde,r Chip Wilson suggested the problems are not production related, but rather the customer's fault. 
To help clean up the company is incoming CEO Laurent Potdevin -- who Barron's characterized as an "operations guy" -- which "should prove useful if Lululemon is to transition into a larger, international growth story."
Barron's views are similarly shared with analysts at Credit Suisse AG (NYSE: CS), who downgraded shares to Neutral from Outperform, while lowering the price target to $59 from a previous $78.
View Comments and Join the Discussion!
Posted-In: Barron's Barron's LululemonEarnings News Analyst Ratings Media Interview Press Releases Best of Benzinga