Benzinga Weekly Preview: Eurozone Inflation Data Eagerly Awaited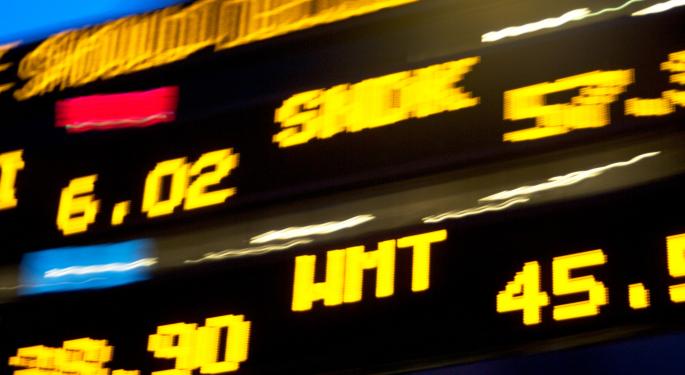 After the eurozone's inflation figure came in at 0.7 percent in October, its lowest level in nearly four years, investors began to worry that the region was headed for a Japan-like "lost decade" of deflation. November's inflation figures will be closely watched next week -- as a further decline could push the ECB to make another policy move, like lowering the deposit rate.
Key Earnings Reports
Next week investors will be waiting for several key earnings reports,  including Hewlett-Packard Company (NYSE: HPQ), Tiffany & Co. (NYSE: TIF), Nuance Communications, Inc.(NASDAQ: NUAN) and TiVo Inc. (NASDAQ: TIVO).
Hewlett-Packard Company
Hewlett-Packard is expected to report fourth quarter EPS of $1.00 on revenue of $27.87 billion, compared to last year's EPS of $1.16 on revenue of $29.96 billion.
Goldman Sachs gave Hewlett-Packard a Sell rating, with a $17.00 price target on Nov. 19th, noting the company's October quarter was likely promising but that the future will be shaky.
"Hewlett-Packard reports 4QFY2013 results on Tuesday, November 26, after the market close," it said. "While HP is not immune to the enterprise weakness that has plagued many leading technology companies over the past quarter, we believe the company's October quarter results may be a bit sturdier than expected as a result of impressive PC share gains in recent months." 
"As a result," it added, "we are modestly increasing our revenue estimate to $27.95 billion from $27.73 billion. Given that PCs only represent nine percent of total HP profits and the likelihood that these share gains were partially driven by increasingly aggressive like-for-like pricing, we are maintaining our EPS estimate of $1.00, which compares to consensus of $1.00 and guidance for $0.98 to $1.02. Despite this comforting news for the October quarter, we believe January quarter guidance is a risk and could come in below expectations. We are forecasting January quarter revenues and EPS of $26.30 billion and $0.82, versus consensus of $26.85 billion and $0.85."
On Nov. 18, however, JP Morgan had a more upbeat outlook for Hewlett-Packard -- and gave the stock a Neutral rating with a $29.00 price target. The analysts at JP Morgan noted PC and printing market conditions were uncertain at best, but said that Dell going private could be a positive catalyst.
"For most of 2013, Dell had been the incremental price aggressor," they said, "With Dell completing its LBO, we believe Dell could curtail its aggressive discounting in PCs, servers, and storage. Our research indicates Dell is re-focusing on cost controls and thinning the infrastructure. In other words, Dell needs to grow its cash to service LBO-related debt and fund acquisitions of next-generation technology assets, such as SaaS and Big Data."
"As a result," they added, "we think HP's revenue and margin profiles in PCs, servers, and storage could benefit in coming quarters."
Tiffany & Co.
Tiffany's is expected to report third quarter EPS of $0.58 on revenue of $889.38 million, compared to last year's EPS of $0.49 on revenue of $852.74 million.
JP Morgan gave Tiffany's a Neutral rating and raised its price target to $86.00 from $78.00 on Nov. 19th. The analysts at JP Morgan were optimistic about the company's prospects, with a new design director to breathe life into the brand and differentiate Tiffany's jewelry from the competition.
"In September, Tiffany named Francesca Amfitheatrof as its new design director. Given her prior experiences in jewelry design at leading fashion brands including Chanel and Fendi," they noted, "we expect to see higher fashion element in TIF's entry level offerings as well as accelerated introduction of newness under her leadership." 
"Next year she will be primarily focusing on the fashion/silver jewelry segment, and we expect to see her full influence across categories starting in 2014. In the near term we are encouraged by sub-$500 offerings in recently introduced Ziegfeld and Atlas Collections."
On Nov. 20, Deutsche Bank gave Tiffany's a Hold rating, with a $73.00 price target, noting the upcoming holidays will likely help the company's performance next quarter.
"U.S. industry data for the past few months and weeks point to a relatively healthy environment: jewellery sales outperformed retail sales by about six percent in August-September, so the pick-up in retail sales in the first two weeks of November, if confirmed, should be supportive going into the holiday season. Q4 traditionally accounts for >35% of sales and >40-45% of EBIT."
Nuance Communications, Inc.
Nuance Communications is expected to report fourth quarter EPS of $0.29 on revenue of $489.56 million, compared to last year's EPS of $0.51 on revenue of $490.09 million.
Deutsche Bank gave Nuance a Buy rating, with a $24.00 price target on Nov. 4, noting the company's shares'  recent loss presents a unique opportunity.
"NUAN shares have shed 30% of their value YTD vs. the NASDAQ gaining 30 percent," it said. "This divergence has caught the attention of value investors, after earlier interest from event-driven funds on the back of Carl Icahn's firm accumulating a 17 percent stake in the company since February."
"Our view on the stock remains constructive," it added, "as we believe NUAN's market opportunity and competitive position are still relatively strong. This note aims to frame the revenue model transition, competitive landscape and what metrics investors should look for, as we approach earnings on Nov. 25 and the annual analyst day in early December. We reiterate our Buy rating on valuation and near-term catalysts."
Wedbush gave Nuance Communications an Outperform rating with a $22.00 price target. The analyst team at Wedbush said Nuance is in a great position for long-term opportunities, but remained cautious about management's FY14 guidance.
"We are slightly cautious on F4Q and initial FY14 guidance," they said, "as we expect management to set conservative expectations to start the new fiscal year after forecasting challenges in FY13. While we expect a modest adjustment to consensus estimates, we remain constructive as Nuance is well positioned to capitalize on the long-term opportunities in speech recognition and natural language understanding."
"We acknowledge that the catalysts (improving sales execution in mobile and healthcare, healthcare coding/ICD-10, and potential divestitures) will take longer to materialize than we originally anticipated, but we expect them to take hold during the course of the upcoming FY. We are maintaining our Outperform rating and $22 target. Nuance is scheduled to report next Monday Nov 25 after the market close."
TiVo Inc.
TiVo is expected to report third quarter EPS of $0.06 on revenue of $81.35 million, compared to last year's EPS of $0.44 on revenue of $60.96 million.
Goldman Sachs gave TiVo a Buy rating, with a $15.00 price target, on Nov. 18, citing the company's potential profitability in FY15 for their optimism.
"Given litigation vs. Motorola/Cisco/Time Warner Cable is behind the company," it said, "we believe the focus of the call will be on operational metrics (where we note continued traction with Virgin Media subscriber adds and an acceleration for ONO in the quarter) and revenue/COGS/opex growth trends to help assess the potential profitability for FY15." 
"Management has not provided specific FY15 profitability guidance, but has commented that it has the 'foundation' to exceed $100mn in adjusted EBITDA. We are currently modeling $107mn in FY15 adjusted EBITDA, with the primary drivers being an increase in licensing revenue, lower litigation expense, and incremental profitability from the Virgin Media deal. We maintain our Buy rating and $15, 12-month price target, as we view subscriber growth and improving profitability trends as near to mid-term catalysts for the shares."
The team at Piper Jaffray gave TiVo an Overweight rating, with a $15.00 price target, on Nov. 20. The rating was largely based on the company's potential to increase its subscriber base in the next quarter.
"Our analysis of TIVO's F3Q MSO sub base shows net adds from relatively smaller customers and new roll-outs will be key for the company to reach our sub estimates," they said. "Our analysis indicates three of TIVO's top customers (Virgin, ONO, Suddenlink, which are >75% of overall MSO TIVO subs) added ~241k TIVO subs during the Sept quarter."
"While this is only 4k short of our estimated 245k net sub adds for F3Q," they continued, "DirecTV customer churn continues to be a headwind in the range of ~20k-~25k net sub loss per quarter. Thus, we estimate new roll-outs and net sub adds from existing customers (excl. Virgin, ONO, Suddenlink and DirecTV) will have to total ~24k-29k for TIVO to reach our MSO sub estimate. While this is slightly higher than recent quarters we believe it is attainable due to the new customer roll-outs during F3Q, including Com Hem (which had 45k pre registrations), Mediacom and Atlantic Broadband."
Economic Releases
As mentioned earlier, Europe's inflation data will be the star of next week's economic calendar -- as investors look for fresh clues as to whether or not the region is headed towards deflation. Most expect to see the figure remain the same or increase slightly to 0.8 percent.
In the U.S., it will be a quiet week for market data. Consumer confidence and housing data could have an impact, as investors look for new data which will confirm or deny speculation of a sooner than expected Federal Reserve taper.
Daily Schedule
Monday
Earnings Releases Expected: Nuance Communications, New Jersey Resources Corporation (NYSE: NJR), Laclede Group, Inc. (NYSE: LG)
Economic Releases Expected: U.S. pending home sales, Italian trade balance, Swiss employment level
Tuesday
Earnings Expected: From Barnes & Noble, Inc. (NYSE: BKS), DSW Inc. (NYSE: DSW), Tiffany & Co., Hormel Foods Corporation (NYSE: HRL), TiVo Inc., Analog Devices, Inc. (NASDAQ: ADI), Hewlett-Packard Company.
Economic Releases Expected: Italian consumer confidence, U.S. housing starts, U.S. building permits, U.S. consumer confidence, New Zealand trade balance
Wednesday
Earnings Expected: No notable earnings releases expected
Economic Releases Expected: U.S. durable goods orders, U.S. housing starts, U.S. new home sales, U.S. consumer sentiment, New Zealand Business confidence.
Thursday
U.S. Markets Closed for Thanksgiving Holiday
Friday
Earnings Expected From: 1-800 Flowers.com, Inc (NASDAQ: FLWS)
Economic Releases Expected: Eurozone unemployment rate, Italian CPI, Greek retail sales, French consumer spending, Canadian GDP.
Posted-In: Earnings News Eurozone Commodities Previews Global Econ #s Economics Best of Benzinga
View Comments and Join the Discussion!