Watch Out: Taco Bell's Doritos Locos Tacos Hits The $1 Billion Sales Mark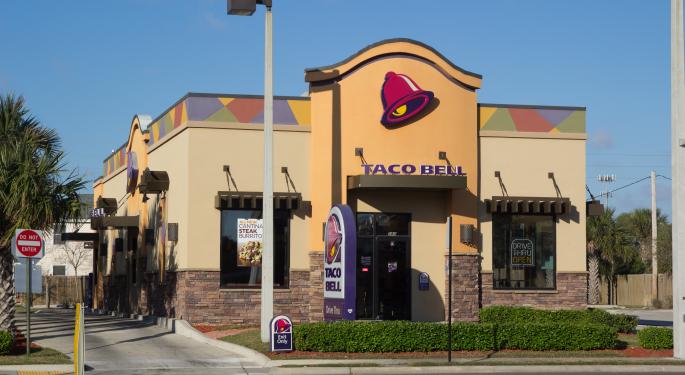 A fast-food marriage made in heaven, or yet another sign of the apocalypse? Either way, Taco Bell recently reached a remarkable milestone, with sales for its Doritos Locos Tacos – which was launched in March of 2012 – passing the $1 billion mark.
Taco Bell, owned by Louisville, Kentucky-based Yum Brands (NYSE: YUM) partnered with Doritos, which is owned by Frito-Lay, a division of PepsiCo (NYSE: PEP), to come up with a meat-filled taco wrapped in a Doritos nacho cheese shell, complete with the snack food's trademark, get-into-everything, orange-tinted powered cheese.
"It has been the biggest launch in Taco Bell history," Greg Creed, company CEO, told the Daily Beast this past March. "Last year, we added 15,000 people to handle the growth."
The insanely-popular item uses Doritos packaging when served, and is part of Taco Bell's successful "Fourth Meal" ad campaign – geared at hungry snackers (or, as the Huffington Post snarked, young stoners with the late-night munchies) out on the town.
Even the venerable New York Times has taken notice of the Doritos Locos phenomenon – with a video graphic explaining how the snack has been scientifically engineered to "target taste buds" and make the consumer not only enjoy the eating experience but crave more after they're done.
"What these are trying to do is excite every stinking taste bud receptor you have in your mouth," food scientist Steven A. Witherly told The Times.
Taco Bell's triumph is certainly welcome news for Yum Brands – which earlier this month reported a disappointing third-quarter performance.
In a press statement, Yum Chairman and CEO David C. Novak pointed to a "slower-than-expected" recovery at the corporation's crucial KFC operations in China – which have been hit hard by a sales drop following both concerns over bird flu spreading in Asia and reports that some of KFC's Chinese suppliers had chemical residues in their chickens.
And in that same statement Novak pointed out with pride that Taco Bell has "produced seven consecutive quarters of positive same-store sales growth," which was highly digestible news for investors.
Posted-In: Earnings Financial Advisors News Guidance Retail Sales Restaurants Success Stories Personal Finance Best of Benzinga
View Comments and Join the Discussion!