Market Wrap For October 2: Dollar Moves As Shutdown Continues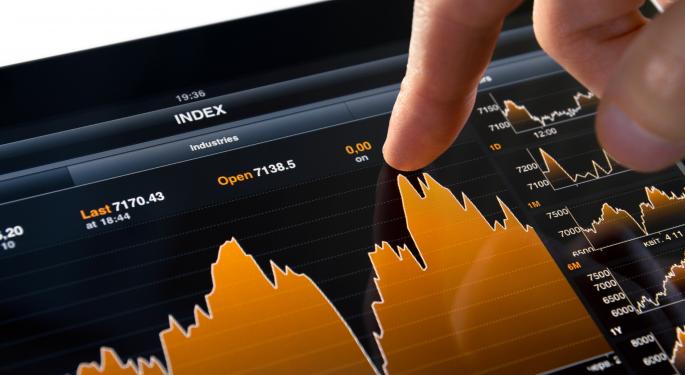 The the debt ceiling battle presses on, equity markets do not seem to be taking notice. After yesterday's gains, major indexes suffered small losses Wednesday.
The value of the dollar continued to tumble downward and is now the weakest it has been against the euro in eight months. Over the past three months the USD has lost a whopping five percent of its value. A high level of Federal Reserve activity is mostly responsible.
Also making news is Tesla (NASDAQ: TSLA), which fell 6.24 percent on a Baird downgrade, a video of a Model S on fire posted to YouTube, and commentary from Citron.
Major Indexes
The Dow Jones Industrial Average lost 58.56 points, or 0.39 percent, to close at 15,133.14.
The S&P 500 declined 1.13 points, or 0.07 percent, to finish at 1,693.87.
The Nasdaq slipped 2.96 points, or 0.08 percent, to 3,815.02.
The Russell 3000 gave up 1.12 points, or 0.11 percent to close at 1,019.64.
ADP Employment Change
Without the government's nonfarm payroll report coming out this Friday due to the shutdown, ADP's figure is especially important. The employment figure came in worse than expected by 14,000 jobs at 166,000 added to the economy this September. This is also worse than the previous reading of 176,000.
Stock Movers
Osiris Therapeutics (NASDAQ: OSIR) gained 12.37 percent to $18.80 following an upgrade at Piper Jaffray to Overweight while Maintaining its $21 price target.
Portugal Telecom, SGPS S.A. (NYSE: PT) shot up 6.59 percent to $4.85 after Portugal Telecom and Oi SA (NYSE: OIBR) announced a memorandum of understanding for merger of activities.
Global Payments (NYSE: GPN) rose 11.42 percent to $56.49 after the company reported upbeat fiscal first-quarter results and raised its annual forecast. Global Payments named Jeffrey S. Sloan as its new chief executive and also announced its plans to buy back up to $100 million of its common stock.
Team (NYSE: TISI) were dropped 13.87 percent to $34.45 after the company lowered its annual earnings outlook.
Commodities
After falling for the first part of this week, energy and precious metals were on the rise Wednesday. WTI futures rose 1.77 percent to $103.85 while Brent contracts gained 1.11 percent to $109.05. Natural gas did take a two percent hit, falling to $3.54.
COMEX Gold futures popped up 2.36 percent to $1,316.50. Silver gained 2.83 percent to reach $21.78. Platinum was the laggard Wednesday, up just 0.31 percent to $1,390.70.
Currencies
The U.S. Dollar was very lower on Wednesday afternoon. At last check, the PowerShares ETF (NYSE: UUP) that tracks the performance of the greenback versus a basket of foreign currencies, was down 0.37 percent to $21.53. The index made a 52 week low on the day.
The closely watched EUR/USD pair rose 0.38 percent to $1.3582. This is the highest the pair has been in eight months. The other big mover on the day is the USD/JPY pair, which dropped 0.48 percent.
Volume and Volatility
Volume was a bit light on the day, with 112 million shares of the SPDR S&P 500 ETF (NYSE: SPY) exchanging hands. This compares to the ten day and three month averages of 125 million.
Volatility was once again elevated with the CBOE measure (VIX), up 6.82 percent to 16.6.
Global Markets
Both Chinese and Indian markets were closed for national holiday Wednesday. Japan's Nikkei took a big hit, down 2.17 percent.
Europe was mostly down on the day. The Euro Stoxx 50 index, which tracks 50 eurozone blue chips fell 0.5 percent. England's FTSE gave up 0.35 percent, and France's CAC fell 0.92 percent.
Disclosure: At the time of writing Luke Jacobi held a short position in Tesla.
Posted-In: Earnings News Short Sellers Emerging Markets Eurozone Futures Commodities Forex Best of Benzinga
View Comments and Join the Discussion!