Familiar Face Climbs Back to the Top of Billionaires List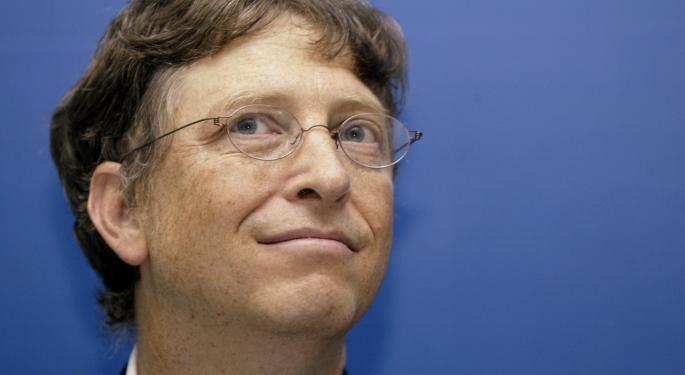 Apparently, the world has a new richest man.
Actually, reclaiming the top spot is more accurate. According to Bloomberg, Microsoft (NASDAQ: MSFT) founder Bill Gates is, once again, the world's richest man. He moved ahead of Mexican telecom mogul Carlos Slim in rankings released on May 16 by Bloomberg.
Gates, who topped the list with a net worth of $72.7 billion, has seen his fortune gain 16 percent in value year-to-date.
Of course, after a 28 percent rise to all five year highs this year, that was responsible for a considerable amount of price appreciation but maybe not as much as one would think. Less than a quarter of Gates' fortune is in Microsoft.
Most of Gates' money is held by Cascade Investment LLC, a holding entity that invests in a dozen or more publically traded companies.
But Slim's loss was Gates' gain. Carlos Slim, who's America Movil (NYSE: AMX) was the largest mobile phone operator in the Americas and essentially had a monopoly on the Mexican mobile market, lost 14 percent of value after the Mexican Congress passed a bill that could severely erode the company's market dominance. That was enough to erase $3 billion from Slim's net worth. Bloomberg listed Slim's fortune at $72.1 billion.
Berkshire Hathaway (NYSE: BRK-A)(NYSE: BRK-B) founder Warren Buffett came in at number three on the list at $59.7 billion while Spanish fashion executive, Amancio Ortega, was fourth with a net worth of $56 billion.
What a difference a few months make.
The Forbes Billionaire list, published on March 4, shows Carlos Slim in first place with a net worth of $73 billion, Gates, in second with $67 billion of wealth, and Amancio Ortega in fourth place with $57 billion. Although both lists track net worth, the variations in figures demonstrate how difficult it is to calculate the net worth of these high income earners. Although published two months apart, the lists show a $7.3 billion discrepancy in Warren Buffett's fortune. (Some of that discrepancy is from price appreciation, of course.)
If you're wondering why you haven't made the type of money in the investment markets that the worlds richest have made, look no further than the statistics. As of March, there were 1,426 billionaires within a global population of more than 7 billion people. Those aren't great odds but hey, all it may take is a few really good picks. What's the next Microsoft or Apple that is sitting in the small cap space with very little love?
Disclosure: At the time of this writing, Tim Parker had no position in the stocks mentioned and contacted Bloomberg to see why he was left off the list.
Posted-In: Berkshire Hathaway Bill Gates Carlos SlimEarnings News Tech Media General Best of Benzinga
View Comments and Join the Discussion!