Credit Suisse and Oppenheimer Slug it Out Over Ulta, Who is Right?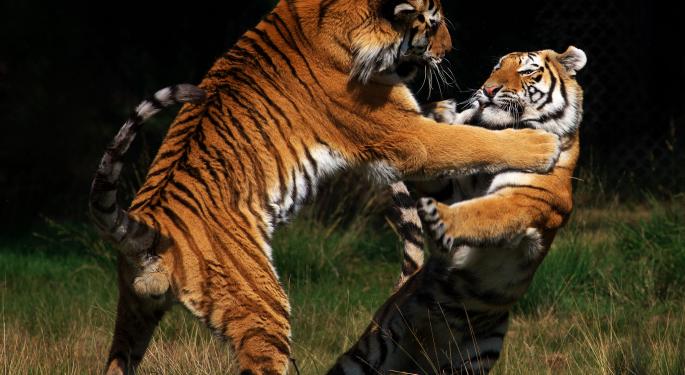 Ulta Salon (NASDAQ: ULTA) released its fourth-quarter results yesterday, beating on top and bottom lines, but released guidance in a range of $0.60-0.63, far below analyst estimates of $0.72.
Following the news, four analysts weighed in on the company:
First up was Oppenheimer, which downgraded the company to a Perform rating and removed its price target.
The report focused on some comments from Ulta's management on its conference call, which warned of choppy and more value-focused customers. It also highlighted the increased spending on growth investment, which is expected to weigh on gross margins for 2013.
Next in line on the ratings was Goldman Sachs, which reiterated its Buy rating and lowered its price target to $93.
In its report, Goldman highlighted the management turnover and how the coming CEO will not own the company's financial plan, and its "back-end loaded marine guidance". Despite these factors, Goldman was encouraged enough by Ulta's top line performance in the fourth-quarter, but expects slower margin expansion due to increased investment for 2013.
Sterne Agee also weighed in on Ulta and maintained its Buy rating as well and lowered its price target to $90.
The Sterne note was more aggressive than Goldman's, and stated that it would be buying shares on the weakness caused by Ulta's poor guidance. The report highlighted Ulta's increased investment spending that would slow margin growth, but was impressed by management's forecast of 25 percent increases on the bottom line for 2013.
Overall, Sterne focused on the big picture, and likes the stock as a retail growth story, with the slowing stock prices in 2013 simply presenting a buying opportunity for the stock.
The final rating came from Credit Suisse, which upgraded the stock from a Neutral rating to Outperform and placed its target price at $110.
While it issued an upgrade, Credit Suisse didn't quite go all in as it lowered its EPS estimate to $3.31 per share for 2013. Expectations for the first-quarter were underlined as weak, but the report expected that investments made in early 2013 would start to pay off in the second quarter and later, quickly bailing out share prices.
Its important to note that Jim Cramer mentioned the Credit Suisse note on CNBC Friday morning and praised Gary Balter, the analyst on the report, for turning back from his more bearish outlook following the company's much more conservative estimates for the first-quarter. Its quite possible that this mention could give the stock some legs today.
Following a choppy 2012, shares are trading well below the mean displayed during the year, while the forward P/E of 26.07 compared to its current P/E of 36.67 shows that the stock is becoming more reasonably priced.
With the significant capital investments that management announced on its conference call, the expectation of contracting margins for 2013 is a logical one. This could provide an opportune entry for a long-term investment, as these capital allocations are expected to yield increased growth starting in the second-quarter of 2013.
Ulta shares fell sharply following the news and ratings, dropping 14.40 percent to $75.64.
Posted-In: Earnings News Guidance Upgrades Downgrades Price Target Analyst Ratings Movers Best of Benzinga
View Comments and Join the Discussion!