JC Penney Plunges After Weak Quarter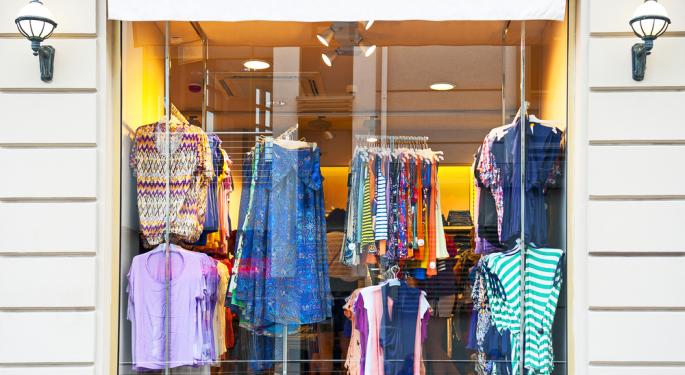 Shares of J.C. Penney (NYSE: JCP) plunged in early trading on Friday, falling as much as 10 percent in the premarket.
The struggling retailer released an earnings report in the morning that disappointed investors. For the third quarter, J.C. Penney reported a loss of $0.93 per share, compared to an estimated loss of $0.07 per share. Revenue was also light, coming in at $2.93 billion compared to an estimate of $3.27 billion.
Most disappointing was same-store sales, which fell 26.1 percent. Gross margin dropped to 32.5 percent from 37.4 percent.
CEO Ron Johnson took over the company last year, and began a tremendous turnaround effort. Previously, Johnson was an executive at Target (NYSE: TGT) and Apple (NASDAQ: AAPL) where he created the concept of the "genius bar."
Thus far, Johnson's turnaround effort has failed to reward shareholders. When Johnson took over in the summer of 2011, shares were trading above $30, and early in 2012, they were near $45. However, with Friday's disappointing quarter, shares are now under $20.
Johnson has worked to change some of the most fundamental aspects of consumers' views of the retailer. One of the most dramatic shifts was the way the retailer discounted; Johnson abolished much of the old system of aggressive discounting, replacing it with a more consistent pricing scheme.
The other concept Johnson has pushed for has the been the "store within a store" or "mall within a mall" concept. Instead of having a massive department store, J.C. Penney would be reorganized with smaller sections devoted to particular brands. According to Johnson, this would reinvigorate sales and raise profitability. Johnson has also changed J.C. Penney's technological strategy, updating the stores and shifting to Apple iPads.
Meanwhile, the retailer has attempted to create a sense that the store is more of a destination spot rather than simply a place to purchase clothes. To further this goal, J.C. Penney announced that it would give away free haircuts to kids and free family portraits.
In response to the disappointing quarter, Johnson stated that he was really running two stores -- the old J.C. Penney, and the new JCP. The old J.C. Penney was struggling, while the new JCP would eventually propel the entire corporation forward.
Pershing Square's Bill Ackman has been a big supporter of J.C. Penney's turnaround, standing by the company and urging investors to be patient during the shift. Back in May, Ackman gave a presentation at the Ira Sohn investment conference where he predicted that, despite a rocky start to 2012, the company would finish the year stronger as its efforts would pay off.
Evidently that proved not to be the case. It will be interesting to see if Ackman reverses his position on the stock. If he does, investors might interpret that as a major bearish signal. However, should Ackman come out with another staunch defense of the retailer, traders could expect shares to bounce back a bit.
J.C. Penney traded near $21.13 on Friday, down over 2.50 percent.
Posted-In: Earnings Long Ideas News Guidance Short Ideas Hedge Funds Management Intraday Update Best of Benzinga
View Comments and Join the Discussion!