PreMarket Prep Stock Of The Day: SAP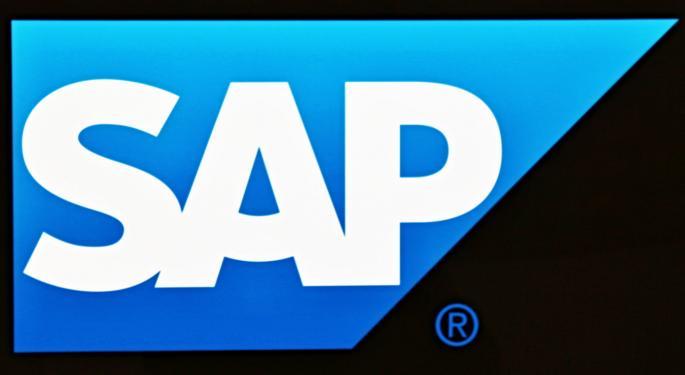 Investing and especially shorter-term trading in ADRs (American Depositary Receipts) can be treacherous for a few different reasons. First of all, with issues being traded on different exchanges in various time zones, news such as earnings are announced when U.S. exchanges aren't open or have limited liquidity.
Along these lines, the primary market-makers in the issue have already digested and priced in whatever news may be dictating the price action in an issue.
With that being said, investors in SAP SE (NYSE: SAP) were in for a rude awakening on Monday.
The Company: SAP is a German multinational software corporation that makes enterprise software to manage business operations and customer relations. The company is especially known for its ERP software. SAP is the largest European software company by revenue and is the world's third-largest publicly-traded software company.
Its peers in the U.S. markets are Adobe Systems (NASDAQ: ADBE), Salesforce (NYSE: CRM) and Intuit (NASDAQ: INTU).
2020 Price Action: When discussing the recent price action in the issue relative to the aforementioned issues, there should be no surprise what the issue has done since its March low ($90.90).
After ending 2019 at $133.98, the issue made a new all-time high in February at $139.91 but backed off to end the month at $123.57. It suffered with the broad market in March falling to $90.90 before staging its major rebound. That low coincided with its February 2017 low of $90.19.
Its new all-time high was made on the same day as many other high flying tech issues on Sept. 2 at $169.30.
What Happened? Before the U.S. exchanges commenced premarket trading Monday, SAP announced a solid EPS beat but reported revenue of €6.5 billion for its third quarter, approximately 4% lower year-over-year figure. As a result of the revenue shortfall, the company lowered 2020 guidance which is the last thing that investors wanted to hear.
As stated many times on the PreMarket Prep Show, valuation and growth projections do not matter...until they do matter. This is a prime example of what can happen to any high-flying issue announces growth expected to slow.
Nowhere To Hide: For investors in the company that had no access to the primary market in the issue, there was nothing they could do except wait for the pain to be inflicted. In this instance, hitting the bid on the open may turn out to be the best thing to do, at least for the short-term.
After ending Friday's session at $149.68, it reopened at $118.27, had a brief rally to $118.69 and has resumed its move lower. As of 12:30 p.m. ET, it has continued to make new lows for the session with the current one standing at $113.85.
Based on the monthly charts, its next support level does not come in until its May low of $109.82.

View Comments and Join the Discussion!
Posted-In: News Guidance Technicals Trading Ideas Best of Benzinga