Apple 'Hi Speed' iPhone Event: Live Blog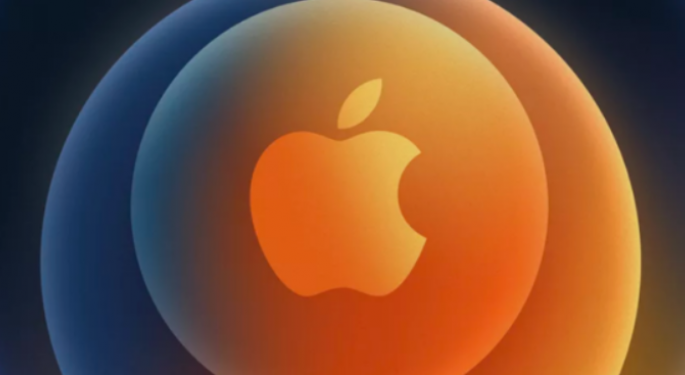 The Apple event titled "Hi, Speed" kicks off Tuesday at 1 p.m. ET.
Apple Inc. (NASDAQ: AAPL) is expected to unveil four models of the iPhone 12 with price points ranging from $699 to $1,099. The presentation is expected to highlight the 5G technology from the phones and new enhancements to the rear camera technology.
Wedbush analyst Daniel Ives calls this the most important product cycle for Apple since the iPhone 6 was released in 2014.
The Apple Event can be watched here. For all the latest information from today's event, follow along here with our live blog:
2:07 p.m.: The iPhone12 Pro Max and iPhone12 mini will be available for pre-order November 6 and start shipping Nov. 13
2:07 p.m.: The iPhone12 and iPhone12 Pro are available for pre-order Friday, Oct. 16. Phones will be available Oct. 23
2:07 p.m.: Shares of Apple are at $120.67, down 3% at close of Apple Event
2:07 p.m.: iPhoneSE now $399, iPhone11 now $599
2:07 p.m.:Prices start at $999 for iPhone 12 Pro, iPhone12 Pro Max starts at $1,099
2:05 p.m.: New Pacific Blue color highlighted in Apple iPhone12 Pro video
2:03 p.m.: New commercial shown for Apple iPhone12 Pro. Highlights Ceramic Shield, super retina display, 5G "set to change the world", A14 Bionic chip "generations ahead", iPhone12 Pro is "photographer's iPhone"
2:03 p.m.: 5G and Lidar scanner helps teams map an environment and adapt to room layout
2:01 p.m.: Lidar improves many of the camera features shown off
2:00 p.m.: iPhone12 Pro has Lidar scanner
1:59 p.m.: Video shows that cinematographers can make videos with Apple iPhone12
1:58 p.m.: iPhone12 with Dolby Vision shown off with video
1:57 p.m.: HDR Recording coming to iPhone, first to record in Dolby HDR
1:56 p.m.: Verizon (NYSE: VZ) shares flat at $59.53, Tencent shares are at $73.32. Apple shares down 2% to $121.73
1:55 p.m.: Edit Apple ProRAW within phone or on third party apps
1:54 p.m.: New feature, Apple ProRAW on iPhone camera app for iPhone12 Pro and iPhone12 Pro Max later this year
1:52 p.m.: Apple iPhone12 Pro Max has sensor-shift, precisely control motion while maintaining sharpness
1:51 p.m.: Apple iPhone12 Pro Max has best camera ever
1:50 p.m.: Ultra Wide camera, new wide camera, telephoto all features on iPhone12 Pro
1:48 p.m.: A14 chip is "generations ahead" of rivals
1:47 p.m.: Largest display ever in iPhone, 3.5 million pixels, on new iPhone12 Pro
1:47 p.m.: Apple shares still down 2%
1:47 p.m.: Verizon shares now trading up slightly to $59.64
1:47 p.m.:iPhone12 Pro now shown off
1:45 p.m.: Financing will be available, announces Verizon as a partner. Verizon will offer $15 month for iPhone 12 and $12 month pricing for 24 months with trade-in of Apple iPhone10 or newer model
1:45 p.m.: Apple iPhone 12 starts at $699 for Mini and $799 for regular
1:44 p.m.: New commercial for iPhone12 is shown, shows off camera, night mode, water resistancy, super retina display, "fastest smartphone chip ever", MagSafe charging, "Everything just clicks", ceramic shield drop performance, world's smallest 5G phone (iPhone 12 mini)
1:43 p.m.: Smallest, thinnest, lightest 5G phone in the world, expect it to be very popular.
1:41 p.m.: Unveils Apple iPhone12 Mini
1:41 p.m.: Something only Apple would do with James Bond theme music playing
1:41 p.m.: Equates to removing 450,000 cars from roads a year
1:40 p.m.: Apple is removing headphones and chargers from boxes to limit waste and help reduce emissions
1:40 p.m.: Apple plans on being net zero by 2030 for its climate impact, using 100% recycled rare earth elements in magnets and other components
1:39 p.m.: Apple shares are down 2% to $122.24
1:39 p.m.: Announces Belken is making Mag Safe themed products
1:38 p.m.: Several versions of Mag Safe, including a wallet
1:37 p.m.:Mag Safe for iPhone improves wireless charging
1:36 p.m.:Apple iPhone12 to get better charging, video shows new charging pack to put on the back of phone
1:35 p.m.:Adding night mode time-lapse mode
1:35 p.m.: Discussion shifts to cameras of iPhone12, night mode coming to all iPhone 12 models
1:35 p.m.:Tencent Holdings (Pink: TCEHY) owns Riot Games, maker of "League of Legends", shares currently flat at $72.94
1:33 p.m.:All Riot discussions center around 5G from Verizon
1:32 p.m.:LOL is most popular PC game, Riot believes "perfect time" to come to mobile due to A14 Bionic and Verizon 5G
1:31 p.m.:New game coming to iPhone, "League of Legends"
1:31 p.m.:Big upgrades to GPU, CPU and Machine Learning from A14 Bionic chip
1:30 p.m.: Neural Engine 11 trillion operations a second
1:29 p.m.:A14 Bionic up to 50% faster other smartphones
1:29 p.m.:A14 Bionic has 11.8 billion transistors
1:28 p.m.:A14 Bionic will be most advanced chip ever in a smartphone
1:28 p.m.:Apple users will get fastest 5G capabilities
1:27 p.m.:Discussion of carrier partners for 5G, did tests on over 100 carriers, 3.5GB/sec in ideal conditions
1:26 p.m.:Corning shares now up 1% to $34.88
1:25 p.m.:Shares of Corning (NYSE: GLW) trade at $34.67
1:25 p.m.:Phone 4x better drop protection with Ceramic Shield
1:24 p.m.:Mention of Corning on "Ceramic Shield" new technology beyond glass
1:23 p.m.:iPhone12 twice as many pixels as iPhone11, 11% thinner, 15% smaller than iPhone 11
1:23 p.m.:Verizon shares now flat at $59.41
1:21 p.m.:Video shows off new iPhone12
1:21 p.m.:Cook says 5G will be on all iPhone 12 models
1:20 p.m.:Verizon announces turning on nationwide 5G network
1:19 p.m.:Verizon announces city expansions, 60 by year end for 5G network
1:18 p.m.:New highlight from NFL, new camera angles for 5G
1:18 p.m.:Apple iPhone 12 5G provides double the download speed and double the upload speed, download speeds 4G/sec
1:17 p.m.:Verizon CEO joins the stage to discuss 5G capabilities of Apple iPhone 12, Verizon shares down 1% to $58.92
1:14 p.m.:Apple shares are down 1.5% still. Sonos shares are up 5% to $14.82 despite Apple home speaker unveil
1:13 p.m.:"Today we're bringing 5G to iPhone," says Apple CEO Tim Cook
1:13 p.m.:Tim Cook discusses history of iPhone
1:12 p.m.:Apple HomePod Mini will cost $99, will be available for order November 6 and start shipping November 16
1:10 p.m.:Apple announces Intercom to connect smart speaker with other Apple devices
1:09 p.m.:Video demos HomePod Mini creating a smart home
1:07 p.m.:Later this year, HomePod Mini can sync with iPhone with haptic effects
1:06 p.m.:Apple says results are unheard of for a smart speaker this size
1:06 p.m.:Apple HomePod Mini has Apple A5 Chip
1:04 p.m.:The new Apple HomePod Mini focuses on sound, intelligent assistant and home security
1:04 p.m.: Video shows new Apple HomePod Mini, smart speaker
1:03 p.m.:Tim Cook shows off the new Apple Watch, Ipad, and IPad Air that were shown at the last Apple Event
1:03 p.m.:Tim Cook welcomes viewers back to Apple Park
1:00 p.m.:Apple shares trade at $122.54, down 1.5% at 1pm
Related Links:
Apple Short Interest Jumps By $1.3B Ahead Of iPhone Event
Option Trader Makes $1.4M Bet On Apple Ahead Of iPhone Event
View Comments and Join the Discussion!
Posted-In: Apple Event Daniel Ives HomePod Mini iPhoneNews Events Top Stories Tech Best of Benzinga