Clothing Brand Zara Is Boarding The E-Commerce Train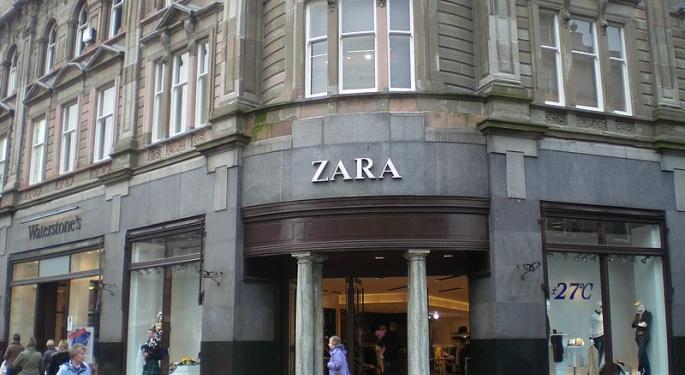 Industria de Diseno Textil SA (OTCPK: IDEXF), known as Inditex which owns the clothing brand, Zara, announced it will close up to 1,200 stores over the next two years as it will focus its efforts on the booming e-commerce. To be precise, it will invest over 1 billion euros as far as the platform is concerned. But overall, it will invest $3 billion to make it easier for customers to blur the lines between online and in-store shopping. The company is determined to make its footprint in this thriving segment.
Although the lockdown measures will ease, COVID-19 will not vanish overnight. Analysts believe that e-commerce is here to stay. Inditex, which also owns Massimo Dutti, expects online sales across the group to account for 25% of its overall sales by 2022.
COVID-19 Has Changed The Landscape
The group is also spending $1.7 billion on upgrading its stores to become more integrated with its online platform by deploying advanced technology solutions. Inditex has nearly 7,500 stores in 96 countries. It has expanded at a rapid rate over the past decade-and-a-half all over the globe. Due to the lockdown, only 965 of its stores remained open at the end of the first quarter. But during that time, online sales surged by 95% resulting in a 50% overall increase during the first quarter. Fortunately, the retailer was expanding its online business before the pandemic swept the globe.
COVID-19 will have a long-term impact on retail and consumer behavior. The dot-com boom was chapter one, and chapter two is all about e-commerce.
COVID-19 Challenges Proved Its Agility
On Wednesday, the retail group reported plunging first-quarter that resulted in its first-ever loss. Store closures led to a 287 million euro write-off on unsold stock.
But it managed to keep inventory 10% lower which is a testament to its short lead times and ability to react quickly to changes in demand. It is a known fact that Zara's business model is successful due to its strategic supply chain management that is efficient and tailored to deliver results faster than others. Zara is the world's largest and most valuable clothing retailer for a reason.
Competitors
There are many battles to be fought. One is the eternal battle with H&M, HENNES & MAURIT/ADR (OTCPK: HNNMY), the world's second-largest retailer, but there are many others who try to imitate its concept. In contrast, H&M said its stocks of unsold goods had grown to just above $4.2 billion at the end of April, which is 41 billion Swedish crowns whereas it was 37.2 billion at the end of February and 40 billion a year earlier. H&M's local currency sales had tumbled 57% since the start of March resulting in its first quarterly loss in many decades. COVID-19 has put everyone in the same boat.
On Tuesday, Inditex was also hit by Tata, its Indian partner for nearly a decade, who decided to go at it alone but at half the price. Its Swedish rival Hennes & Mauritz recently struck a deal with two of India's biggest online players, Myntra and Jabong.com. So, despite lacking in maturity, everyone is going full speed in an attempt to board on the e-commerce train.
U.S. Retail
If we look at the U.S. market, discount retailers seem to have a better shot at overcoming the crisis as unprecedented levels of employment diminished consumer buying power. But EU giant retailers at least didn't collapse like their US peers. For example, the TJX Companies Inc (NYSE: TJX) delivered a stinker of first-quarter earnings report due to also closing its e-commerce site. But at least the troubled Macy's is rallying after meeting its own estimates on June 9th. Although it hasn't got much to celebrate with a shrinking market share, at least it secured debt to ensure the liquidity it needs to put bankruptcy off the table.
Zara's In For The Win
Unlike the general 4Ps: Product, Price, Promotion, and Place, Zara got this far with its 4Es: Experience, Exchange, Evangelism, and Every place strategies. And queues in front of its stores on the first day of the eased lockdown measures only confirm the strength of its competitive advantage. Its success story gained its place in history. But is it enough to stay ahead of piling up competitors? Only time will tell.
This article is not a press release and is contributed by a verified independent journalist for IAMNewswire. It should not be construed as investment advice at any time please read the full disclosure . IAM Newswire does not hold any position in the mentioned companies. Press Releases – If you are looking for full Press release distribution contact: press@iamnewswire.com Contributors – IAM Newswire accepts pitches. If you're interested in becoming an IAM journalist contact: contributors@iamnewswire.com
The post Even Zara Needs to Board the E-Commerce Train appeared first on IAM Newswire.
View Comments and Join the Discussion!
Posted-In: e-commerce TJX Companies ZaraNews Penny Stocks Economics Markets General