CNN Sues Trump After Suspension Of Acosta's Press Pass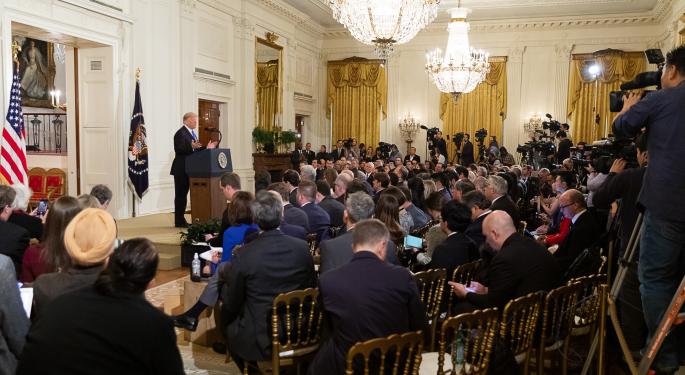 AT&T Inc. (NYSE: T)'s CNN is suing President Donald Trump and five aides in order to restore chief White House correspondent Jim Acosta's press pass.
The White House suspended Acosta's access last Wednesday, citing inappropriate behavior at a presidential news conference. CNN rejected the claim and requested reinstatement Friday.
Instead of conceding, Trump threatened Friday to extend the blacklist to other journalists.
The White House's unresponsiveness has led CNN to act on its threat of a lawsuit, the network said. It's seeking a preliminary injunction, alleging the unprecedented ban violates Acosta's First and Fifth Amendment rights.
The lawsuit, with both CNN and Acosta as plaintiffs, was filed Tuesday morning in U.S. District Court in Washington, D.C.
Trump, the Secret Service, White House Chief of Staff John Kelly, Press Secretary Sarah Sanders, Deputy Chief of Staff William Shine, Secret Service Director Randolph Alles and the Secret Service agent who confiscated Acosta's pass are named as defendants.
The White House responded to the lawsuit in a statement Tuesday and said that Acosta refused to surrender the microphone to an intern after asking Trump two questions, and that it was not the first time he'd acted inappropriately.
"We have been advised that CNN has filed a complaint challenging the suspension of Jim Acosta's hard pass. This is just more grandstanding from CNN, and we will vigorously defend against this lawsuit."
Adding to this: It's RARE for news orgs & journos to sue White House officials over access. CNN did in 81. Sherrill case in 77. Otherwise, at fed'l level, closest analogues involving access come from other exec-branch depts, often DOD. See examples below.https://t.co/DrRMNTT5oj

— Jonathan Peters (@jonathanwpeters) November 13, 2018
CNN seeks both reinstatement of Acosta's credentials and a court ruling preventing future revocations of his pass.
"While the suit is specific to CNN and Acosta, this could have happened to anyone," the network said in a statement. "If left unchallenged, the actions of the White House would create a dangerous chilling effect for any journalist who covers our elected officials."
Related Links:
Everything We Know About The California Fires
Jeff Sessions Resigns As Attorney General At Trump's Request
White House photo.
Posted-In: cnn Donald TrumpNews Politics Legal Top Stories Media General Best of Benzinga
View Comments and Join the Discussion!